Aboriginal Land Council Claims Ownership of Grounded Yacht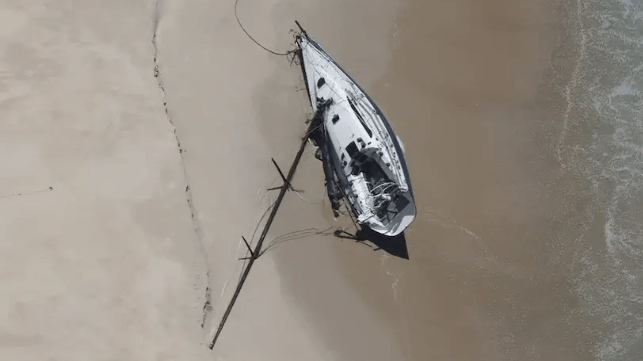 A drifting racing yacht that washed ashore on a remote island off Tasmania has been successfully salvaged in one piece, preventing pollution. However, the vessel's saga is not over: the yacht went aground on Aboriginal land, and the local Aboriginal council believes that it has a claim to ownership of the vessel.
On December 28, during the annual Sydney to Hobart Race, the yacht Huntress struck an unknown object and lost steering at a position 80 nm off the east coast of Tasmania. All members of her crew were safely evacuated by police first responders, and the vessel was left to drift while awaiting a salvage tow. It was never picked up, and it drifted north and washed ashore a week later on Christmas Beach, Cape Barren Island.
The island is also known as truwana (lowercase) to the Aboriginal Land Council of Tasmania, and it is the only section of the state to have a full-time Aboriginal population living on their own land. After the grounding, the Land Council expressed serious concern that the Huntress might break up in the surf, spilling fuel and spreading debris on a pristine beach, and it encouraged the vessel owners and salvors to carry out a "swift, safe and successful" removal.
The boat was salvaged successfully on Sunday night and towed away, under way once more for a safe harbor in Tasmania. However, after the removal, a new disagreement arose with the Land Council: chairman Michael Mansell told ABC Australia that the yacht had been removed without permission, and that the owner owes a payment of one-third of the vessel's value.
"The Huntress has washed up on the shores of Aboriginal land on Cape Barren and that makes that vessel the property of Aboriginal people," said Mansell. "That's always the Aboriginal law."
He cited seven cases dating back to 1840 in which the island's original inhabitants had taken possession of wrecked vessels belonging to settlers or European interests.
However, the local Cape Barren Island Aboriginal Association was not aware of this precedent at the time of the grounding, and did not apply it when salvors asked for permission to remove the vessel.
Conventional salvage law does not support the Land Council's claim, maritime lawyer John Kavanagh told ABC: title to the vessel remains with the owner, though a salvor can claim payment for certain services rendered.