Get Ready for World Oceans Day
June 8 is World Oceans Day with the theme of "Together we have the power to protect the ocean." Hundreds of events are planned around the world that encourages people to support clean energy choices, trash-free coasts and beaches, sustainable seafood and more.
"In addition to events in dozens of countries, we invite everyone to take ocean conservation personally by making a commitment and then sharing a selfie for the sea," said World Oceans Day coordinator, Alyssa Isakower. "We can each do something to help protect our ocean."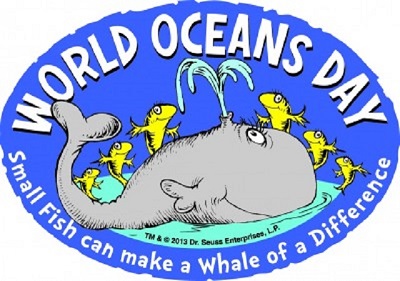 Isakower says a small action on your part multiplied by thousands around the world can contribute to a significant collective impact. Her ideas include: help reduce marine debris by eliminating junk mail, obtain a renewable energy credit to help combat ocean acidification and spread the word about sustainable seafood.
Selfie for the sea: Show the world that you are part of the growing movement of people taking personal action for our ocean, take a selfie showing how you're helping the ocean or make a promise, and post with #WorldOceansDay! Learn more: http://WorldOceansDay.org/promise.
Just a few of the events planned worldwide:
Magnetic Island, Australia: The Base Backpackers celebration on beautiful Nelly Bay beach features a cleanup, marine talks, beach games, stalls, a beach BBQ, short films, and music.
Miami, FL: The Miami Underwater Festival is a two-day celebration held at Patricia and Phillip Frost Museum of Science and Knight Plaza in downtown Miami. Events include fun family workshops, community art project, sailing activities, scavenger hunts, pop-up live science with marine-themed performances, interactive demos, "life-size" games, and a giant inflatable shark.
Seattle, Washington: Join Seattle Aquarium's youth-led World Oceans Day weekend and learn how you can be an Ocean Hero. Hands-on activities and special talks will highlight what guests can do to be ocean heroes on an individual, community and civic level, from helping protect our corals from ocean acidification to reducing the use of plastics in our lives.
Durban, South Africa: Paddle out for sharks – divers, surfers, scientists, anglers, and others will celebrate by 'Paddling Out' to highlight the plight of sharks. Hundreds celebrated last year, and this year will include sister events throughout South Africa, Australia, and Mozambique.
Liverpool, UK: This student-run weekend of fun and games is hosted by University of Liverpool and The Liverpool World Museum. There's going to be a whole host of activities and arts and crafts for children and adults: face paints, mermaid puppet shows, and representatives from several marine charities and organizations to educate on marine conservation issues.
Hong Kong: Ocean Park has several fun events focused specifically on preventing ocean trash. Visitors can make a pledge to protect the ocean, attend upcycling workshops and art exhibition jointly with local green groups, enjoy a "local fishermen fun day" for local fishermen and their families, and help out at a beach cleanup.
Fujisawa-city, Japan: World Oceans Day Japan will celebrate again this year with a big festival, aerial art on the beach, sand art workshops, and beach and underwater cleanups.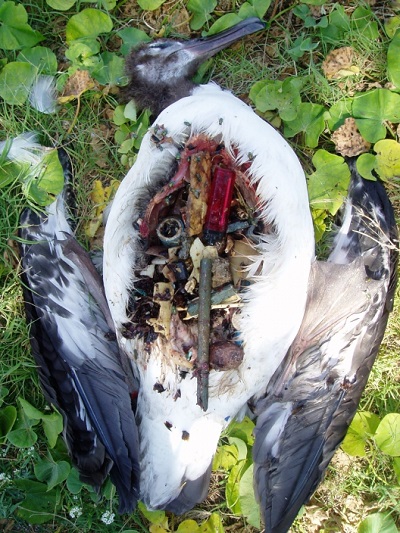 For World Oceans Day, Fishing for Energy has announced support for Marine Debris Education Programs at Aquariums across the United States. Fishing for Energy, the public-private partnership aimed at reducing the adverse effects of derelict fishing gear and marine debris, has announced $150,000 in grant support from Covanta, a world leader in sustainable waste management and renewable energy.
The funds will support projects that increase public awareness of the threat derelict gear (gear that is lost in the ocean) and marine debris pose to the marine environment. The Fishing for Energy Fund is administered by the National Fish and Wildlife Foundation (NFWF) and is a partnership with Covanta, Schnitzer Steel Industries and the National Oceanic and Atmospheric Administration (NOAA) Marine Debris Program.
Every day, commercial fishermen around the country deploy hundreds of traps and miles of nets into ocean and coastal waters to land their catches. Due primarily to circumstances beyond their control, like powerful weather events and disturbances from other vessels, some gear is lost to the sea. When this happens, fishermen lose not only their gear, but the associated profits as well. Moreover, the lost gear continues to capture fish, which degrades the marine habitat and its resources. This phenomenon is called 'ghost fishing' and is an economic and environmental hardship to fishing industries and coastal communities.
"The world's oceans and waterways are in danger from derelict fishing gear and marine debris. Covanta and our partners have worked with ports across the country to collect dangerous gear and debris – over two million pounds since 2008. We are now proud to expand our focus and resources on education programs to raise awareness about this growing environmental problem," said Margretta Morris, Covanta's vice president for materials management.
The grants from the Fishing for Energy Fund, in partnership with the Association of Zoos and Aquariums Targeted Education, will engage millions of visitors annually at three of America's flagship aquariums to better convey the environmental and economic perils of derelict fishing gear and what local communities and businesses can do to help.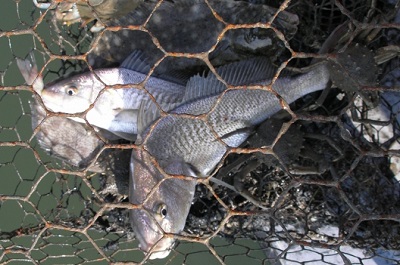 "Aquariums play an important role, both providing information and inspiring the public, potentially transforming visitors' heightened interest into conservation action," notes Nancy Hotchkiss, Vice President of Visitor Experience and Education for the National Aquarium. "We know that aquariums are uniquely positioned to reach a broad audience with critical information and in ways that will make a difference. Specifically, we can address challenges like marine debris and derelict and abandoned fishing gear, which have immediate and easily recognized detrimental impact on the animals, habitats, and resources our visitors are inspired to care for."
With the $150,000 provided by Covanta, three projects were awarded funding under the Fishing for Energy Fund:
The National Aquarium in Baltimore, Maryland will increase public awareness of the threats associated with marine debris and derelict fishing gear through the development of a new educational outreach curriculum module.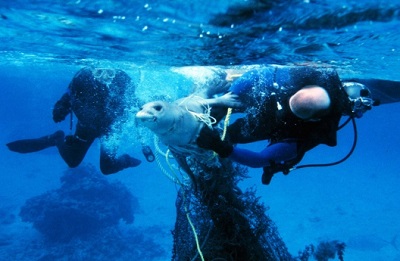 The Sea Research Foundation in partnership with Mystic Aquarium will expand the Toolkits for Sustainable Oceans, a hands-on traveling outreach program that was initially established by a previous Fishing for Energy grant.
The Aquarium of the Bay will launch a new interpretive nature center on PIER 39 near Fisherman's Wharf, San Francisco, where visitors flock each year to see resident California sea lions. Aquarium of the Bay will collaborate with The Marine Mammal Center, which works to rescue and rehabilitate sea lions and other marine life from derelict fishing gear, and with 5 Gyres Institute – which gives plastic pollution in the ocean a global scope.
Fishing for Energy partners also work closely with state and local agencies, community and fishermen groups, and local ports to assist in the prevention, removal and disposal of derelict fishing gear and facilitates conversations and research at the state and regional levels to address derelict fishing gear issues at scale.