Concordia Tow Goes off Without a Hitch
After approximately 30 hours of navigation, the Concordia has traveled for 63 nautical miles at an average speed of 2 knots. At the moment, the convoy is located between Isola d'Elba and Corsica.
The sea is calm, while the wind has a North/North East direction with a speed of approximately 13 knots.
The assessments performed on sponsons and their connections – cables, chains and strand-jacks - have given positive results. The climate on board is calm and the navigation proceeds without problems.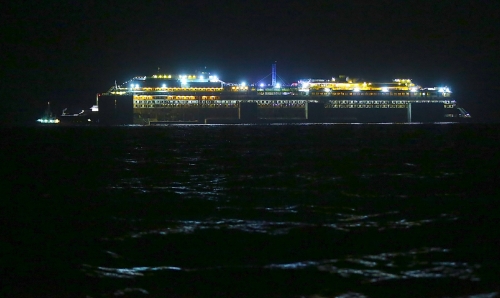 There are no signs of environmental pollution; environmental monitoring by public institutions is in progress, as well as samplings carried out by the marine biologists of University La Sapienza that have been appointed by Costa Crociere and the Titan Micoperi consortium.
For tomorrow marine conditions are forecasted good, with light winds coming from the South. With these conditions, the arrival of the Concordia in Genoa Prà-Voltri port is expected for Sunday July 27th at 3 am.