Will All Roads Lead to China?
The new Silk Road signals the next phase of China's global ambitions.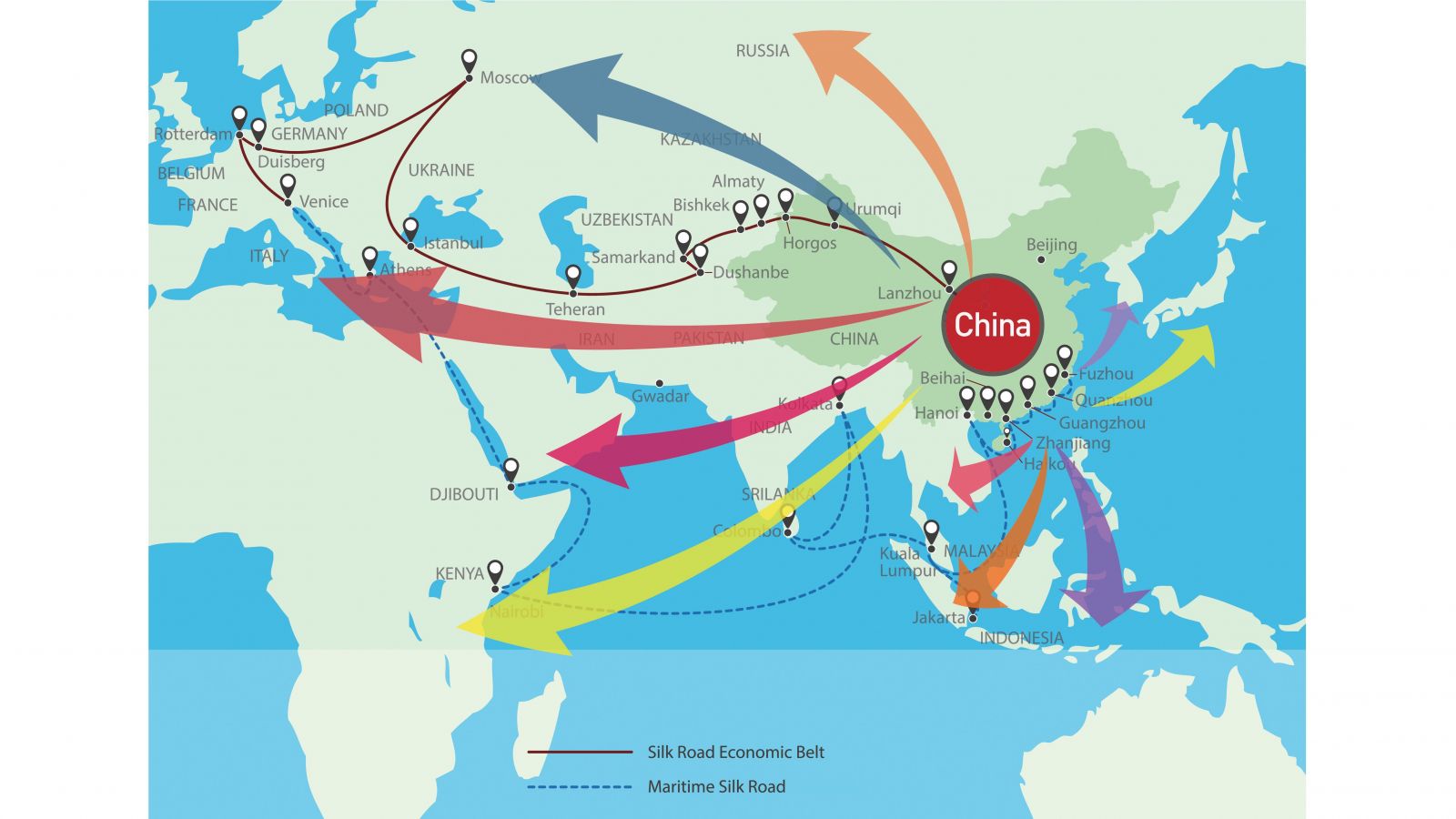 (Article originally published in Sept/Oct 2017 edition.)
Thousands of years ago soldiers, prisoners and commoners were busy building the Great Wall of China to keep out nomadic invaders. Today, Chinese engineers are constructing railroads, highways and ports that will connect China's markets to the rest of the world as part of the government's One Belt, One Road (OBOR) strategy, often referred to as the Belt and Road Initiative (BRI).
This reversal in outlook marks another vacillation in China's long history of alternating between isolationism and expansionism. If there were any doubts that contemporary China has entered a new phase of "Going Out" into the world, to borrow the name of its official foreign investment policy, the Chinese government's recent Belt and Road Forum swept them away.
GLOBAL BLUEPRINT
Held in May, the extravaganza in Beijing was designed to unfurl China's $900 billion mega-plan for global infrastructure on a grand stage. Chinese President Xi Jinping first announced BRI in Kazakhstan, one of the 60+ partner countries involved, in 2013. China's National Development and Reform Commission describes the infrastructure initiative as comprising an overland "belt" and a maritime "road," each with many different routes and corridors.
As envisioned, the Silk Road Economic Belt would link China and Europe overland via the steppes of Russia and Central Asia. The Silk Road Maritime Road would link China and Europe via the Indian Ocean. China has also proposed additional maritime routes, which it is calling "blue economic corridors," through the South Pacific and through the Arctic Ocean via Russia's Northern Sea Route.
Dr. Marc Lanteigne, a China expert at Massey University in New Zealand, explains, "Although there is the tendency among some commentators to view OBOR as a monolithic project, it is actually a series of puzzle pieces being put together in different ways and at different speeds."
One of the most high-profile pieces is the China-Pakistan Economic Corridor. Valued at $62 billion, the project seeks to build energy infrastructure, roads and railways across the two countries in order to tie together Xinjiang, in China's underdeveloped west, with the Port of Gwadar on Pakistan's Indian Ocean coastline. In Gwadar, new breakwaters are being constructed and new berthing areas and channels dredged, while a shiny new airport that can handle Boeing 747s is also being built.
CPEC, as the corridor is known, is not without its problems, however. Pakistan is accumulating significant debt to undertake the project, which will require rapid and sustained economic growth to pay back. For its part, India is less than thrilled with the Chinese-backed project, parts of which are taking place in regions where New Delhi claims sovereignty.
Much farther north, another notable BRI-backed project is the Yamal Liquefied Natural Gas Plant (LNG) in the Yamal Peninsula, which sticks out into Russia's Arctic Ocean and sits strategically in the middle of the Northern Sea Route linking Europe and Asia. To fund BRI projects, the Chinese government established a state-owned investment fund called the Silk Road Fund. Its first three investments were in CPEC hydropower plants, a railroad from Nairobi, Kenya to the port of Mombasa, and Yamal LNG.
The Silk Road Fund paid $1.2 billion in exchange for a 9.9 percent stake in the project, which is operated by Russia's largest private natural gas producer, Novatek. Additionally, two Chinese state-owned banks involved in BRI projects – the Export-Import Bank of China and China Development Bank – have together contributed $12 billion to Yamal LNG.
This may seem like a high price to pay for Arctic gas. Yet as the Chinese government shifts away from coal toward cleaner-burning fuels, it's going to need a diversity of resources, and Siberia isn't all that far away. In fact, its vast tundra forms a bridge between Asia and Europe, and with Russia hard-pressed to obtain U.S. or European funding due to sanctions, China is an increasingly attractive source of capital.
BRI is also intended to stimulate the Chinese economy as two decades of 10 percent annual growth wind down. China expert Lanteigne says, "It's an open secret that one of the catalysts for [BRI] was Chinese concerns about its domestic economic situation after almost a decade of global financial slowdown, which had a detrimental effect on Chinese exports. Among these concerns were overcapacity in domestic raw materials, such as construction elements and steel, as well as the need to better promote the Chinese brand in key sectors like transportation and accelerate the development of interior provinces, including far western regions like Tibet and Xinjiang."
ALTRUISM OR SELF-INTEREST?
China has therefore moved into countries experiencing severe economic contractions of their own, like Greece, to stymie its own deceleration. Chinese state-owned shipping and logistics company COSCO now owns a 67 percent share in the Piraeus Port Authority, outside Athens. It has sent hundreds of Chinese laborers to work there, causing consternation among Greek workers worried about their own fate.
As the Chinese government calculatingly turns geopolitical openings into investment opportunities, it takes great pains to portray BRI as a force for global good and global growth. During his opening speech at the BRI Forum in May, President Xi Jinping remarked, "In pursuing the Belt and Road Initiative, we should focus on the fundamental issue of development, release the growth potential of various countries, achieve economic integration and interconnected development, and deliver benefits to all."
Close to 30 world leaders attended the forum and not just the heads of small countries eager for Chinese investment. The top brass at the World Bank, International Monetary Fund and other multilateral banks participated as well, as did representatives of major firms like KPMG and HSBC, demonstrating China's eagerness for their approval. With it, China's massive infrastructure push seems less like nationalist expansionism and more like an engine for global development.
As World Bank Group President Jim Yong Kim put it, expressing his strong support for BRI, "The Belt and Road Initiative can be a catalyst for a new approach to development, where we crowd in private capital to meet people's rising aspirations."
PRIVATE SECTOR PARTNERS
Private capital is particularly important to realizing the Chinese government's vision. Without the private sector involved, new ports, railroads and urban developments could end up like the ghost cities that dot the landscape of western China, where government funding poured in but few firms or people followed.
Gabriel Wong, Head of China Corporate Finance and One Belt One Road leader for China at PricewaterhouseCoopers, sees real opportunity for private sector involvement. Using Chinese investment in the ports of Gwadar, Pakistan and Colombo, Sri Lanka as examples, he underscores how BRI is about much more than just transportation: "The Gwadar port is not just the port itself. They're making an industrial zone too."
With such zones, Wong sees opportunities for Chinese businesses as costs go up at home. "With big pieces of land and low labor costs, obviously it's very interesting for Chinese manufacturing to move there now."
In July, state-owned Chinese port operator China Merchants Port Holdings Company paid $1.12 billion for a 99-year, 70 percent stake in Sri Lanka's sleepy Hambantota port. The beachside town where elephants occasionally roam the streets is positioned right in the middle of energy routes between the Middle East and Asia, similar to how Yamal LNG lies between East and West in the Arctic. And while the West might see China's efforts to build a network of ports as a geopolitical threat, Wong stressed the economic opportunities as seen from China.
"Maritime buildup is very important," he reckons. "It makes lots of sense for manufacturers to use Sri Lanka as more than just a transportation hub." He suggests the possibility of transporting raw materials directly to these port-industrial zones where manufacturing could then take place. He also says many new domestic businesses are starting up in neighboring countries and not just in infrastructure. Telecommunications, e-commerce, logistics and even healthcare are all sectors that have potential to grow along- side BRI.
Nonetheless, and especially in the West, many wonder whether BRI is simply a fantastical suite of blueprints that will never be realized. Yet China has shown in recent years that it can build infrastructure and do so at a breakneck pace.
Less than a decade ago, China opened its first high-speed rail line from the capital, Beijing, to Tianjin, 117 kilometers to the southwest. By 2015, 19,000 kilometers of high-speed rail tracks crisscrossed the country. And three years from now, the government is hoping that 80 percent of China's cities will be connected by high-speed rail – a technology it plans to export to Russia, where agreements have been signed for China to construct a high-speed rail from Moscow to the Volga River city of Kazan.
A CHINESE-RUN GLOBAL SUPPLY CHAIN?
Beyond its borders, the success of China's efforts will depend greatly on the individual countries with which Beijing has signed BRI agreements. Chinese-Singaporean cooperation, for instance, will likely play out very differently than Chinese-Kenyan cooperation. The Chinese government will have to carefully navigate how it works with different nations because, even less so than with projects in its own country, one plan will not fit all.
On paper, at least, officials are aware of this. The National Development and Reform Commission says that BRI "should be jointly built through consultation to meet the interests of all, and efforts should be made to integrate the development strategies of the countries along the Belt and Road."
Ultimately, BRI represents an ambitious plan for China to dominate global transportation networks and possibly even turn them into one major Chinese-run global supply chain. Two thousand years ago, all roads proverbially led to Rome. If Beijing has its way in the decades to come, they will all lead to the Middle Kingdom. MarEx
The opinions expressed herein are the author's and not necessarily those of The Maritime Executive.