Water-Cooled Wonders: Sustainable Stern Tube Bearing Technology
We don't normally think of stern tube bearings as being environmentally friendly. But we should.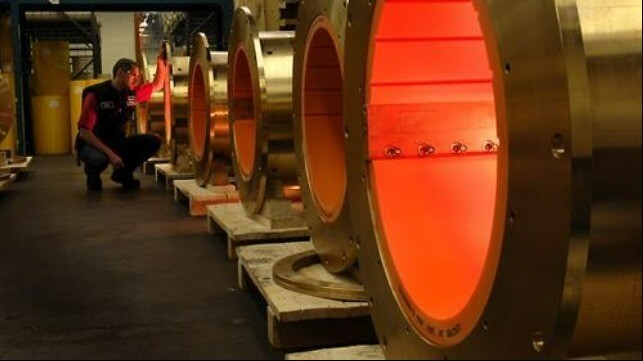 (Article originally published in May/June 2022 edition.)
We live in a hyper-connected, digitally focused world.
Through globalization and advances in technology, we're better connected and have greater access to goods and services and information than ever before. So it's easy to forget that 90 percent of everything still travels exactly as it did 500 years ago.
By ship.
That trade is carried by the roughly 55,000 merchant ships that trade internationally. Whether general cargo, container or tanker, each of these is equipped with one or more propellers that drive the vessel through the water. The propeller in turn is connected to the engine via a shaft, and that shaft is supported by various bearings to keep it rotating smoothly.
These bearings often require grease or oil lubrication. An oil-lubricated stern tube system was introduced in the 1950s to help control the wear life of shaft bearings. One of the system's components is known as the stern tube bearing, and its main job is to seal the oil-filled stern tube and prevent that oil from going into the sea and causing marine pollution.
Yet accidents still happen.
Fishing nets, misaligned propeller shafts, poorly maintained seals or manufacturing defects can all cause the seal to fail. The resulting loss of oil containment can be costly for the shipowner and lead to fines or even jail time for the crew.
Oil-lubricated stern tube systems were developed ostensibly to control bearing wear life. But what if these systems didn't need oil at all?
Water-Cooled Bearings
Water-cooled bearings have the advantage of not requiring oil lubrication or EALs (environmentally acceptable lubricants), reducing the pollution risk to zero. While the shaft is spinning at speed the water creates a wedge that completely separates the shaft from the bearing material, bringing the coefficient of friction to under 0.001. This reduces system wear to a negligible amount.
Water also has twice the specific heat of oil. An equal weight of water will absorb twice the heat of oil lubricants, making the cooling properties far superior. By using water as a lubricant, contamination seals are not required. If seals are not required, pumps and tanks may not be necessary. This leads to a simpler shaft-bearing system and immediate cost savings in the build phase.
Stern tube bearings are designed with a series of lands and grooves, running longitudinally. When a contaminant such as sand or grit enters the system, the water will wash it into a groove where it is flushed out. Due to the material construction of this style of bearing, it avoids scoring the propeller shaft, unlike a metal bearing, which has no give.
Further, a greased shaft will trap contaminants, essentially turning it into a lapping compound. This will continuously wear the shaft with every rotation.
Water-cooled bearings have been developed using the most modern technology available and one of the oldest sustainable resources known to man.
Composite Bearings
Thordon Bearings, a Thompson Gordon company, is an Ontario-based manufacturer specializing in the production of oil-and-grease-free bearings and seals. The company uses a proprietary, grease-free, water-lubricated polymer material. This low-coefficient bearing material helps to reduce shaft/bearing friction and eliminates stick slip.
Thordon recently produced the largest rudder bearing ever manufactured – in twenty-four hours, no less!
A containership drydocked in Dubai was found to have rudder bearing clearances at the limit. With the end of the maintenance period fast approaching, the owner needed to decide whether to return to drydock or replace the existing metal bearing with Thordon's water-lubricated technology. Thordon's local partner, Ocean Power International, assured the shipyard it could deliver the bearing on time.
With only a rudder stock drawing to reference, Thordon's Burlington, Ontario-based team cast an oversized piece with an ample safety margin. The finished piece measured 1,250 mm x 1,050 mm x 1,350 mm and weighed 2,500 lbs. While the largest bearing ever delivered, it was still seven times lighter than a comparable bronze bearing and light enough that it was loaded onto a commercial airliner that night.
Twenty-four hours later the bearing arrived in Dubai where the local team completed final machining to the exact specifications. The piece was then supercooled using liquid nitrogen, causing the outer diameter to shrink by 21.93 mm and allowing the bearing to be easily fitted in place.
The resulting installation has a higher abrasion resistance than the bronze bearing it replaced with double the expected working life.
Multi-Vessel Contract
The advantages of water-cooled bearings paired with Thordon's fast delivery time have led to a multi-vessel agreement with Maritime Partners, the world's largest operator of inland vessels.
Twelve twin-screw push boats are scheduled to be delivered from Louisiana-based FMT Shipyard with equipment that includes RiverTough tailshaft bearings, ThorPlas-Blue rudder bearings with Pucker Seals, ThorPlas-Blue steering linkage bushings, SXL thrust washers and TG100 tailshaft seals.
Operating one of the most modern, new and environmentally efficient fleets across the U.S. inland river network, Maritime Partners went all-in with Thordon's water-cooled solutions to ensure reliable operation and zero pollution risk.
Wooden Bearings
On the other end of the spectrum is the longest running water-cooled bearing solution in history: wooden bearings made from lignum vitae.
Lignum vitae has been in service for over three centuries. It received its first patent in 1852. Listed in SNAME in 1882. Used throughout the fleet in WW1, then again in WW2. It was chosen for use on the USS Nautilus – the world's first nuclear-powered submarine. The fastest ocean liner in the world, the SS United States, was awarded the Blue Riband for the fastest crossing of the Atlantic on its maiden voyage in 1952, a record it holds to this day.
Its shaft bearing was made from lignum vitae.
No other bearing material has the history or longevity of LV. And because it's a totally renewable resource, it holds the honor of being the most environmentally friendly solution available.
What Makes It So Good?
Lignum vitae is the hardest of all traded woods, reading 4,390 lbf on the Janka scale – equivalent to aluminum. It's also the densest of all hardwoods at 6.8 lb/bd ft. compared with ebony at 5.8 lb/bd ft. It takes centuries for one of these trees to reach maturity.
It has natural oils causing self-lubrication and wear-resistance. A study by the U.S. Navy found that LV had the lowest coefficient of friction ever recorded. These oils also provide resistance to rot and, being a wood, it's not susceptible to damage by electrolysis.
Most of these properties are the result of its unique cellular structure. Unlike most wood, which forms its grains in a longitudinal pattern, LV forms as a woven matrix with a 60-degree angle of the grains. This acts like a preloaded spring. It can be compressed using a 100-ton press and will spring back and regain its shape with perfect memory after a few days.
It's this last property that makes it perfect for use in stern tubes. The wooden bearing conforms to the shaft over time, essentially lapping in, which is when the lowest coefficient is formed. And because shaft vibration is a function of too much clearance, this property will almost totally eliminate vibration, even with a misaligned shaft.
Constant Development
Bob Shortridge, the founder of Lignum Vitae North America, is constantly pushing the envelope of the material. He currently has his bearings undergoing testing by Canadian-based HydroTech, a company specializing in bearing technology for marine and hydroelectric industries.
Working to develop the best possible bearing for all conditions, the pair are testing LV against all material types and designs. Finding a material that can develop the most effective water wedge at high speeds while limiting wear at low speeds is the ultimate goal, and lignum vitae's initial results show it rising to the top.
Shortridge is also a history buff with a longstanding fascination with the SS United States and what made her so fast. As of this writing, he is donating lignum vitae bearing material for display in the SS United States Conservancy museum and awaiting permission to board the vessel to inspect the stern tube bearing with the goal of further refining his designs.
Applying modern production methods to one of the oldest reliable materials is a recipe for sustainable success.
When Things Go Wrong
Refitting or installing bearings and seals while in drydock is one thing. Repairing or replacing them while the vessel is in the water after a breakdown is something else entirely.
Specializing in stern seals and propulsion systems, Aegir Marine provides a flexible approach to ship maintenance. While happy to match your drydock timeframe, where it really stands out is conducting floating and emergency underwater repairs.
Aegir's proprietary SealDock is an underwater habitat that creates a dry working environment below the waterline. Custom-designed to fit project requirements, SealDock uses a rubber sealing mechanism paired with positive air pressure. This allows its trained technicians to access the worksite and complete the repairs.
Aegir has its Prime in-house brand or replacement parts manufactured at its DNV-approved facilities. With a global distribution network, it's ideally positioned to get your vessel repaired, refitted and back underway.
These capabilities led to a 2022 partnership with Spliethoff to supply stern tube sealing parts and services. Operating a global dry cargo fleet of over 50 vessels, Spliethoff delivers high-value cargo and requires maximum fleet uptime. The partnership with Aegir will help ensure a global supply and response for all stern tube sealing parts and services required to keep cargo moving.
Environmentally Friendly Technology
When it comes to progress in maritime, the mission is clear: Develop and deliver environmentally sustainable solutions for the global shipping industry. Water-cooled bearing technology is the most environmentally friendly choice with zero risk of pollution.
Whether using the latest in polymer technology or an ancient wood with properties still as yet undiscovered, there are great choices to get the job done. – MarEx
Frequent contributor Sean Hogue is Senior Vice President of Operations at Baker Marine Solutions.

The opinions expressed herein are the author's and not necessarily those of The Maritime Executive.