The Ticking Clock
How long can the oil industry postpone new investments without jeopardizing future supply?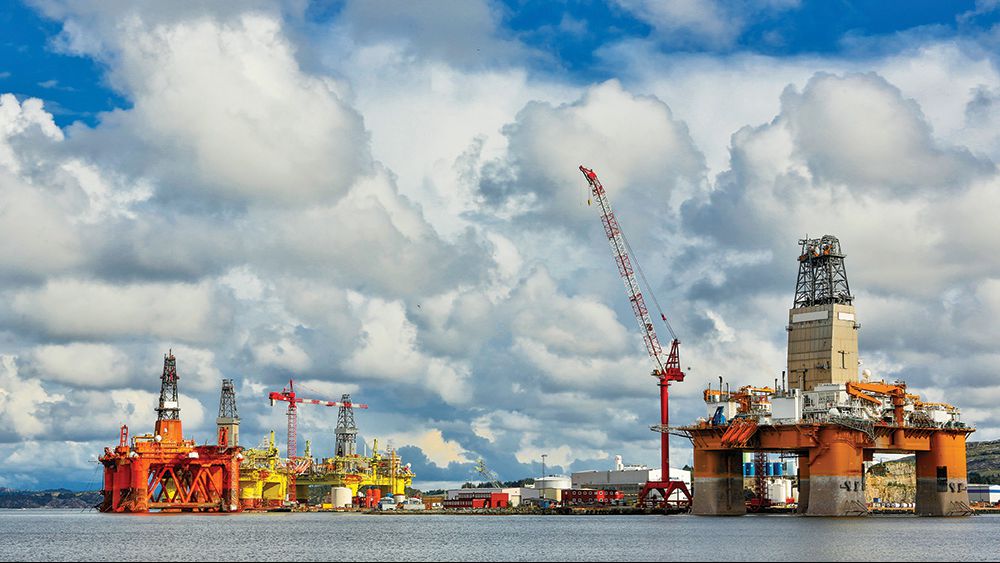 (Article originally published in Mar/Apr 2017 edition.)
Only 2.7 billion barrels of new conventional oil supply were discovered in 2015, the lowest since 1947, says Edinburgh-based consulting firm Wood Mackenzie, and the downward trend continued last year. That's about a tenth of the annual average since 1960. So the project development clock is ticking. How long can the oil majors allow escalating costs and low oil prices to stall new discoveries without creating a future shortage?
The International Energy Agency predicts that if new investments aren't approved soon, the global oil supply will lag behind demand after 2020. Oil demand is expected to rise in the next five years, passing the 100-million-barrel-a-day threshold in 2019 and reaching about 104 million barrels a day by 2022.
Turning Point?
This year is likely to be a turning point. Analyst Rystad Energy says that for every dollar invested in the North American shale market in 2017, another dollar is earmarked for new offshore development. Both sources of future production will receive around $70 billion each in planned capital expenditures.
In both 2014 and 2015 exploration and production (E&P) companies looked to North America and the shale industry for new reserves. Offshore developers were pricing themselves out of the market. However, after two years of cost-cutting, offshore projects that were uncommercial at $110 a barrel in 2013 are now commercial at $50 a barrel.
One of the key reasons costs are falling are the deep rate cuts that oil service companies offered over the last two years in order to keep their businesses going. For example, day rates for drilling rigs came under immense pressure with prices down more than 50 percent. New technological development has also helped, says Muktadir UrRahman, Director of oil and gas consultancy Apex Consulting, as have a management focus on capital efficiency, discipline in managing costs, standardization of field development plans and a greater focus on project management.
However, the oil supermajors – ExxonMobil, Royal Dutch Shell, Chevron, Eni, Total and ConocoPhillips – are still spending more on development than they were before the downturn in prices, says Rahman. Apex Consulting's Supermajors' Cost Index indicates that they spent 66 percent more on average in 2015 than they did in 2011 per new barrel of oil or oil equivalent. In the intervening years, the high cost of projects was masked by the high cost of oil.
Eni's cost reductions over the period were a noteworthy exception. Around 2009, in the expectation of undertaking more deep- water projects, Eni successfully implemented a strategy of strong project management. It started utilizing standard, rather than customized, design solutions and deployed new technology. In a re- cent cost-cutting move, Eni signed a three-year contract with drone operator Sky-Futures for the inspection of facilities globally.
New Technologies
New technologies are continually being readied across the industry to tempt the majors. For example, Eelume AS and Kongsberg Maritime have developed a snake-like robot designed to live permanently underwater and carry out underwater intervention tasks that would normally require the expensive mobilization of divers, ROVs or AUVs.
EvoLogics has developed WiMUST (Widely Scalable Mo- bile Underwater Sonar Technology) that involves using an array of untethered robots to conduct seismic acoustic surveys. Unlike traditional hydrophone arrays, the robots can change position to act as an adaptive receiving array of variable geometry that can be matched to suit each particular mission, improving seabed and sub-bottom resolution as well as maximizing the information content extracted from the acoustic signals. The system was tested successfully in Portugal last November.
Service companies are playing their part too. Development costs have come down thanks mainly to the drop in demand for their services brought about by the oil price collapse, says Ben Wilby, analyst for Douglas-Westwood in London: "This has caused suppliers to lower prices, and this has been quite broad with most service lines experiencing quite high levels of cost reduction."
A number of large offshore projects are due to start production this year. Most were delayed from 2015-2016 and ordered before the oil price crash, including Inpex's Ichthys project in Australia. The
U.K. has a large range of floating production and storage (FPS) units coming onstream including Premier Oil's Catcher Project and BP's Quad 204 project, which is a redevelopment of their Schiehallion Field in the North Atlantic. Petrobras will also bring a number of FPS units onstream, including some that have seen large delays.
"The fact that FPS units are being ordered after a break of around 18 months indicates that operators' confidence in forecast oil and gas prices is improving," says Wilby. "Once orders come in, prices are likely to go up, not down."
Douglas-Westwood's latest forecasts predict that overall global expenditures on deepwater will be $120 billion over the period 2017-2021 with a changing profile: from traditional deepwater countries in Africa and the Americas to non-traditional deepwater basins such as the Liza Field (Guyana), SNE (Senegal) and offshore East Africa.
Vessel utilization is expected to improve as well, growing two percent a year over the forecast period and supporting an increase in day rates. In addition, original equipment manufacturers should start to see new orders with Douglas-Westwood expecting a number of projects to be sanctioned within the next 18 months. As a result, global subsea hardware and vessel operations expenditures are expected to total $134 billion from 2017 to 2021.
Casualties
Still, the downturn has taken its toll. Michelle Gomez, analyst for Douglas-Westwood in Singapore, says that EMAS Chiyoda's recent bankruptcy was the latest in a long line of vessel contractors to fall victim to the downturn since January 2015. Multiple companies such as Cal Dive, Ceona, Cecon, Hercules Offshore, Harkand and Swiber have filed for bankruptcy protection, taking a significant number of vessels out of the active fleet, while others are busy restructuring in hopes of avoiding a filing.
"With market equilibrium and a recovery in sight, 2017 represents an opportune time for substantial industry consolidation and opportunistic vessel ac- quisitions to support long-term business strategy objectives," says Gomez. For example, McDermott recently acquired the newbuild pipelay and construction vessel Amazon at a significant discount to her reported build cost to fuel its ultra-deep- water expansion strategy.
The downturn has been one of the most trying in the history of the sub- sea industry. However, the removal of non-competitive, low-spec vessels and strategic moves by vessel contractors to acquire high-spec vessels at discount rates will see them well-positioned to capitalize in the future.
Road to Recovery
Schlumberger Chairman & CEO Paal Kibsgaard says he expects the growth in oil and gas investments to initially be led by land operators in North America – i.e., shale – where continued negative free cash flows seem less of a constraint, as external funding is readily available, and the pursuit of shorter-term equity value takes precedence over full-cycle return on investment. In international markets, operators are more focused on full-cycle returns, and E&P investments are generally governed by the operators' free cash flow generation.
"Based on this," says Kibsgaard, "we expect the 2017 recovery in the international markets to start off more slowly, driven by the economic reality facing the E&P industry. This will likely lead to a third successive year of under-investment with a continued low rate of new project approvals and an accelerating production decline in the aging production base. These factors together are increasing the likelihood of a significant supply deficit in the medium term, which can only be avoided by a broad-based global increase in E&P spending, which we expect will start unfolding in the latter part of 2017 and into 2018." Kristian Johansen, CEO of seismic services company TGS,
has watched E&P spending drop 43 percent over the last two years – the worst downcycle the industry has ever had, he says. However, he remains optimistic. "Despite politicians, industry experts and a lot of others saying this is the end of the oil services industry and the end of oil, saying we've got to look for other sources of energy in the future, we are very bullish when we look at the long-term picture."
He explains his bullishness by saying: "First of all, current exploration efforts are unsustainable. There's no question about that. Secondly, the cost levels should eventually come down to levels that justify higher spending at current oil prices. We already have evidence of that because we all know oil companies have been very profitable in the past with an oil price of $50 and they are going to get there again. It's just that there's been a super-inflation in the period from 2009 to 2014, and they are still working to get the costs down."
Early Indicators
True to that prediction, when earlier this year BP Group Chief Executive Bob Dudley released details of the company's medium-term plans for the next five years he forecast long-term growth. The startup of BP's Thunder Horse South expansion project in the deepwater Gulf of Mexico late last year was achieved 11 months ahead of schedule and $150 million under budget due to the use of standardized technologies.
This year, seven projects are expected to come online, making it one of the largest years for commissioning new projects in BP's his- tory. These projects are also on average ahead of schedule and below budget. An additional nine projects expected to start up between 2018 and 2021 are already under construction. -MarEx
The opinions expressed herein are the author's and not necessarily those of The Maritime Executive.