The Digital Deck
New technology is revolutionizing on-deck operations, boosting efficiency and lowering emissions.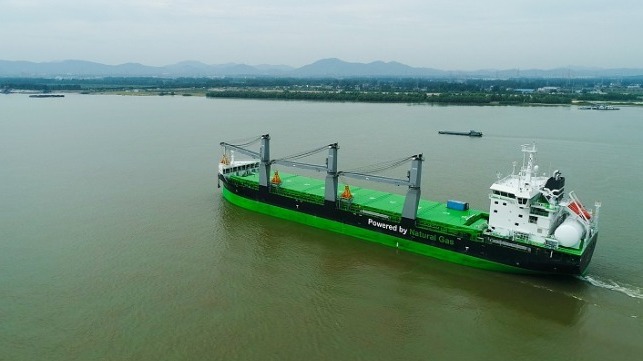 (Article originally published in Sept/Oct 2018 edition.)
Machinery manufacturers are demonstrating that reducing the shipping industry's carbon emissions is not just a mandate for engine makers.
At SMM 2018, Michel van Roozendaal, President of cargo and load-handling company MacGregor, a subsidiary of Helsinki-based Cargotec, commented on the IMO's ambition to reduce shipping's greenhouse gases by 50 percent by 2050. "How can you achieve that?" he asked. "Ships are already quite efficient. If you switch to LNG, perhaps it will be a little bit cleaner, but it doesn't necessarily give a large reduction in greenhouse gas emissions. If you go electric, there is not necessarily a recharging point for your ship in the middle of a voyage. That is simply a reality."
His answer: MacGregor and its Singapore-based sister companies, Kalmar and Hiab, are focused on reducing inefficiencies and waste like idle time waiting in port. "This has the potential to reduce a shipment's overall greenhouse gas footprint," he says. "We think about the cargo's overall transit time from door to door, not just its time on board a ship. Autonomous vessels can be a part of reducing that waste too, and we are very engaged in this effort. If you have an autonomous vessel but need a crewmember to operate the crane, you still have to make space on board for that individual. To be fully autonomous, these ships will also have to have autonomous sub-systems."
To this end MacGregor, together with ESL Shipping Oy, is developing and testing the world's first autonomous discharging cranes equipped with self-learning capabilities. The cranes will be fitted on ESL's two new LNG-powered Handysize bulk carriers, Viikki and Haaga.
A number of features maximize efficiency. Each crane pre-calculates suggested routes to optimize paths, ensure pendulum-free motion and minimize total discharge time. The crane's topographic software creates a map above each cargo hold to find optimal lifting points and calculates which shore-side hopper to use, depending on capacity.
The "grab" is controlled by an intelligent, self-learning algorithm that automatically adjusts to ensure that the bucket is filled to an optimum level and not overloaded. The auto-grip software readjusts lifting parameters when material properties change, automatically adjusting between cargoes. The software essentially mimics a crane driver's desk and can be located on the ship's bridge or anywhere that the system operator has a view of the crane position and the topographic cargo map.
Safety advances are a key benefit of autonomously discharging bulk cranes, says MacGregor. Speed and crane movement are continuously monitored to ensure cargo is moved without causing pendulation. However, if this does occur, it's automatically corrected by the cranes' anti-pendulation system. Numerous sensors also compensate for a vessel's change in list and trim during operations, so a stable discharge point is continuously maintained.
The realization of autonomous vessels will be a journey, says van Roozendaal, not an overnight achievement. Running concurrently, the company's framework for developing intelligent systems is called MacGregor Smart, a program that involves building digital features into MacGregor equipment. By the end of the year, all new relevant equipment will be configured to offer connectivity capabilities ready to be activated if a customer requests it.
Balancing the Load
Norwegian company Kolberg Caspary Lautom is also acting on cargo crane efficiency. The company has launched a gyro-based stabilization device called YawSTOP to enable rotation-free and rotation-controlled lifting and loading of cargo by cranes. While heave-compensated cranes adjust for wave and roll, rotation control of suspended cargo is frequently handled by vessel or harbor crew with taglines attached to the corners of the load – a highly inefficient method.
"We have conducted analyses which show that YawSTOP reduces time usage for lifting operations by up to 45 percent and costs for each lifting operation by up to 50 percent," says Thor Jegard, Chairman and main owner of Kolberg Caspary Lautom. "As the solution enables you to control unwanted rotation of the cargo, you can complete more lifts in a shorter space of time as well as increase your operating window by working during weather conditions that previously were defined as too challenging. This increases both productivity and predictability."
TTS Marine has introduced an intelligent control block for windlasses, designed to prevent severe damage to the motor related to anchor heaving under heavy weather conditions, during which the anchor chain often exceeds the intended safe load of the windlass. This leads to motor damage, chain loss and downtime. The newly-designed TTS Intelligent Control Block automatically adjusts when overload is detected and protects the motor from damage. It's available for all new TTS windlasses and as an upgrade for existing TTS windlasses.
TTS Syncrolift targets efficiency gains during drydocking with its FastDocking™ equipment suite, which reduces docking time and increases dock capacity. The suite includes automated bilge support arms that eliminate the need for customized blocking of ships, thus saving on man-hours, materials and lead-time. The in-haul system guides the vessel safely into the dock while the positioning system centers the vessel over the blocking arrangement. A mechanized propeller puller eliminates the need for the welding of brackets to the ship and reduces or eliminates the use of cranes and scaffolding.
Among the early users of this new technology are Harstad Mekaniske Verksted in Norway, De Haas Rotterdam in Holland and Zamil Offshore in Saudi Arabia.
ACE World Companies is building transfer cars for Huntington Ingalls Shipbuilding's facility in the U.S. These 168-ton capacity, four-point, self-propelled translation jacking cars are placed under ships during final assembly and used to transport the ship to dry dock to be launched. There is a need for more cars as ship size increases, and the company expects additional demand over the next few years from the building of new battle ships.
Smith Berger Marine's remote-controlled Shark Jaws for on-deck chain and wire rope handling provide enhanced safety for the crew. The Shark Jaws take advantage of PLC technology for easier installation with less electrical wiring. The company has just supplied Shark Jaws, tow pins and stern rollers to nine new tugs built by Edison Chouest Offshore.
Young Brothers recently took delivery of Kapena Jack Young, the first of four new ocean-going tugs from Conrad Shipyards. All four are fitted with Smith Berger Shark Jaws, tow pins and stern rollers. These tugs have a partially open stern with the gear mounted flush to the deck. This design features four pins and two hooks to accommodate the rare event when two tow lines would be deployed at once.
Remote Monitoring
Markey Machinery is boosting efficiency by offering its Remote Access service that provides real-time equipment support including troubleshooting and adjustments to performance. Benefits include quicker response times and lower costs compared to traditional onsite services. Markey currently supports several winch end-users in the U.S., Australia, Mexico and on most of the world's oceans.
As long as a Markey winch was supplied within the last five years or so, Remote Access can be retrofitted easily through connection to a laptop pre-loaded with the proper software. In most cases, several vessels operating within a single port can be serviced through the same laptop.
Markey has also developed the Markey Model DESMW-14-20 Electric Combination Winch/Windlass for tug bows with short fore-aft dimensions. The winch incorporates a line drum and an anchor chain wildcat in a unique design to keep the footprint small. Most of the winch's drive components and the 20HP electric motor are situated below deck, providing a minimal on-deck envelope. The first two machines are currently in production at Markey's manufacturing facility in Seattle.
Liebherr-MCCtec Rostock GmbH has extended its ram luffing knuckle boom crane series with a new compact, lightweight model. As maximizing space on deck is an increasingly important issue in the offshore sector, Liebherr developed the new RL-K 2600 with a small tail swing radius of less than three meters. The crane has a lifting capacity of up to 50 tons to support both offshore supply and maintenance work. By equipping the crane with either a hook or a riser/gripper, the RL-K can also be used for pipe-handling tasks.
The crane is suited for both fixed platforms as well as vessels such as drill ships. In keeping with smart technology developments across the industry, the crane can be equipped with a newly developed path control system, designed to optimize crane movements in confined spaces.
The Digital Revolution
In the past, the maritime industry has been a very mechanical business, driven by applications using hydraulic systems. More recently, the trend has been toward the electrification of equipment, and this has opened up the possibility of automation. It's been an evolutionary process.
But the world is changing again. Digitalization and intelligent solutions are now being delivered at an increased pace – solutions that offer efficiency and also support the additional goal of reducing shipping's greenhouse gas emissions. And it's only the beginning. There's a lot more to come. – MarEx
The opinions expressed herein are the author's and not necessarily those of The Maritime Executive.