Selling Point
Can quality water and waste treatment systems actually benefit the bottom line?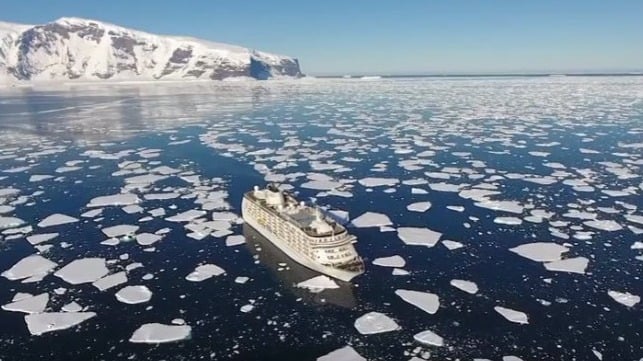 (Article originally published in Jan/Feb 2019 edition.)
Environmental compliance is important for every shipowner's bottom line. A proven track record can attract good customers and new revenue. A lapse can result in detentions, fines and bad publicity. Upfront investment in quality treatment equipment can bring peace of mind, and with the most innovative solutions it can even be a selling point.
New Rules for Ballast Water
When a ship takes on ballast in one region and discharges it in another, it gives free transportation to any aquatic creatures that came on board at the port of origin. Invasive organisms like the infamous zebra mussel can travel in ballast water and reproduce rapidly in new locales, causing significant environmental harm and millions of dollars in property damage.
The IMO's Ballast Water Management Convention will combat this problem by requiring ships to clean their ballast with certified treatment systems, and the deadline for compliance is fast approaching. After September of this year, almost every internationally trading merchant ship must have a compliant ballast water treatment system installed at the time of its first IOPP renewal survey.
In the U.S., ballast water treatment requirements are already in effect and enforcement begun. However, U.S. rules are changing. In December, Congress passed the Vessel Incidental Discharge Act (VIDA), which adjusted multiple environmental regulations on shipping including type-approval testing standards for ballast water systems.
Over the past several years, the U.S. Coast Guard's type-approval process has been a major factor in the equipment marketplace since vessels that call in the U.S. need a U.S.-approved system. In 2012, the Coast Guard rejected the internationally accepted Most Probable Number (MPN) testing method, which evaluates whether an organism is "viable" and capable of reproduction after treatment. Instead, it required that systems must render marine organisms visibly "dead" under the microscope in order to meet compliance standards.
VIDA seeks to reverse the Coast Guard's decision and bring U.S. type-approval requirements in line with the IMO testing regime. It expands the definition of "dead" to include non-viable organisms and requires the agency to propose new rules for reproductive-based testing by mid-2019. UV-based treatment systems are set to benefit most from the change as they work particularly well for rendering marine organisms non-viable.
"VIDA essentially levels the playing field for UV systems, particularly in their target market – the smaller vessels, anywhere from mid-sized container ships down to tugs and OSVs," says Mark Riggio, President of the Ballast Water Equipment Manufacturers' Association (BEMA).
This may be especially beneficial for the many "early adopter" shipowners who have already installed IMO-approved, UV-based systems. Under VIDA, the Coast Guard is instructed to consider testing standards based on MPN methods like those already used to certify many of these systems. The change may well provide a pathway to U.S. compliance for hundreds of early installations without the need for a major retrofit.
However, some manufacturers are concerned that VIDA may lead to a reduction in standards going forward. Xavier Deval, Business Director for ballast treatment supplier BIO-SEA, says UV systems tested after the rules change could be much different from today's Coast Guard-approved designs.
"In terms of performance, reliability, energy consumption and ballast water holding time, the gulf between pre- and post-VIDA BWMS could be very huge indeed," Deval warns. "The development could theoretically open the U.S. Coast Guard's door to the type approval of systems that would otherwise have failed."
Beyond changes for type approval, VIDA also overrides any state-level ballast water treatment requirements like those envisioned by lawmakers in California and New York. This ensures predictability and consistency. Shipowners can now expect that federally approved systems will meet requirements in all U.S. locales.
For some vessels – particularly small workboats – novel approaches in naval architecture can meet compliance requirements by eliminating ballasting altogether. In November, Bernhard Schulte Shipmanagement (BSM) took this concept to a new level when it commissioned the world's largest LNG bunkering vessel, the 4,300 dwt Kairos.
Among her many groundbreaking features, Kairos is a ballast-free ship. Since LNG is a relatively lightweight cargo, her draft does not change dramatically, so large ballast tanks aren't required. Using a house-forward layout, a wider beam and fixed ballast at the keel, BSM's naval architect was able to create a design that satisfies stability requirements without taking on ballast. Kairos uses a small amount of freshwater for trim, but it's never discharged, so she does not need a multimillion-dollar treatment system.
Clean Cruising
For cruise ships, wastewater treatment may be an even more important compliance challenge than ballast water management. Small boutique and expedition ships travel far off the beaten track and need high reliability and performance in environmentally sensitive waters, says Mark Mellinger, Vice President at wastewater treatment company Headhunter.
His firm recently completed a retrofit for Silversea Cruises for a vessel operating in the Galapagos Islands, and proximity to service was a key factor. "We have a large service operation there, and many of the vessels in the area are already running Headhunter sewage treatment plants," he explains. "That was a major factor for the contract." Space is also a critical consideration for a small passenger vessel, and Headhunter's systems make use of the ship's existing holding tank to keep the space footprint to a minimum.
The largest mega-ships have an additional challenge: There are enough people on board to start a mid-sized town. While it may be far from their minds during the cruise, these passengers and crew generate a considerable amount of waste.
Norwegian manufacturer Scanship is the leading supplier of wastewater treatment equipment to the cruise industry. Half the cruise ships delivered between 2014 and 2020 will be Scanship-equipped. CEO Henrik Badin credits that success to the company's relationships with shipowners.
"Typically a shipyard will try to buy the lowest-cost solution," he says, "but since we have very good cooperation with the shipowners they tend to support us when they look to build new ships. That explains much of our current growth. And when shipowners like Carnival move toward upgrading existing ships, they recognize that Scanship has a strong track record and that makes us an attractive partner."
That track record is built on proven performance, 24/7 operation and investments in new technology. Today, Scanship's equipment has become something of a selling point for cruise lines. When newcomer Virgin Voyages entered the industry, it approached Scanship about working together on integrated waste treatment systems. Virgin now advertises the partnership as an example of its investments in sustainability.
"Five or six years ago, Scanship was never mentioned as part of the ship's specifications," says Badin, "but these days shipowners are promoting cooperation with environmentally friendly suppliers."
The technology that attracted Virgin is a full-ship waste management system with a proprietary Microwave Assisted Pyrolysis (MAP) unit, which uses microwave energy to rapidly heat organic waste, turning the feedstock (wastewater sludge, food scraps, cardboard, even plastic) into syngas and charcoal. The syngas can be used as a replacement for fossil fuels to generate energy on board, and the charcoal is marketable as a soil additive.
"Based on our initial calculations for a typical cruise ship, this technology could yield a total CO2 reduction of seven to eight percent," says Badin. This represents a significant savings, especially as shipping looks to cut its carbon emissions in half by midcentury.
"Quats" & Other Disinfectants
Depending on how it's done, shipboard cleaning may not always be good for water treatment. Due to the increasing popularity of disinfectants, marine wastewater systems often have to contend with compounds that interfere with their operation. In particular, more and more everyday cleaners contain a class of disinfectants known as quaternary ammonium compounds – or simply "quats" – which prevent the microbial growth needed for biological treatment.
According to Alan Fleischer, Director of Marine Sales & Engineering at wastewater treatment firm Scienco/FAST, quat concentrations as low as five parts per million can inhibit a treatment system's function, creating the potential for noncompliant discharge. Shoreside wastewater plants handle much larger volumes of water, which dilutes contaminants and prevents problems, but shipboard systems don't have that luxury. Once acquired, quat contamination stays until removed: Quats do not degrade quickly and can persist in treatment tanks for long periods.
"The worst case is that the unit will not treat sewage and what comes out will be very close to what goes in, certainly exceeding the results written into the regulations and expected at the certification test," says Fleischer.
Quats are a common ingredient in everyday cleaners like Pine-Sol, Lysol and Formula 409. In addition to their effect on wastewater systems, they are harmful to aquatic life in very low concentrations. Discharging quats into the water, including discharge via the vessel's sewage system, is discouraged under the EPA's Vessel General Permit program.
VGP-regulated vessels are required to use soaps and detergents that are "minimally toxic" to marine organisms. Lab-certified compliant products are available, but Fleischer says that avoiding disinfectant cleaners is a good starting point. If in doubt, a product's MSDS will disclose whether it contains compounds that should not be discharged into the water.
Bottom-Line Benefits
Perfect environmental compliance takes effort, but investments in high-quality treatment equipment – along with careful attention to maintenance – can go a long way toward keeping a ship within the rules. Operators who go above and beyond the requirements can use "green" innovations as a selling point, especially in the cruise industry where customers may be attracted by environmentally friendly features.
Most importantly, though, these investments support a fundamental industry goal: to keep ships running without harming the natural world. – MarEx
Paul Benecki is the magazine's Americas/Europe Editor.
The opinions expressed herein are the author's and not necessarily those of The Maritime Executive.