Safer as She Goes
Incremental improvements in passenger safety add up to big gains over time.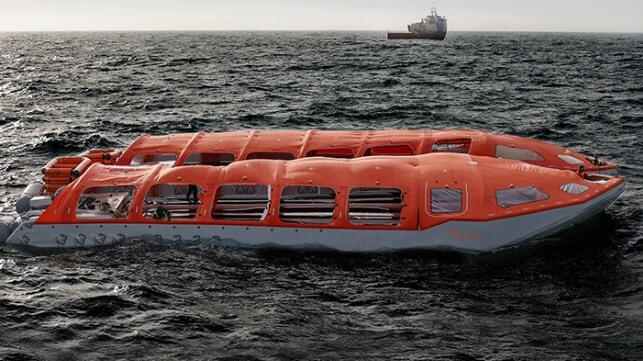 (Article originally published in Jan/Feb 2023 edition.)
Marine safety improves through innovation and regulation. Early adopters pick up on new solutions while regulators keep the market in compliance with baseline standards.
Eventually, the most successful new safety ideas become requirements – like the lifeboat, which began as an optional wooden launch and evolved into a mandatory, engine-powered survival craft. This iterative process takes time, but the improvements gradually accumulate and passenger vessels today are far safer than in generations past.
If the pace of change is any sign, the next generation will be safer than ever.
Inflatable Escape
One genuinely new safety innovation is Survitec's Seahaven, the world's largest inflatable lifeboat. The self-propelled craft is designed as a replacement for the giant rigid-hull lifeboats found on cruise ships and fulfills the same role – but in a much different way.
Each 100-foot-long Seahaven has enough space to evacuate 530 passengers, and the design is installed in sets of two – enough for 1,060 passengers. That evacuation capacity fits into a package measuring about 54 feet long on one deck level.
The safety benefits are compelling. The inflatable design is fully automated and deploys at the push of a button. This eliminates the complexity of the traditional davit and release-hook system, which requires the crew to follow a series of manual procedures under time pressure. Instead of lowering a lifeboat to an embarkation deck, boarding the passengers, lowering away and detaching the boat from its hooks, the crew can stand back and watch an inflatable Seahaven lifeboat deploy itself in less than four minutes.
If the Seahaven system is used in an emergency scenario, passengers board the inflatable boat through a fabric helical slide system, adapted from Survitec's Marin Ark marine evacuation system (MES). The MES functions much like a spiral water slide. Evacuees can see around themselves and control their rate of travel as they descend. It's designed for intuitive use and can load a boat in under 22 minutes without extensive training, according to Survitec MES & AES Product Manager Richard McCormick.
Once aboard, passengers might be surprised at the comfort of their ride. A giant inflatable lifeboat's seakeeping characteristics are unique, according to McCormick.
"It's a totally different experience," he says. "It doesn't roll – it undulates. You can see the floor move a bit as a wave carries on by, and people are still able to stand. It's very different from a lifeboat that's getting slapped by waves."
Seahaven has successfully completed heavy weather sea trials in Sea State 6 (strong winds, up to 10-foot waves) and won type approval from Lloyd's Register in late 2022. To ensure the system meets regulators' expectations, the U.K. MCA, U.S. Coast Guard and multiple flag states were consulted during R&D. Now that it has all approvals in hand, Survitec is in late-stage discussions with Norwegian Cruise Line about installing Seahaven aboard the new Project Leonardo series of cruise ships.
In all, three of the four major cruise operators are engaged in talks about future applications, and these concept-stage consultations are ideal for getting the most value out of the system, notes McCormick. That's because Seahaven's small footprint is the business case. When compared to a conventional lifeboat deck, the space savings with Seahaven can total more than 20,000 square feet, and all that extra space can be used to generate revenue or improve the customer experience.
"We know we can free up to 85 percent of the space normally allocated to lifeboats and davits," McCormick adds. "Now what you do with that space? Is it passenger enhancement? Is it extra dining? Is it extra cabins? That's up to the operator."
Staying Warm
Expedition cruise operators need to go even further to assure safety in the event of an abandon-ship scenario. As more cruise lines launch specialty voyages to the Arctic and Antarctic, they have to adapt their preparations to account for extreme conditions.
In these cold, inhospitable regions, help could be days away if something goes wrong, and passengers will need equipment to survive. That's why the Polar Code requires cruise operators to provide adequate thermal protection for everyone on board, including immersion suits or thermal protective aids.
The design standard for a typical immersion suit calls for six hours of protection from the elements, but something even more robust is needed, says Diego Jacobson, Founder & CEO of suit manufacturer White Glacier. His company has designed its Arctic 10+ suit to keep survivors going for much longer.
According to Jacobson, the Arctic 10+ has an insulation factor about twice as high as the best immersion suits on the market (CLO 4.87 versus CLO 2.0-2.5). In recent testing in sub-zero conditions at a lab in Norway, a test subject wearing an Arctic 10+ was still comfortable after six hours immersed in freezing water at an air temperature of -22oF.
"If you're in a suit and you're uncomfortable," Jacobson explains, "you're cold, your psychology is impacted. Now imagine you're protected. You're warm. You have a splash hood to protect you from the wind, rain and waves. You can eat and sleep. Your comfort is higher, and your survivability will be positively impacted by that."
White Glacier's suit was developed with input from leading expedition cruise operator Ponant, a pioneer in high-latitude cruising. Ponant performed a search-and-rescue exercise at the North Pole to test out the Arctic 10+ in 2021 and decided to purchase a full set of suits to outfit its new icebreaking luxury cruise ship, Le Commandant Charcot.
Ponant has taken the plunge on its own initiative, and Jacobson believes the Polar Code's "adequate thermal protection" standard will prompt more operators to follow. In time, IMO will likely write tougher standards for suits in order to reflect the harsh conditions of the poles, he says. In the meantime, White Glacier's high-end suit is available and fully certified and within economic reach: When purchased in volume, the Arctic 10+ is cost-competitive with other high-end immersion suits on the market.
"The bottom line is there's a new paradigm in hypothermia protection and a solution for extended survivability that did not exist before," Jacobson adds. "It's just a question of educating the market."
Eliminating Exceptions
Innovative safety ideas get picked up first by early adopters, but regulation levels the playing field by making safe operations mandatory. These incremental improvements add up over time to make new vessels safer for passengers.
However, older vessels often get grandfathered in, and design features that would get a new boat detained are allowed to carry on in commercial service. The U.K. Maritime and Coastguard Agency (MCA) recently decided to close that gap by applying decades of rulemaking and safety technology to existing, historic passenger vessels.
"Every passenger traveling on every boat deserves to know the same consistent standards of safety are applied," states Katy Ware, Director of U.K. Maritime Services, in announcing the change in January. "Older vessel standards must be brought, as far as possible, up to an equivalent level of safety as new ones, to provide an acceptable safety standard for the fare-paying public."
The change is intended to apply lessons learned from the sinking of the Marchioness, a historic river boat struck by a dredger on the Thames in 1989. The disaster took 51 lives. With MCA's long-awaited rule, classic passenger vessels will now have to match modern standards when it comes to lifeboats, lifejackets, bilge pumps and damage stability.
"We cannot and will not risk another tragedy like the Marchioness," says Ware.
In the U.S., two tragedies involving older vessels – the sinking of the excursion boat Stretch Duck 7 in 2018 and the fire aboard the dive boat Conception in 2020 – have also motivated legislators to take action.
After the tragedy aboard the Conception, which claimed 34 lives, Congress passed legislation requiring stringent new fire safety rules aboard small passenger vessels. The new regulations took effect in 2022 and included tougher requirements for fire detection and fire suppression, more reliable means of escape from berthing areas and better crew firefighting training.
The law also added a unique technological requirement, found only on this vessel class. To deter complacency, each covered vessel must now carry electronic monitoring devices that ensure that roving watchstanders are checking each compartment in the boat overnight.
The Conception disaster also prompted Congress to make it easier for passengers to file a lawsuit in the event of an accident. A bedrock rule of U.S. maritime law, the Limitation of Liability Act of 1851, caps civil claims at the post-casualty value of the vessel itself. This law prevented the families of victims of the Conception fire from pursuing compensation from the vessel's owners because the wreck had no value (and therefore no financial liability).
In December, Congress changed the Act to remove small passenger vessels from its coverage. Going forward, small operators will no longer be able to claim this limit and will be just as liable as bus or airplane operators in the event of an accident.
"The Lives Are Priceless"
The U.S. Coast Guard has also begun to design a new safety management system (SMS) requirement for small passenger vessels, adapting familiar concepts from the ISM Code for deep-sea shipping.
The U.S. National Transportation Safety Board has been advocating for a mandatory SMS for small passenger vessels for two decades and has called for a strong final rule. "We've seen incredible benefits in other modes of transportation, including aviation, where they have implemented safety management systems successfully," explained NTSB Chair Jennifer Homendy at a congressional hearing last year.
Passenger vessel operators will have to bear some amount of cost to implement an SMS, but ultimately, as Homendy put it, "The lives are priceless."
Paul Benecki is the magazine's News Editor.
The opinions expressed herein are the author's and not necessarily those of The Maritime Executive.