Protecting the "Blue Economy"
Piracy is just one of the challenges facing shippers in West Africa.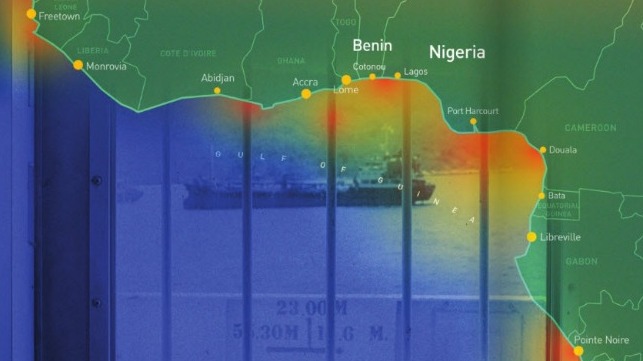 (Article originally published in Sept/Oct 2018 edition.)
Just before sunrise the Kelewele, a small product tanker anchored off the port of Cotonou, Benin on the Gulf of Guinea, comes to life. Except for the anchor watch, most crew members got some well-deserved rest ahead of a busy day. Some of the fuel onboard will be unloaded in the port before the vessel goes on to Lagos, Nigeria to discharge the rest of her cargo.
Many crew members have been feeling uneasy about their schedule since they left Europe. They fear an attack against their ship in a part of the world that has a reputation for violent cases of piracy.
Cotonou and Lagos are two of the busiest ports around the Gulf of Guinea, a "hunting ground for pirates," according to one recent headline. Other media reports have taken a similar tack: "West Africa continues to be a piracy hotspot" or "Piracy attacks on the rise in West Africa" are two examples, contributing to the anxiety among the crew.
Such generalizations, however, are neither helpful for shipping companies nor crew. One problem is the lack of an agreed definition. Even though West Africa and the Gulf of Guinea are often used synonymously, the latter is only a small part of a region that stretches from Senegal all the way to Angola.
Capacity-Building
Governments from this diverse group of countries have committed themselves to improving maritime security including, but not limited to, the fight against piracy. There's increasing recognition that capacity-building is necessary, says Robert McCabe, Research Fellow for Maritime Security at Coventry University, "due to increasing interest in the economic promises of the oceans" – often simply dubbed the "blue economy."
Unfortunately for the shipping industry, piracy is not the highest priority among maritime security challenges that also include illegal fishing, drug trafficking, fuel smuggling, illegal migration and many others. These have "debilitating impacts on countries around the Gulf of Guinea because of their immediate impact on the safety of people," states Kamal-Deen Ali, Executive Director of the Ghana-based think tank CEMLAWS Africa. In short, governments are not likely to spend their limited resources on the fight against piracy.
That is not a bright outlook for companies operating vessels in the region or for seafarers manning those ships. Attacks against merchant ships have been a problem in many countries throughout West Africa for decades. It is unrealistic to believe that the situation will improve dramatically in just a few months. At the same time, threat levels vary significantly in different areas and for different ship types.
The Kelewele about to call at Cotonou is a good example. Several attacks against small product tankers were recorded at the anchorage in early 2018, seemingly repeating a pattern that could be observed between 2010 and 2012. The more recent attacks, however, should be analyzed in connection with other illegal practices in the region rather than as straightforward piracy, underlining the importance of a longer-term analysis.
Furthermore, authorities in Benin have tried to counter the threat by providing military personnel as armed guards on anchored ships and conducting additional patrols around Cotonou's anchorages. Yet with only six patrol boats, Benin's small navy is hardly equipped to provide a permanent presence at sea.
Virtually all countries in West Africa suffer from such a lack of capacities to counter a multitude of maritime security issues. In Nigeria, it's led to a unique partnership between the Nigerian Navy and the private sector. Private security companies own and operate patrol boats that are then partly manned by naval personnel and used to escort merchant vessels to ports or provide security for offshore installations.
One of these vessels will escort the Kelewele to her berth in Lagos. Even though the sprawling metropolis lies little more than 50 nautical miles east of Cotonou, continuously high numbers of security incidents have contributed to Nigeria's bad reputation in the shipping industry.
While the escort vessel will help to reassure the crew, it took the operator some time to find a good security provider. Several companies had offered their services, but due diligence assessments showed that only two of them were able to fulfil the operator's legal and operational requirements.
Assessing Risk
The assessments were carried out by Risk Intelligence, a Denmark-based provider of maritime security intelligence. Clients include insurers, government agencies and offshore operators as well as shipping companies operating more than 12 percent of the world's fleet. "West Africa has long been one of the main areas of interest for our clients," says Dirk Steffen, the company's Head of West Africa Analysis, "and we have established a broad range of sources across the region."
Aside from bespoke reports or due diligence assessments, the Risk Intelligence System provides clients access to a vast database of maritime security incidents that is constantly updated. "For ongoing incidents, we update the information almost in real time, allowing ship operators to notify their vessels in the vicinity," adds Steffen.
The former naval officer – who has been involved in maritime security-related projects in West Africa since 2004 – knows that shipping companies are not only interested in information about ongoing incidents. Throughout West Africa, insecurity at sea is dynamic, and it's possible to mitigate against many of the threats. "Clients value our system because they can find comprehensive threat assessments for sea areas, countries or specific ports and various indicators for a quick evaluation before a voyage is actually planned," Steffen explains.
Such an evaluation shows that the threat level for the Kelewele on her voyage from Cotonou to Lagos is very different than the threat level for a container ship or an LPG carrier on the same route. All of those vessel types, however, have come under attack off the Niger Delta in recent years, attacks in which perpetrators are trying to kidnap crew members – a notably different scenario from many other countries in the region where crews are mainly concerned about thefts at anchorages.
For shipping companies, insurers and even regional navies, it's therefore important to thoroughly analyze attacks against ships. Statistics collected by different organizations are not easy to compare due to different classifications and reporting standards.
Moreover, incidents are sometimes reported as suspicious even though they merely reflect patterns of life in the region, says Kamal-Deen Ali, a former naval officer himself. Given the anxiety of many seafarers, it's understandable that close encounters with fishing vessels may be a cause for concern. Such reports, however, should be put in context rather than simply forwarded to a large number of recipients, adding to the already existing anxieties.
Corruption
Aside from actual attacks against ships, maritime operators in West Africa have another important problem to deal with: corruption. Johannes Riber Nordby, Deputy Director at the Royal Danish Defence College, rates corruption as one of the biggest maritime security threats.
Nordby has co-authored an extensive study of the region and points out that corrupt practices, including by outside countries, undermine good order at sea. "Unfortunately, there is no easy quick fix and the political will to improve maritime security in West Africa is severely hampered by such practices," he summarizes in his research findings.
Nordby's experience adds an interesting perspective to assistance from the international community aimed at improving security for ships, crews and cargoes. Outside the continent, attention has somewhat shifted from counter-piracy missions around the Horn of Africa to a broader approach regarding maritime security in West Africa.
The long-term sustainability of projects funded by international organizations is far from certain since the political priorities of international partners are often different from those in countries receiving assistance.
Reasons for Optimism
At the same time, there are reasons for optimism. The blue economy's potential for economic growth and development in the region is getting more and more recognition. Tim Walker, Senior Researcher at the pan-African Institute for Security Studies, sees positive examples in countries such as Senegal or Côte d'Ivoire. "Maritime development opportunities and blue economies are incrementally making their way onto political agendas," he explains.
Walker maintains a positive outlook, but long-term efforts to build navies remain necessary and are often overshadowed by land-based security issues that are much more urgent.
In the meantime, the crew on the Kelewele will continue their counter-piracy drills on voyages to ports in West Africa. Transporting fuel to the region is likely to remain good business for the operator – based on comprehensive risk assessments and the necessary mitigation measures. – MarEx
Dr. Dirk Siebels is a Senior Analyst at Risk Intelligence in Denmark and an expert on maritime security issues in sub-Saharan Africa.
The opinions expressed herein are the author's and not necessarily those of The Maritime Executive.