"Nothing Is Moving"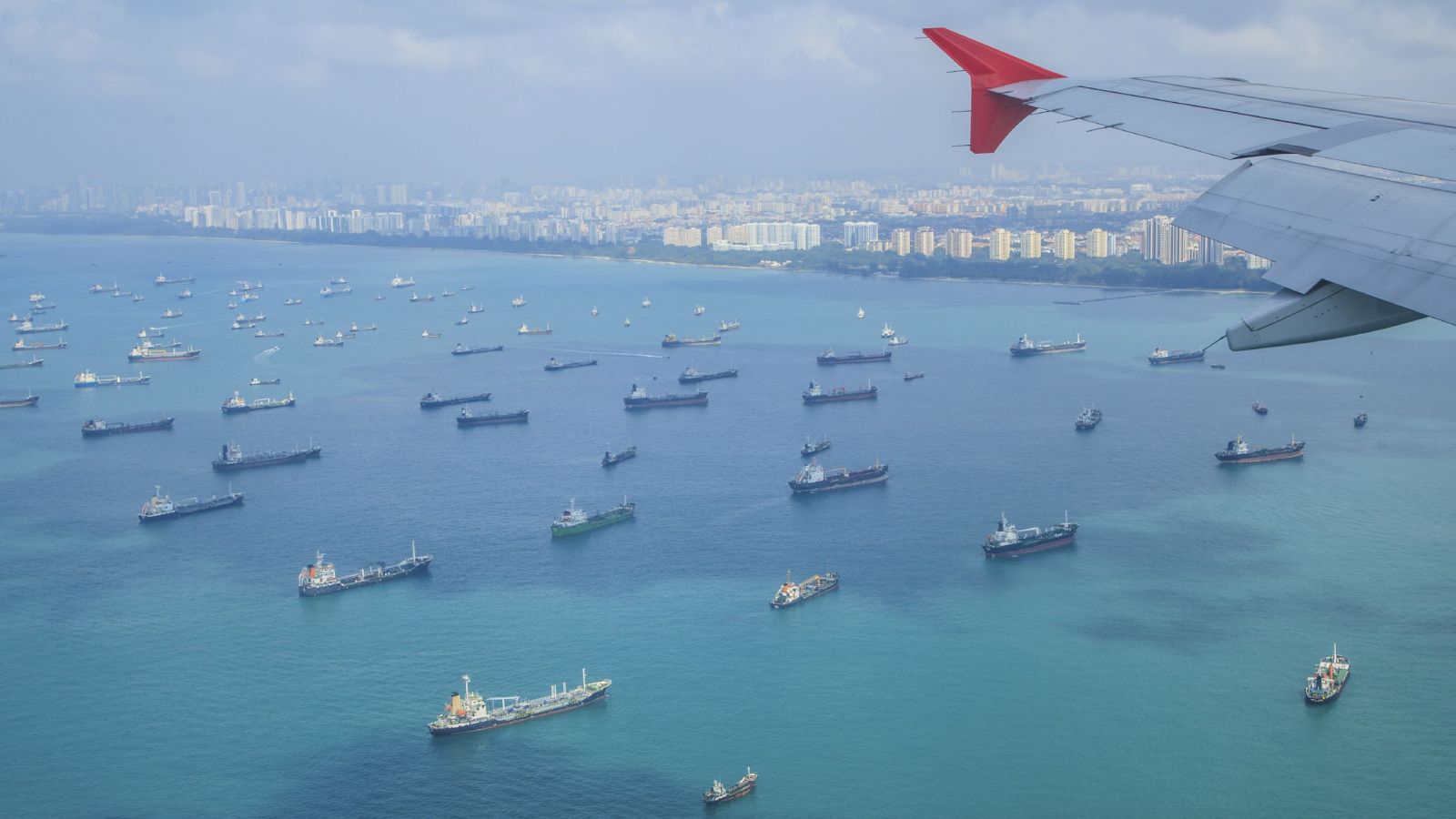 (Article originally published in Mar/Apr 2016 edition.)
The slowdown in China and low commodity prices have slammed shipping. But other links in the intermodal chain, like trucking and rails, are doing just fine – so far.
By Jack O'Connell
If your business depends on the energy or mining industries or anything related to commodities, you're in trouble. Almost everywhere you look, there's a surfeit of supply and a dearth of demand. "Nothing is moving," said one beleaguered executive, and his comments are echoed in thousands of small and mid-size businesses not just in the U.S. but globally.
We all know the reasons why. China stopped buying and the rest of the world kept producing – that's one. The other is the growing surplus of commodities of all kinds in the face of lackluster demand and a stagnant global economy.
So it's no surprise that prices for oil, coal, iron ore and copper fell off a cliff, asset values plummeted, storage bins filled to capacity, and a host of companies found themselves facing the likelihood of bankruptcy. As for shipping, its problems were exacerbated by an oversupply of vessels ordered during the post-Great Recession boom years and still being delivered today.
Casualties Galore
For the dry bulk industry in particular, where the oversupply is most evident, the impact has been dramatic. From a high of close to $200,000/day in 2014, rates for the largest class of dry bulk carriers – Capesizes, the ones used to transport coal and iron ore – have fallen to about $5,000/day. It costs at least $7,000/day just to operate one of these behemoths, nevermind the financing and other capital costs involved. So the losses can mount up quickly
And the Capes are not alone. The carnage extends to smaller sizes as well – to Panamaxes, Newcastlemaxes, Supramaxes and Handysizes (don't you just love those names?). Eagle Bulk, for example, one of the largest owners of Supramax vessels (those in the 50,000-dwt. range), finds itself facing the prospect of bankruptcy for the second time in two years as its stock now trades below $2 and loans become due. And Dryships, once the darling of Wall Street when its stock traded well above $100/share, is busy restructuring its debt in the face of massive losses.
The container segment is not far behind, and let's not even get into the offshore, where workboats and rigs are being stacked at an alarming rate. The one bright spot has been the tanker industry, but even there rates have weakened of late. Ditto for the gas carriers that ply the previously lucrative LNG and LPG trades, though LPG is holding up better. The problem is the same everywhere – too many vessels and too few cargoes.
It's likely to get worse before it gets better, given the current economic outlook. Historically, global trade expands at roughly twice the rate of global GDP, but that has not been the case lately. Lately global trade has been roughly tracking GDP. And with GDP forecast to grow at a meager 2.5 percent this year, prospects for a meaningful recovery are dim.
In the face of such dire conditions, the talk is all about consolidation and cutting costs. The few maritime companies that pay dividends are reducing or suspending them. Share repurchases are being cancelled. Managers have adopted a siege mentality and are busy reducing staff, scrapping or parking vessels, and squirreling cash. Shippers have been hit by what many are calling a "perfect storm" of negative factors – vessel oversupply, falling demand and shrinking asset values. It's a tough hoe.
The Intermodal Chain
All of this was reflected in the notable absence of shipping companies at this year's annual BB&T Transportation Conference held in Miami last month, where the focus was squarely on trucking and rails. And here the outlook is brighter.
Take J.B. Hunt, for instance, the Arkansas-based trucking company that's one of the biggest logistics providers in North America. You see its trucks everywhere, and for good reason: They have more than 12,000 of them. Its containers – the 53-foot variety – travel the Interstates and ride the rails. That's called intermodal – "between modes" – from truck to rail and vice versa, and it includes maritime and air freight as well.
J.B. Hunt is doing just fine and has recently expanded its business in western Canada, where it works closely with the Canadian National railway in the energy business. Hunt expects revenue growth of 9-12 percent in 2016. True, there are more empty containers lying around than last year, when there were none, but a little excess capacity is not necessarily a bad thing, especially if things suddenly get better.
The persistent driver shortage remains an issue, but the advent of the electronic logging device (ELD) has revolutionized the driving experience and made it much safer and far less stressful – and perhaps more appealing. Drivers love it because it means less work for them (no more handwritten entries in paper logbooks) and helps verify compliance with both company and industry regulations.
Yet only about 20 percent of the 3.1 million tractor-trailers on the road currently have ELDs, and they're mainly the ones owned by the big, publicly traded companies like Hunt. Experts predict that small "mom and pop" operations, those with 10 or fewer rigs, will have trouble justifying the cost of such devices and will eventually go out of business, thereby reducing capacity – at least temporarily – in a highly fragmented and (some would say) overcrowded industry. ELDs become mandatory next year.
Hub Group is another large intermodal carrier. It racked up $3.5 billion in sales last year and had "an amazing fourth quarter" (I don't know about you, but the word "amazing" is starting to wear). Among its many retail customers, which account for more than a third of sales, are Target, Amazon and Lowe's. It admitted to having "a bit of a hiccup in Q4, when it lost a customer" and decided to shut down its Los Angeles truck terminal, which was "a high-cost model in a low-cost area." But no matter. Hub is making all the right moves, and the large audience in attendance was most appreciative.
As for the driver shortage, one wit at the conference quipped that "If Bernie Sanders gets elected, everyone can go to driver's school for free!"
Riding the Rails
Unlike the highly fragmented trucking and shipping industries, railroads are among the most concentrated. There are really only six major trunk lines, called Class 1 rails, in North America. In the U.S. there are four: BNSF and Union Pacific in the West, and CSX and Norfolk Southern in the East. Canada has two, both of which are transcontinental – Canadian National and Canadian Pacific.
The rails are key to the entire intermodal system, and all the major trucking companies interconnect with one or more of the "Big Six," which in turn connect with ships and ports.
The best company among them, according to BB&T analyst Mark Levin, is Canadian National ("the CN"). Levin calls it the "gold standard" among Class 1 rails because of its industry-leading margins and productivity, diversified portfolio, steady reinvestment in equipment and infrastructure, and investor-friendly management (the company is committed to paying out 35 percent of profits in dividends and has an ongoing stock repurchase program).
In case you don't know the story, the CN was spun off from the Canadian government and went public in 1995. Though based in Alberta, its franchise extends from the East and West Coasts of Canada to the U.S. Gulf Coast. Its market cap of $60 billion makes it the second largest publicly traded rail (behind Union Pacific). It expects mid-single digit earnings growth in 2016 with the boom in the U.S. housing market, along with strength in autos and chemicals, helping offset declines in iron ore and coal.
Six years ago the CN made a key acquisition when it purchased the EJ&E, the Elgin, Joliet & Eastern Railway. The EJ&E (I love these names!), with its 198 miles of track encircling the city of Chicago, gave the CN a way in, through and around the biggest bottleneck in the entire intermodal system, where trains from the North, South, East and West converge. The acquisition provided key interchange points with other carriers and improved the CN's service offerings to customers. It also more than doubled train speed through the Windy City, where 25 percent of the CN's revenues either originate, terminate or pass through.
The stock trades in the high 50s and its dividend yields a respectable two percent.
If you don't like the CN, there's always the UP – "Big Daddy" Union Pacific, which in many ways serves as a barometer of the entire U.S. economy. BB&T has a "Buy" rating on the stock, which is trading around 80 and yields a healthy three percent. Last year UP's profits totaled an impressive $4.8 billion, but it may have trouble matching that this year as coal shipments are down sharply along with the crude-by-rail business and crude-by-rail's sister business, frac sand. Another mainstay, the grain business, is also lagging as farmers would rather store last year's harvest and wait for higher prices.
On the plus side, auto shipments are way up, particularly from plants in Mexico where UP has 70 percent of the business. (Incidentally, my car was assembled in Mexico, and yours was too probably – check the label on the inside driver's door.) Other bright spots include chemical and petrochemical shipments, which are benefiting from cheap natural gas prices and an expanding export market.
To "right-size" its network and alleviate current overcapacity, UP has decided to mothball 1,500 of its nearly 8,000 locomotives, or about 20 percent of the fleet. Meanwhile, it is taking delivery of 230 new locomotives ordered in the boom years. When questioned about this, CFO Rob Knight – a 36-year UP veteran – admitted the deliveries were untimely but said the new locomotives were much more fuel-efficient and environmentally friendly and would immediately replace older models. Oops, where have I heard that before? This is beginning to sound suspiciously like the maritime industry! – MarEx
The opinions expressed herein are the author's and not necessarily those of The Maritime Executive.