Johnny- Come-Lately
What the U.S. can learn from Europe as it ventures into the brave new world of offshore wind.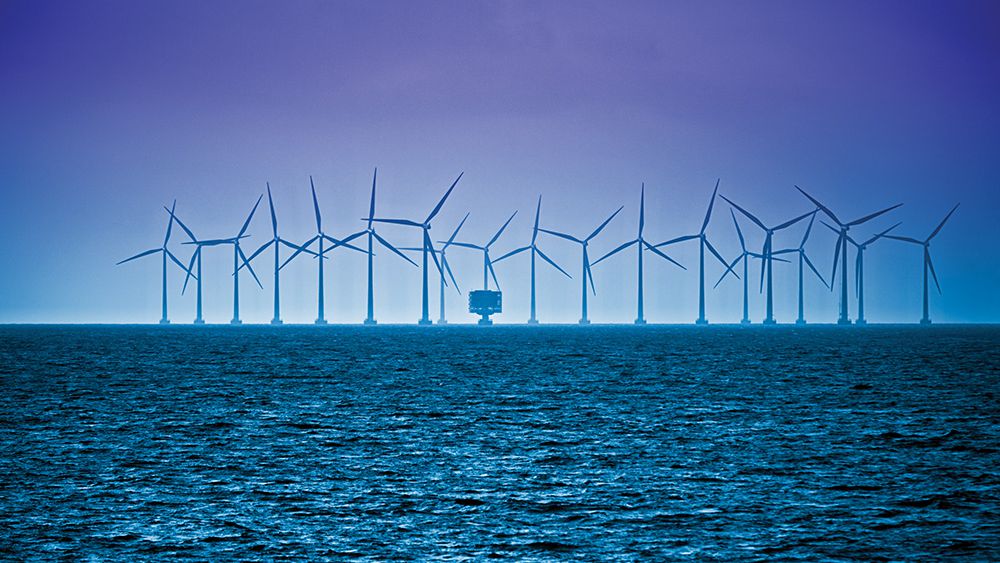 (Article originally published in Mar/Apr 2017 edition.)
What if "Make power while the wind blows" could replace "Make hay while the sun shines"? Well, it can. Using turbines, wind can be "farmed" to generate electricity. Like other renewable sources – hydroelectric or solar – what's required is a significant initial capital outlay for construction and infrastructure. After that, it's pretty much free sailing.
The U.S. is already the world's largest producer of onshore wind energy, but it lags far behind in offshore wind. And there are lots of good offshore wind power sites in the U.S. The Business Network for Offshore Wind believes the U.S. has 2,058 gigawatts of technically accessible offshore wind power, more than double the current total U.S. electric supply which, in 2013, the federally certified North American Electric Reliability Corporation estimated to be 966 gigawatts.
Naturally, nobody is advocating plastering the U.S. coastline with wind turbines. Indeed, bringing electricity inland from offshore sources is extremely challenging since electricity is lost when sent down along transmission lines. Nevertheless, according to the National Oceanic and Atmospheric Administration, 39 percent of the U.S. population lives along coast lines and a hefty 80 percent of electricity demand is from coastal and Great Lakes states.
For those consumers, offshore wind power is a smart alternative – at least as a supplement to traditional sources that can maintain a base load. It is low-carbon, locally generated, and drives manufacturing and engineering.
COST COMPARISONS
Still, if it comes down to money – and most things do – how much does offshore wind power cost relative to other sources?
ELECTRICITY GENERATED FROM WIND COULD BE CHEAPER THAN GAS, COAL OR EVEN NUCLEAR.
At least until recently, offshore wind was the most expensive way to generate electricity. In Germany, the world's leading user of offshore wind, each kilowatt hour of offshore wind power in 2013 cost 19.4 cents versus 10.7 cents for onshore wind, 9.8 cents for gas and 8.0 cents for anthracite ("hard") coal. That's a raw deal, but we need to remember that the 19.4 cents per kilowatt hour reflected a taxpayer-subsidized price floor, financed by a renewable energies transfer tax, which was designed to encourage pioneer investors.
By 2016, the pioneers' efforts had largely been vindicated. Thanks to the expensive learning curve of preceding years, big players like TenneT, Vattenfall and EnBW were able to bring costs down. In neighboring Denmark, for example, costs were as low as 4.9 and 6.4 cents per kilowatt hour, respectively, at the Kriegers Flak and Near Shore Project wind farms. In Germany, recently permitted offshore wind parks were priced at 15.4 cents per kilowatt hour.
Offshore wind is becoming rapidly more affordable as time passes, which gives it an edge. This is not just thanks to better technology and manufacturing techniques, but also to a more experienced, streamlined and better-equipped maritime sector (workboats, tugs, barges, heavylift vessels, etc.). The human capital – crews, captains and surveyors – had to be brought up to speed gradually as well.
PROOF OF CONCEPT
Even if there are still a lot of inefficiencies to overcome, we can at least take comfort in the fact that one offshore wind farm has already been successfully deployed in the U.S., the Block Island Wind Farm offshore Rhode Island, which launched operations last December.
Fred Olsen Windcarrier transported wind farm components from Europe across the Atlantic Ocean to the U.S., using its European-flagged jack-up ships to install the components without putting in to any U.S. port and thus avoiding any potential cabotage issues arising from the Jones Act. For a "proof of concept" project like Block Island, which has five turbines of six megawatts each, making multiple voyages across the Atlantic is less of an issue than for a large-scale project demanding a broad mobilization for dozens of turbines.
Right now the Block Island Wind Farm is delivering electricity capped at 24.4 cents per kilowatt hour. This is a modest but encouraging start given the fact that the parts were moved roughly 3,600 miles from their European origin to their final destination in the territorial waters of the U.S.
By drawing on expertise developed in Europe, the U.S. can theoretically leapfrog the rough period when offshore wind costs 19.4 cents (or 24.4 cents!) per kilowatt hour and go straight to Denmark's 4.9 cents per kilowatt hour. In this scenario, the U.S. would profit from the hurdles that were overcome – at great expense – in Europe during the pioneering era of offshore wind. Electricity generated from wind could be cheaper than gas, coal or even nuclear.
To meet this objective requires a combination of American manufacturing, logistics and installation and European expertise.
INFRASTRUCTURE REQUIREMENTS
While there's no reason to believe the U.S. can't build its own supply chain from scratch, wind farm components could initially be imported from China or Europe until U.S. production is ready to move "in house." Building wind farm components domestically, after all, is a substantial, tricky and long-term investment.
The nacelle factory in Cuxhaven, Germany, which Siemens announced last year, is scheduled to take roughly two years and €200 million to get running – not exactly small change. It will employ 1,000 workers, including sub-suppliers in adjacent industries. Because the investment is so large, it will export globally rather than serving just the German market.
Such factories need to be built in coastal areas since transporting the high and heavy wind farm components over land is prohibitively expensive and, sometimes, technically impossible. And while U.S. manufacturers may ultimately end up being sufficient to support an entire domestic supply chain on their own, from the foundation pieces to the rotor blades, in the near-term it will certainly be easier and more cost-effective to import.
In terms of portside logistics, the pre-installation ocean carriage of wind farm components is generally not performed by jack-up ships, which are too expensive. Jack-up ships can cost hundreds of millions of dollars to build. Their daily charter hire can easily top $200,000 and reached heights of $350,000 per day at the height of the recent offshore building boom in Europe. Thus, jack-up ships will transit only from the port to the wind farm, picking up and installing wind farm components delivered to it either by heavylift ships or tugs and barges.
JONES ACT ISSUES
The problem with this arrangement is that no U.S.-built or flagged jack-up ship exists, and the Jones Act holds that vessels moving wind farm components from U.S. ports to sites in U.S. coastal waters must be U.S.-flagged. Under the rules of cabotage, foreign-flagged jack-up vessels may not participate in the construction of offshore wind farms unless they bring in the components directly from overseas, as Fred Olsen Windcarrier did at Block Island.
What results is a classic chicken-and-egg problem. In order to recapture its significant cost to build and crew, any U.S.-flagged jack-up ship would need to be guaranteed sufficient long-term wind farm installation work – extending well beyond the currently existing 11 U.S. wind farm leases. However, without such a pipeline of projects, no investor is likely to commit to building an expensive jack-up ship in the U.S. And, of course, technical requirements can change. Various oceanic topographies can present different challenges, even in the coastal waters of the U.S. One size may not, in fact, fit all.
One solution would be to provide a subsidy, as Germany did with its renewable energies' transfer tax, and guarantee a price floor, e.g., at 19.4 cents per kilowatt hour as delivered to the power grid. This would provide pioneer investors the assurance, backed by federal or, more likely, state governments, that they would be able to amortize their offshore investments. The U.S. - flagged jack-up ship and other required infrastructure would follow the money.
While one-off exemptions from the Jones Act's U.S.-built requirement have been granted in the past, a short-term strategy for wind farm installations may require a change in the regulatory environment.
A less convenient alternative is to use tugboats and a U.S. - flagged jack-up barge to transport components previously imported by a foreign-flagged ship. Jack-up barges are much cheaper to equip than jack-up ships. This solution was originally proposed for the German market by Cuxhaven-based Otto Wulf GmbH &. Co. KG, but customers wanted jack-up ships that could transport components directly from the "factory to the farm." By choosing this approach, customers avoided the difficulty of finding areas to warehouse wind farm components in port.
Standard multipurpose terminals have weight limitations that can easily be exceeded by larger wind farm components. The most recent generation of components, like the seven-megawatt turbines envisioned by Siemens at its 1.8 million-square-foot factory in Cuxhaven, need reinforced terminals and roll on/roll off ramps that are expensive to build and take up a lot of space.
Dust and other particles from discharging and loading bulk cargo, for example, can damage sensitive wind farm components like electrical wiring or sensors and must therefore be kept at a distance. This can cause tension with other users of the port with respect to berth rights.
THE WAY FORWARD
The way forward is to bring in experts who know what works and what doesn't and to connect them with Americans who understand the local situation – on land, in port and offshore. Europeans have already gone through the trial-and-error process in building offshore wind farms, and so the reward of joining European experience with American resources and innovation could be thousands of well-paying jobs and a regenerating supply of cheap, environmentally friendly electricity.
- MarEx
The opinions expressed herein are the author's and not necessarily those of The Maritime Executive.