John Hadjipateras, CEO, Dorian LPG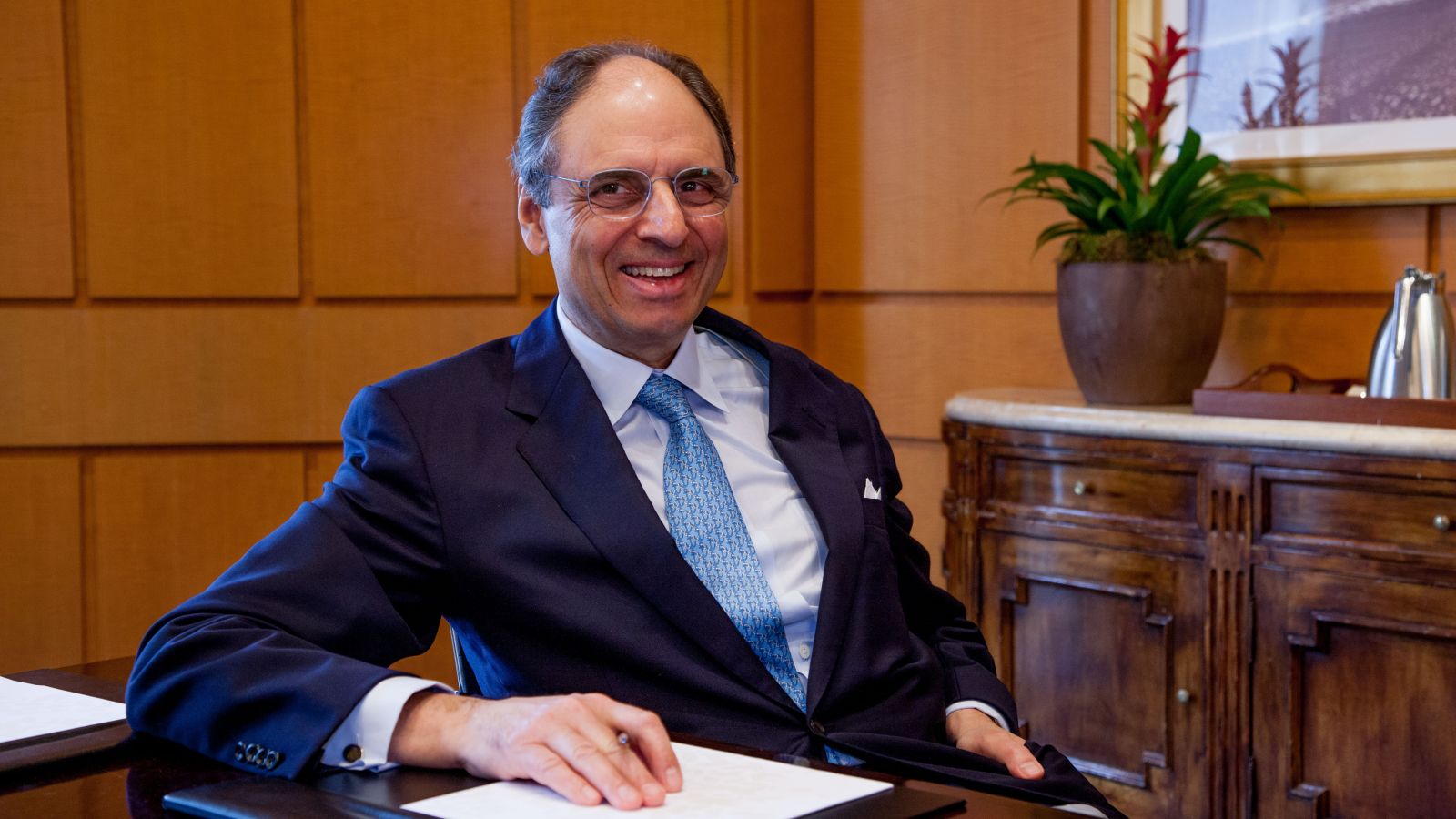 (Article originally published in May/June 2015 edition.)
Hadjipateras is descended from a long line of shipowners and masters, but the family's mission has not changed over the years: Provide safe, reliable and trouble-free transportation services.
Your family has been in the shipping industry for more than a century. Tell us about its history.
We purchased our first steamship in 1906, and we have been involved in just about every segment of the industry since then. My grandfathers were seafarers and proud to be addressed as Captain Markos and Captain John. Like many others of their generation, they ventured beyond their island of origin to the commercial and financial capitals of the world and established highly reputable, world-class businesses.
Where does the name "Dorian" come from?
In the early seventies our ships were named Athenian, Corinthian, Macedonian and so forth, after the city states of ancient Greece. The Piraeus office was named Dorian. The Dorians invaded Greece about 1000 BC, and their influence led to the subsequent acme of Greek art and architecture including the Doric column, which is distinguished from the Ionic and Corinthian columns by its boldness and simplicity.
For many years Dorian operated in the crude oil market with VLCCs. When was the decision made to enter the LPG space and operate VLGCs, and why?
We bought our first two pressurized gas carriers in 2002 as a diversification from conventional bulk shipping. We saw an opportunity in gas, and prices for newbuildings were cheap. So we subsequently ordered our first three VLGCs from Hyundai Heavy Industries, which were delivered in 2006, 2007 and 2008.
Dorian currently has six VLGCs and one smaller gas carrier on the water with 16 ECO VLGC newbuildings on order – one of the largest orderbooks in the industry. When do you expect delivery of the remaining newbuilds, and do they currently have contracts?
Between now and the first quarter of 2016 we expect to take delivery of all 16. That will make us the second largest VLGC operator in the world behind BW Gas. Employment opportunities are being evaluated by both our own people and by the chartering staff of the newly formed Helios LPG pool.
What are some of the benefits of the new ECO vessels?
We use the term "ECO" to describe both the economic and environmental benefits of our new vessels, which are fitted with machinery and systems that provide reduced fuel consumption, lower emissions and enhanced performance compared to conventional vessels. Features include electronically controlled main engine operation, optimized hull form, advanced coatings, exhaust heat recovery systems, variable frequency drives and type-approved ballast water treatment systems. All vessels have applied for Green Passport and ENVIRO notation.
Describe for our readers what a modern VLGC is like and how it is constructed. A vessel like Dorian's recently delivered ECO VLGC Corvette is really one of the engineering wonders of the world.
A modern ECO VLGC is an 84,000-cbm gas carrier equipped with four individual holds divided by transverse bulkheads to suit four prismatic cargo tanks. High-tensile steel represents about 60 percent of the hull weight while 40 percent is low-temperature steel. Corvette was the third vessel delivered from Hyundai in a series of six, all equipped with ECO-friendly features. This particular vessel is equipped with an emissions scrubber designed by Clean Marine of Norway that enables the vessel to operate in all restricted emission control areas and ports with emissions lower than 0.1 percent SOx while consuming regular fuel instead of high-cost, low-sulfur fuels.
Is the LPG market bigger than the LNG market in terms of number of ships and cargoes?
LPG is a byproduct of oil and gas and a much smaller market than LNG. There are roughly 350 large LNG carriers (120,000-200,000 cbm) whereas there are a little under 170 VLGCs. On the product side, approximately 350 million tons of LNG is traded annually whereas the total LPG seaborne trade is less than 100 million tons.
Dorian is the only U.S.-based LPG carrier. Do most of your cargoes originate in the U.S.?
We have two major loading hubs – the U.S. and Middle East. The U.S. has gone from a net importer to a major exporter of LPG in less than a decade and is fast approaching the Middle East in terms of volumes.
Do you foresee a time when the U.S. will be building and operating VLGCs?
VLGCs are sophisticated ships. The U.S. is capable of building them but, if pricing for conventional ships is any indication, there will need to be many changes before VLGCs could be built here competitively.
In March Dorian announced the formation of the Helios LPG pool with Phoenix Tankers, a subsidiary of Mitsui OSK Lines. What is the significance of that arrangement?
The Helios LPG pool is a joint venture between Dorian and Phoenix Tankers, a wholly owned subsidiary of Mitsui OSK. Dorian has had a working relationship with Mitsui since we chartered our first VLGC, the 2006-built Captain Markos NL, to them. There is mutual respect and a common purpose, which are good foundations for a "marriage." Our people in London and theirs in Singapore are poised to capitalize on evolving markets in both the Eastern and Western Hemispheres.
Where do you see the LPG market in five years?
I am optimistic about the evolution of LPG as a product that has the potential to contribute quickly to improved air quality. For years it was priced out of many markets, but the pricing is now more reflective of market economics and the surge in supply, both here and elsewhere, should result in its adoption as a clean air alternative fuel.
Where do you see Dorian LPG in five years?
Our aim is to be industry leaders. We believe that by following our mission statement, To provide safe, reliable and trouble-free transportation services, we will earn our customers' trust. This is also how we ensure that our shareholders receive the best returns compared with our peers.
Lloyd's List named Dorian "Tanker Company of the Year" for 2014. Was that due primarily to the introduction of your new ECO vessels?
The judging panel considered a series of criteria including fleet growth, Dorian's long history and its recent evolution as a public company on the New York Stock Exchange. Additionally, the Helios pool with Phoenix Tankers and the strategic partnership with the Chinese company HNA Logistics were contributing factors.
How would you describe your leadership style?
I would like to say I am ready to listen before making a decision and then to lead by example in pursuing the goal. But I think you might want to ask someone who works for me!
You have many extracurricular involvements. Tell us about some of them.
My interests revolve around my family and the shipping business. I do, however, have a special interest in three philanthropic initiatives. One is a U.K. charity called Kidscape (www.kidscape.org.uk). It was founded in 1985 by Michelle Elliot, an American, and its aim is to protect children from bullying and abuse. Kidscape champions the anti-bullying message in the media and with the governments of the U.K. and other countries and offers expert advice to families of children who have been affected.
The second is called Lyreion. It was founded in 1967 by three nuns, who were then in their twenties, with help from my maternal grandparents. It provides shelter to over fifty children of many nationalities in five houses located on a scenic mountainside overlooking the sea outside Athens. The children are provided with elementary education on the premises and with shelter until they have graduated from high school and sometimes beyond. It is still supervised and run by the amazing three nuns, whose loving care and devotion have inspired a number of alumni to return and offer their support to the organization.
The third is the Rehabilitation Center for Children with Cerebral Palsy, and it is also in Athens and was founded with help from my paternal grandparents in 1973. It provides day care, out-patient and technical support. Its work, particularly given the current dire economic conditions in Greece, has been exemplary.
Do you have any hobbies?
I like to ski in the winter and swim in the summer. Otherwise, I'm content to be an admirer of the various sporting activities of my children and of my wife's gardening skills, and a supporter of her conservation endeavors.
You have led a number of maritime companies in your distinguished career. What key takeaways can you leave for our readers and for future industry leaders?
I've been very lucky to work alongside and to have known some of the "greats" involved in shipping and business. Aside from my parents and grandparents, a great influence was my wife's stepfather, Jim Burke, famous for his handling of the Tylenol crisis as Chairman and CEO of Johnson & Johnson. From him I learned how critically important it is to establish early and reaffirm regularly the values which govern your business and to look for opportunities in every setback.
Jim introduced me some years ago to Warren Buffett, who took us on a tour of Borsheim's, the famous jewelry store he owns in Omaha. Buffet's pride in showing off the accomplishments of his people was the same pride I'd seen, growing up, in the sea captain shipowners whose labor of love was the ship they'd be showing someone around.
It's really all about hard work and devotion, and I'm lucky to have learned from Jim Burke as well as Charles Fabrikant during my thirteen years on SEACOR's board that you must not allow yourself to be distracted from the essential and basic fundamentals of evaluating risk and reward in any business, big or small, public or private.
Is there anything else you would like to share with our readers?
One final piece of advice I learned from a dear trusted mentor, who today is in his nineties and who continues to be a source of wisdom and inspiration, is that there is no small enemy. So treat people respectfully, even in disagreement, and avoid battles, preferably by the foresight to win before you even engage. – MarEx
The opinions expressed herein are the author's and not necessarily those of The Maritime Executive.