Eastern Shipbuilding Group "We've Got You Covered"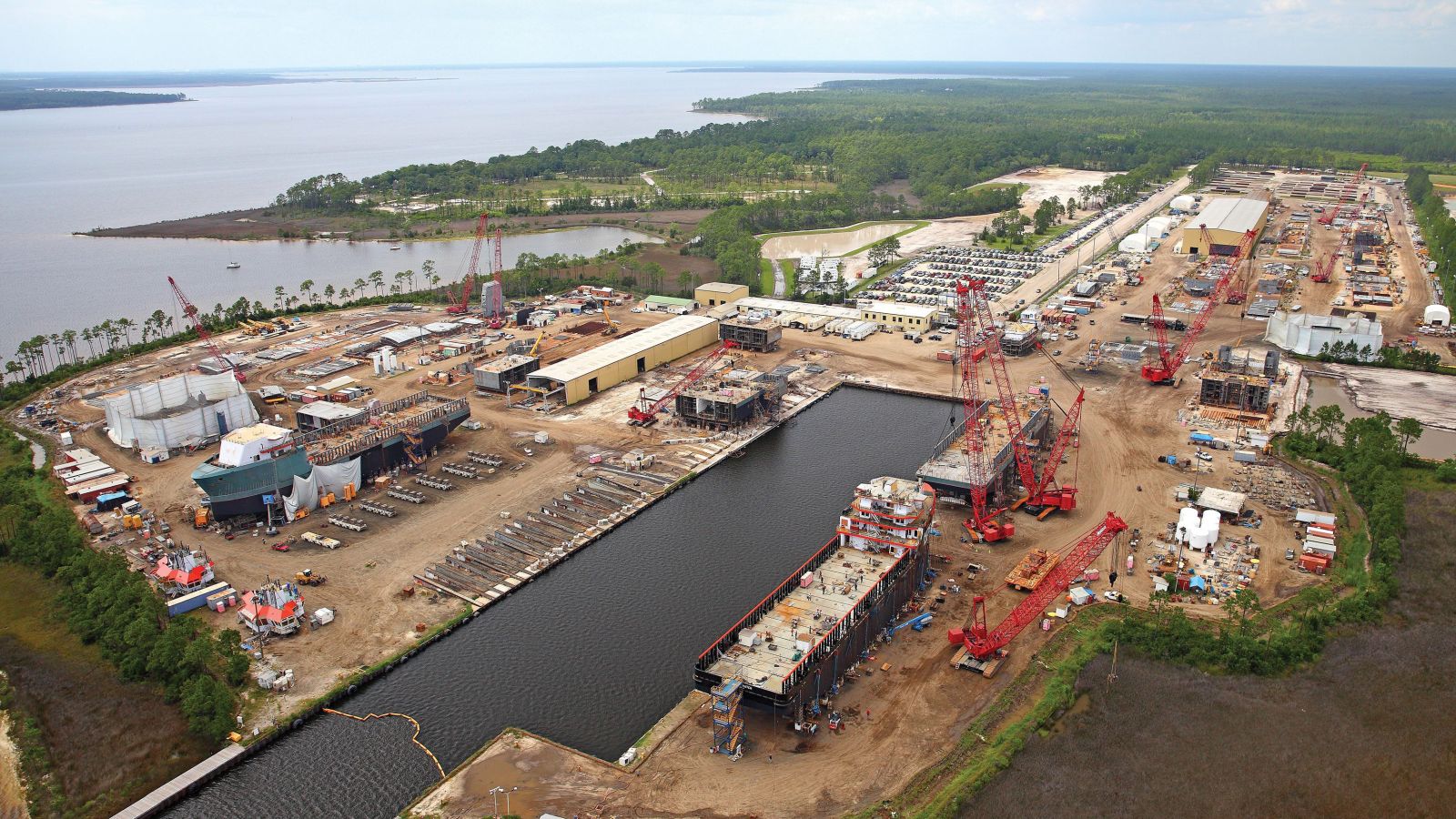 (Article originally published in May/June 2017 edition.)
Last September the U.S. Coast Guard awarded the biggest and most important contract in its 226 year history to a company that had never done work for it before – Eastern Shipbuilding of Panama City, Florida. It was a stunning coup for a company that was well-regarded but relatively unknown.
And it couldn't have come at a better time. The offshore market – Eastern's bread-and-butter business – was collapsing, and shipyards up and down the Gulf Coast were starving for work. Eastern wasn't starving – it had diversified many years before – but founder and CEO Brian D'Isernia nonetheless calls the contract a "godsend."
It will keep the company busy for the next twenty years if all goes according to plan. The $10.5 billion award calls for the design and construction of twenty-five 360-foot offshore patrol cutters (OPCs) at a cost of $420 million per vessel. They will replace the Coast Guard's aging 210-foot and 270-foot Medium Endurance Cutters, which have long outlived their usefulness, and will feature all the latest bells and whistles: increased range, a more powerful and sophisticated weapons system, larger flight deck and state-of- the-art computers, surveillance and reconnaissance equipment, and command-and-control communications.
The contract was in many ways the culmination of a dream – and of a lifetime devoted to honesty and hard work. "Pluck and luck," as the old saying goes, but in D'Isernia's case it was a lot more pluck – having the courage to bid on a contract of that size and the track record to back it up – than any luck that may have been involved.
FINDING HIS CALLING
Born in the Bronx to an Irish mother and Italian father, D'Isernia was raised a Catholic and educated by Ursuline nuns, Irish Christian brothers and the Jesuits. He earned a Bachelor's degree from Georgetown University and a Juris Doctor from Fordham Law School and, having passed the New York State bar exam, joined his father's firm. But he soon found the law wasn't for him. He had already been bitten by the offshore bug, having learned to sail at an early age, and so off to sea he went.
He crewed on a New England dragger out of Gloucester, Massachusetts and within a few years started his own commercial fishing company sailing out of New Bedford. In 1974 he began swordfishing off the Florida Panhandle and was introduced to a Panama City fish dealer named Jerry Cook, who two years later leased him an acre of waterfront land where D'Isernia – having learned the hard way about the poor quality of local shipyards – began building his own boats.
One of those boats was the fishing vessel Andrea Gail, launched in 1977 originally for D'Isernia's own fleet and captained by Ken Munroe, Eastern's current COO. Twenty years later it was depicted in Sebastian Junger's bestseller, The Perfect Storm. When Warner Bros. turned the book into a hit movie of the same name in 2000, it bought the Andrea Gail's sister vessel, the Eastern-built Lady Grace, to star in the film, which depicted the vessel working in the North Atlantic off the Grand Banks when it was caught in the 100-foot waves of the "perfect storm" of October 31, 1991.
BUILDING THE BUSINESS
Over the last forty years the company has constructed more than 350 steel and aluminum vessels at its two Panama City shipyards. Since 2008 it has invested more than $75 million, including $4.5 million in shipyard grants from the Maritime Administration, in infrastructure improvements to its production and fabrication facilities. The result is a state-of-the-art shipyard that utilizes both conventional assembly methods and modular construction to produce a wide variety of custom-made vessels.
Today it is recognized worldwide for its innovative techniques, quality construction, and on-time and on-budget deliveries. While it built its early reputation on high-end fishing boats, owners of offshore supply vessels and tugs soon came calling, lured by the company's reputation for quality and value. Before long it was building all kinds of mid-tonnage vessels, including articulated tug-and-barge units, inland towboats, high-speed passenger ferries, fireboats, research vessels, and dredges and barges.
Competing in the trenches against foreign and domestic competition in a tough financial marketplace is not only about survival, it's about building a reputation. Over the last fifteen years Eastern has an enviable record of delivering its vessels on-time and on-budget. Most of the vessels ranged from 80 to 433 feet in length, and many involved a level of complexity comparable to the Coast Guard's offshore patrol cutters. D'Isernia believes this track record was instrumental in winning the OPC contract.
The investment in infrastructure has modernized Eastern's facilities into what many consider the best yards in the nation. The Allanton Road facility sits on 300 acres with multiple launchways of 1,500 linear feet and more than 6,000 feet of waterfront leading out to the Gulf of Mexico. A 60,000-square-foot building houses steel-fabrication equipment, shot-blasting and painting machines, three ten-ton overhead cranes, a plasma plate-burning machine, two 500-ton apron press brakes and fourteen crawler cranes with up to 660 tons of capacity.
It also has a 58,580-square-foot warehouse that includes electrical, pipe and carpenter shops along with sandblasting and paint facilities. A 7,000-square-foot office building houses the engineering, project management, purchasing, safety, quality assurance and control departments.
The Nelson Street Shipyard is home to the corporate offices and sits on 24 acres with more than 2,000 feet of waterfront. Adjacent to the yard is a six-acre fabrication facility where most of the modular work is done. It has a 23,400-square-foot machine shop and a 17,000-square-foot warehouse with concrete fab platens. There are six crawler cranes with up to 300-ton capacity, two marine railways, over 900 linear feet of steel-bulkheaded, side-launch capability, and shipping and receiving buildings.
GAME CHANGER
Winning the contract for the offshore patrol cutter, which will become the backbone of the Coast Guard's presence on the high seas, meant that Eastern had to compete against some of the nation's largest and most experienced government contractors. It was a game changer for Eastern, and D'Isernia believes their construction will set a new standard in government contracting.
"We've competed in the commercial market for all of our existence," he says, "and it's made our company lean and efficient. That's probably the main reason for our winning the OPC contract."
D'Isernia and his staff are currently working with naval architects in the U.K. to finalize the cutter's design, which is based on a Vard prototype used in the construction of similar vessels for the Irish navy. First steel is expected to be cut next year.
The design phase of the contract is valued at $110 million. Eastern's contract is for nine cutters with an option for two additional vessels. There will then be a second round of bidding for the remaining 14 vessels, which Eastern is expected to win, assuming all goes well with the initial construction. The new construction will mean at least 1,000 new jobs and provide a major boost to the local Bay County economy.
MAN FOR ALL SEASONS
D'Isernia calls his company a consummate family business. He has been married to his wife, Mimi, for 45 years, and all of their ten children have at one time or another worked for the yard. Today, his son Joey is President and has been at the yard for fourteen years in numerous capacities. At age 73, D'Isernia still works six days a week and sometimes seven. "I'm a shipbuilder," he says. "That's what I do." When D'Isernia left the law to become a longline fisherman, he found his calling. When he became a shipbuilder, he found out how to make a living by doing something he was passionate about. Asked what his favorite vessel was, he replied that it was the first boat he ever built, an 88-foot fishing boat named the Mary D in honor of his mother.
While visiting the Essex Shipbuilding Museum in Massachusetts in 1997, D'Isernia discovered the original plans of noted naval architect W. Starling Burgess for the famous 141-foot wooden fishing schooner Columbia, which challenged Canada's champion schooner Bluenose in 1923 in the International Fishermen's Cup Races off Halifax, Nova Scotia. Narrowly losing but giving promise of a great future, Columbia was tragically lost in a 1927 hurricane along with her entire crew. Four Canadian schooners were also lost during the storm and a total of 125 fishermen died.
Thirty-seven years later, on August 24, 2014, D'Isernia launched an exact steel replica of Columbia, built under his watchful eye at his own yard. With family, employees, dignitaries and guests in attendance, Columbia was christened by Mimi. This October, D'Isernia will be presented with the National Maritime Historical Society's Distinguished Service Award at a banquet in New York City in recognition of his outstanding contributions to the maritime industry and for preserving America's maritime heritage in the form of the newly resurrected Columbia. – MarEx
The opinions expressed herein are the author's and not necessarily those of The Maritime Executive.