Caretakers of the Aquatic Planet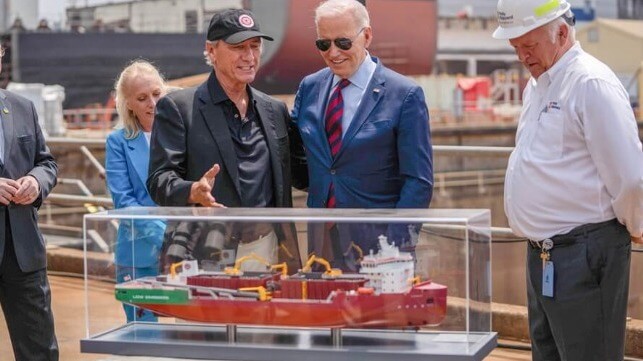 (Article originally published in Sept/Oct 2023 edition.)
Dredging companies do more than just deepen harbors and riverbeds to facilitate domestic and global trade. They also recycle and repurpose the dredged materials, restore eroded beaches and reclaim damaged wetlands.
The first job of any company is to make a profit, and when Lasse Petterson took the reins as CEO at Great Lakes Dredge & Dock (GLDD) in 2017 it was struggling. Finances were strained. The market was soft. It had too many idle vessels. It needed fixing. So the former oil and gas man quickly put together his team and came up with a strategy to right the ship and fix the ailing giant.
Today, six years later, the company is once again flourishing. Orders are up. The balance sheet is healthy, and the fleet is in the process of being "right-sized" for a changing market. In July, the company received the okay for the biggest project in its history – the deepening of the entrance channel at the port of Brownsville, Texas for NextDecade's massive Rio Grande LNG facility – a sign of good things to come.
The project combines GLDD's core competency with its ongoing involvement in clean energy.
"We look forward to working with NextDecade and other stakeholders, including the U.S. Army Corps of Engineers and the Port of Brownsville, on this important improvement project that will benefit the navigation interests and allow for future development of the Port of Brownsville," stated Petterson. "Our proven performance and safety culture allows us to support the growth of LNG exports in the U.S., which is a necessity in balancing affordability for energy and overall sustainability."
It's the latest in a long line of firsts.
Beginnings
Since its founding in 1890, GLDD has built a reputation of being the experts in dredging, construction and reclamation. Throughout its 133-year history, it's worked on many important projects and employed generations of engineers, many of whom spent their entire careers employed on GLDD projects around the world.
In 1890, the company was named Lydon & Drews and early on was hired to work on the shoreline near the site of Chicago's Columbian Exposition. It soon had satellite operations throughout the Great Lakes and in 1905 decided to rebrand itself as Great Lakes Dredge and Dock. At the time it had 13 dredges and ten tugboats.
It practically built the city of Chicago – or at least the shoreline portion along Lake Michigan. Projects included straightening the Chicago River and shoreline reclamation for the Adler Planetarium, Shedd Aquarium, Soldier Field, the Field Museum, Grant Park and Naval Station Great Lakes. Farther afield, it helped construct the Sabin Lock at Sault Ste. Marie, Michigan and U.S. Steel's Gary, Indiana works.
In 1943, during World War II, the company constructed the MacArthur Lock, which is 800 feet long and 80 feet wide and drafts to about 30 feet. It dredged the Houston Ship Channel and helped expand oil industry infrastructure in the Gulf of Mexico.
Because of its reputation and many valuable assets, companies like ITEL Corporation, Blackstone Dredging Partners and Vectura Holdings (Citigroup) bought it at different times over the years. During the Madison Dearborn ownership, it merged the company with Aldabra Acquisition Corp. (a special acquisition company or SPAC) and took GLDD public in 2006.
Madison sold the last of its stock in the company in 2009, and GLDD today is a publicly traded company
on Nasdaq.
Waterways Maintenance & Reclamation
The work done by GLDD is essential to domestic and international trade, and the company is widely recognized for its many contributions.
But dredging has always been essential to trade, waterfront development, a healthy economy and a healthy environment. The Sumerians in about 4000 BC, who lived in Mesopotamia, understood that healthy, navigable waterways created more trade and commerce. They built ships called "barques," made of reeds and timber, to navigate the Tigris and Euphrates rivers, which were responsible for maritime commerce in the ancient world.
The Egyptians and Mesopotamians dredged commercial waterways as early as the third millennium BC as the Nile River flooded every year, but the ancients used rudimentary hand tools and baskets to remove the sediment from riverbeds. The Sumerians and later civilizations of the Babylonians and Assyrians faced similar challenges and regularly dredged to maintain open trade routes.
In medieval Europe, rivers were dredged with shovels, baskets and rakes to create suitable draft for ships and barges. In what is now Belgium, the construction of locks and canals was needed to control water levels, and regular dredging was essential for marine traffic. Colonial America, too, kept ports like Boston, New York, Philadelphia, Charleston and Savannah dredged and built commercial infrastructure to keep trade moving in the new world economy.
In today's world, dredging and waterway maintenance are important environmental issues as well, right up there with decarbonization. As the dynamics of climate change continue to alter the aquatic landscape, companies like GLDD are essential.
At the Port of Long Beach, GLDD expanded Pier J by constructing a reclamation area and dredging a containment area at depths of more than 90 feet. This created a solid foundation and facilitated construction of the shipping container terminal through controlled rock placement and dike construction, enabling it to handle megaships like the behemoth Abraham Lincoln, which is over 1,000 feet long and 257 feet wide.
In Chesapeake Bay, which provides deepwater access to the ports of Virginia and Baltimore, GLDD has removed tens of millions of cubic yards of material during port maintenance dredging projects in order to keep these waterways open. Maintaining channels to their authorized depths is not only critical for safe navigation into the ports but also vital for regional and national economies.
GLDD's diverse fleet allows it to meet scheduling demands as well as provide beneficial re-use of much of the dredged material, which is placed at the Paul S. Sarbanes Ecosystem Restoration Project at Poplar Island, located on the eastern side of Chesapeake Bay.
The Houston-Galveston Navigational Channel is one of the busiest and most important commercial waterways in the U.S. and globally. In fact, GLDD relocated its corporate headquarters from Oak Brook, Illinois to Houston two years ago "to be closer to its clients," said Petterson.
In 2018 and 2019, GLDD worked a major project in Bahrain, where it dredged and reclaimed shoreline and handled more than 120 million cubic meters of sediment. It had another challenging job in the North Sea, helping construct a roadway and rail connection between Denmark and Sweden, in which it handled more than 8.5 million cubic feet of reclaimed material in a highly sensitive environment.
Offshore Wind
Recently, GLDD made a big commitment in the U.S. offshore wind sector, investing $197 million in the first Jones Act-compliant subsea rock installation vessel – the SRIV Acadia.
Designed by Ulstein, the vessel uses modern ship technologies including environmental controls and automation approved by the American Bureau of Shipping (ABS). It will be awarded the ABS SUSTAIN-2 Notation, recognizing adherence to certain U.N. Sustainable Development Goals related to vessel design, outfitting and layout, and is currently being constructed at Philly Shipyard, which was featured this year in our July-August 2023 edition.
The vessel can transport up to 20,000 metric tons of rock, which are used as a foundation and protective layer for turbine towers, cable lines and other subsea structures. The Acadia measures 461 feet in length, 102 feet in width and can accommodate a crew of forty-five.
It's scheduled for delivery in 2025 and will work with Van Oord on the Empire I and Empire II offshore wind farms along the Eastern Seaboard. These farms are expected to produce about two gigawatts of renewable energy for the state of New York.
A Winning Strategy
"We are executing on our strategy to enter the fast-growing U.S. offshore wind market," noted Petterson in the company's second quarter earnings release. "We continue to be proactive on cost reductions and fleet adjustments including cold stacking of vessels," he added, "and we have adjusted our general and administrative, overhead cost structures and dredging fleet to reflect the changed market conditions coming into 2023."
He further noted that cold-stacked vessels can easily be reactivated as the market continues to improve: "These initiatives have led to substantially reduced costs in 2023 which has allowed us to navigate impacts from a delayed 2022 bid market and continue our fleet renewal program, which remains on budget with our mid-size hopper dredge, the Galveston Island, expected to be operational in the second half 2023 and her sistership, the Amelia Island, has expected delivery in 2025."
A bright future indeed. And with a record backlog of over $1.1 billion, GLDD should have smooth sailing ahead.
Tony Munoz is Founder, Publisher & Editor-in-Chief of The Maritime Executive.
The opinions expressed herein are the author's and not necessarily those of The Maritime Executive.