Blue Skies Ahead for the Resurgent Ro-Ro Business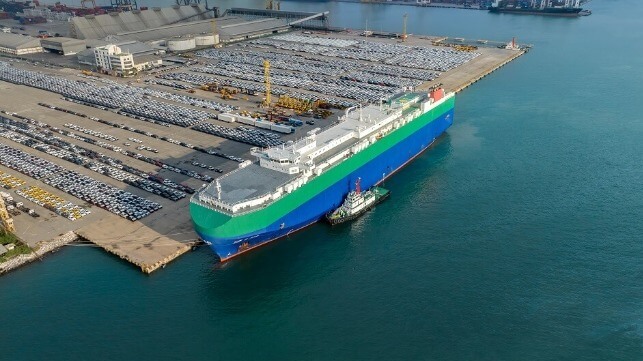 (Article originally published in May/June 2023 edition.)
In the marine industry's roll on-roll off sector, the wheels of progress continue to move forward as evidenced by the hundreds of thousands of autos and units of farm and construction equipment moving in and out of bustling seaports.
And the Port of Baltimore continues to be the top U.S. port for autos plus heavy (farm and construction equipment) ro-ro cargo.
"Last year we imported a record 765,019 tons of imported high-and-heavy ro-ro cargo, besting our previous record of 603,516 tons in 2019," touts William Doyle, Executive Director, Maryland Port Administration-Port of Baltimore. "On the auto side, Baltimore handled 750,163 cars and light trucks in 2022. We've handled more of that commodity than any other U.S. port for 12 consecutive years. Through the first three months of 2023 (most recent figures available), our ro-ro is up 42 percent over last year."
Doyle says Baltimore has been able to hold onto those top rankings because of its geographic location (being the closest East Coast port to the Midwest) and its highly skilled and experienced labor force. "We also have a very unique quality control program for both high-and-heavy ro-ro and autos," he adds. "This involves monthly meetings with all key logistics players to go over past performance and correct anything that needs correcting. No other port has a quality program like this."
Baltimore recently completed its 25th annual Ro-Ro Rodeo, a two-day training program for newly hired longshore workers to learn how to safely and correctly operate high-and-heavy machinery. "We're also reconstructing our ro-ro berths to better accommodate the larger and heavier pieces of equipment that are now being handled at the Port of Baltimore," Doyle notes.
Supply Chain Issues
While ro-ro rolls along, all is not completely smooth.
As the supply chain issues of the past few years, caused by the global pandemic, seem to be waning, a lack of semiconductors is taking the spark out of a lot of cargo movement. Semiconductors are critical components in modern electronics – everything from phones and laptops to automobiles and a multitude of other electronic devices used in everyday life. One might say semiconductors are to electronics what petroleum is to plastics.
"The lack of semiconductors is a problem," says Andy Abbott, President & CEO, Atlantic Container Line (ACL), a major mover of ro-ro cargo.
He explains that most semiconductors are made in Taiwan and China, "and they are keeping them there, and what is happening is that the market is booming, especially with all the electric cars coming in from all the manufacturers, not just the Chinese and Japanese. Asia right now is an extremely strong car market, and most of the ro-ro carriers have pulled ships out of the other trades and positioned them out there to bring cars back to Europe, North America, the Middle East and Australia. I would say the capacity shift to Asia has been something I've never seen before on the ro-ro side."
As for the Atlantic trade lanes, Abbott says, "It's still going very strong, primarily because of construction equipment. Our construction equipment liftings are like I've never seen before. It's worse than last year and we're now juggling. You've got all your regular customers and everybody has more and they want you to take more, but the ships are only so big. There's no sign of a ro-ro falloff in the foreseeable future."
He notes that a big boost came from the $1.2 trillion infrastructure bill that the U.S. government enacted two years ago. Construction projects generated from that legislation are now getting underway, and as a result there's been an incoming flow of heavy equipment such as bulldozers, heavy lift cranes and other vehicles.
As ro-ro rates moved upward, another boost came from the problem of port congestion leveling off. Quoting statistics for the first four months of 2023, Abbott says container cargo from Asia to North American ports is down about 30 percent or more than a million TEUs (twenty-foot equivalent units) compared to the same period in 2022, "which is enormous. So you take that away and the ports are operating normally again."
Back to Normalcy
The Port of San Diego, considered California's top port when it comes to ro-ro throughput, says it too is seeing a shift back to normalcy.
When Pasha Automotive Services, the automotive processor operating the National City Marine Terminal, arrived in 1990, it handled 35,000 cars annually and in pre-pandemic years over 500,000 vehicles passed through the facility, says Josefina Khalidy, the port's Principal, Maritime Business Retention.
While the semiconductor shortage and the impact of COVID on production strongly impacted the flow of autos, the rebound has begun. Today, San Diego handles approximately 345,000 vehicles, still leading as the highest volume through a West Coast port, she adds. The 135-acre National City Terminal is capable of handling big auto numbers and is considered one of the most advanced full-service vehicle import/export operations with on-dock rail facilities for national distribution. It's also been able to reduce vehicle dwell times on terminal facilities.
There are approximately 15 different OEMS (original equipment manufacturers) that utilize the Port of San Diego. It also has two rotating bi-weekly Jones Act vessel services that bring product to and from the Hawaiian Islands.
San Diego is also one of eighteen strategic ports whose terminal operators, in addition to handling autos, work with the Department of Defense to assist in military moves.
Expanding Footprint
Port Tampa Bay recently strengthened its ro-ro business through a new agreement with GLOVIS America to establish and grow its footprint at the port. The agreement adds approximately 10.5 acres of vehicle storage area and 33,000 square feet of warehouse space for a vehicle-processing center on Hooker's Point. This will provide a total of 30 acres of terminal space dedicated to new vehicle storage.
"Port Tampa Bay continues to diversify its lines of business, and we celebrate the expansion of our ro-ro capabilities in partnership with GLOVIS," states President & CEO Paul Anderson. "GLOVIS is a proven leader in automobile logistics, and this new agreement demonstrates their confidence that the Tampa market will continue to grow for years to come."
GLOVIS handles the shipment, handling, storage and processing of automobiles and expects to bring at least 70,000 vehicles each year through the port.
The new agreement is also supported by the fact that approximately half of Florida's 906 new auto dealerships are within a three-hour drive of Port Tampa Bay and nearly half of the state's 28 auto auctions are within 100 miles of Port Tampa Bay. "This presents a good backhaul cargo opportunity for ro-ro carriers," says Greg Lovelace, Vice President of Business Development.
Infrastructure Increases
As ro-ro volumes increase for the Georgia Port Authority (GPA), so does the infrastructure that supports it. The Port of Brunswick is undergoing more than $247 million worth of improvements. Construction has started on 350,000 square feet of near-dock warehousing that will serve auto and machinery processing at the Colonel's Island Terminal.
Three additional buildings, totaling 290,00 square feet on the south side of the island and a total of 122 acres of ro-ro cargo storage space are also under construction.
The near-dock warehouses and the three buildings on the south side of the Colonel's Island Terminal start coming online in August. The additional acreage will increase Brunswick's ro-ro capacity from 1.2 million to 1.4 million vehicles per year. Once the terminal improvements are complete, ro-ro cargo currently handled at Ocean Terminal in Savannah will shift to Colonel's Island.
GPA has also won federal approval to construct a fourth berth for ro-ro cargo at Colonel's Island, which is currently in the engineering phase. The expansion will better accommodate carriers in the 7,000-vehicle class.
GPA auto volumes are up for the eighth straight month as ro-ro traffic topped 540,000 units for the fiscal year to date. "New customers and increasing trade from our longtime partners have resulted in outstanding growth at the Port of Brunswick," notes GPA Executive Director Griff Lynch. "Colonel's Island Terminal is unmatched in the nation in terms of available space, connectivity to major markets, and the ease and efficiency of doing business."
Adds Chief Commercial Officer Cliff Pyron: "The logjam in microchip availability is starting to break, and manufacturers have increased production to meet pent-up demand. Asian and European trade lanes account for most of the expansion in Brunswick's trade, but production in Mexico is a growing factor. Additionally, Nissan began using the Port of Brunswick in early September, so the new business plays a large part in GPA's robust auto trade."
Caribbean Carriers
Port Everglades' ro-ro business consists mainly of automobile volumes through AMPORTS and Rehoboth Terminal and moved on Accordia Shipping. AMPORTS services Hoegh Autoliners to and from Port Everglades and the Caribbean while Accordia moves volumes to and from Haiti.
"Our auto units dipped slightly from 72,381 units in FY 2021 to 65,489 units in FY 2022," notes Jonathan Daniels, CEO & Port Director. "This was due to various market conditions. We've recently worked with Rehoboth to acquire some additional space via grids that should help support their business."
As for the future, ro-ro remains an important business line for Port Everglades.
The opinions expressed herein are the author's and not necessarily those of The Maritime Executive.