World Rhino Day: The Trade is Changing
World Rhino Day is celebrated on September 22 every year, and as poaching becomes more sophisticated, so does the world's response to it.
Earlier this month, the United Nations General Assembly concluded its 71st session with the 193 Member States adopting a strong new Resolution on tackling illicit trafficking in wildlife. The new Resolution includes commitments to enhance national legislation and enforcement measures, counter corruption and use new technologies to counter crime, alongside measures to support sustainable livelihoods and undertake targeted demand reduction efforts.
It's not just governments at work.
IoT Solution
Also this month, IBM, MTN, a leading African telecommunications provider, Wageningen University in the Netherlands and Prodapt announced a plan to use Internet of Things (IoT) technology to help predict threats and therefore combat rhino poaching in Welgevonden Game Reserve in South Africa. If successful, the system will be rolled out to other reserves.
Collars will be fitted to prey animals in the reserve including zebra, wildebeest, eland and impala. Details of their behavior, including location and speed, are transmited to an IoT platform. The data is then used by Wageningen University to analyze the animals' response to threats, turning them into sentinels for the detection of predators and humans in the area. The predictive nature of the analysis means that rangers will not necessarily have to just respond to events, such as the distant sound of gunfire; instead they can take proactive action that keeps rhinos safe.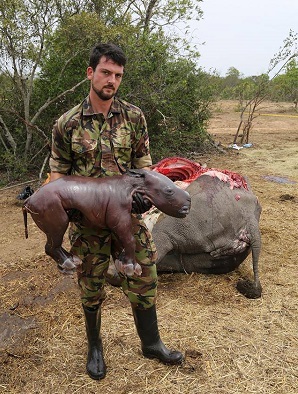 Too Late
There are about 30,000 rhinos left in the wild globally. Many populations have already gone locally extinct, and others are on the brink. Southern white rhino have the biggest population at just about 20,000 left. Other populations of rhino species like the Javan and Sumatran rhino are below 100 animals left.
More than 7,100 rhinos have been killed for their horns in Africa over the past decade. South Africa, home to 79 percent of Africa's last remaining rhinos, is the center of the storm, suffering 91 percent of the continent's known poaching losses in 2016.
Some of the youngest victims of the poaching crisis are those who are not yet born. In this picture, Calvin Kipling – the anti-poaching ranger who performed a necropsy on the poached mother rhino – stands with the unborn fetus. The baby did not stand a chance.
Rhinos are currently being poached at a rate of three to four per day, a rate which does not include the baby rhinos still in their mother's womb. Kipling, a campaigner with Global Conservation Force, is working as part of the organization's efforts to fight poaching through education, community involvement, research, conservation support and by supporting multiple anti-poaching units. With awareness can come change, says Global Conservation Force, who's volunteers help to teach rangers a variety of skills including combat first aid and self defence.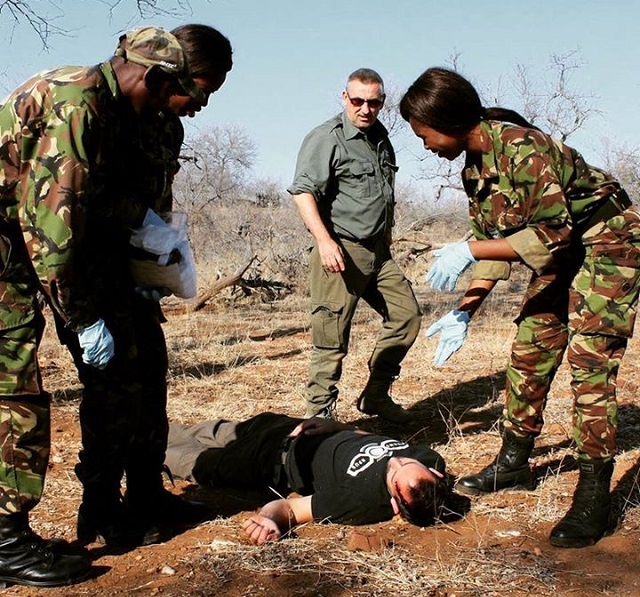 Medical Demand
It is estimated that between 2010 and June 2017, at least 2,149 rhino horns, weighing more than five tons, were seized by law enforcement agencies globally. Vietnam is the recipient nation of 90 percent of the horn from poached rhinos. However, "medical" demand for rhino horn is dropping off, and status is now the main driver behind the demand for the product in Vietnam. Making the point at a rhino poaching briefing this week, Wilderness Foundation Africa chief executive Matthew Norval said the shift was key. "Status is easier to tackle. It gives us hope."
Despite the high percentage of horn reaching Vietnam, demand is limited to a small number of Vietnamese, most of them in the high-income bracket, Norval said. "There's a high degree of embarrassment about rhino poaching."
Beads and Bracelets
The NGO TRAFFIC released a report this week detailing how some criminal networks of Chinese origin operating in South Africa are now processing rhino horn locally into beads, bracelets, bangles and powder to evade detection and provide ready-made products to consumers in Asia, mainly in Vietnam and China.
The report, Pendants, Powder and Pathways—A rapid assessment of smuggling routes and techniques used in the illicit trade in African rhino horn, documents recent cases in which police have discovered small home-based workshops for processing rhino horn and have seized beads, bracelets and bags of rhino horn powder.
Transport by Sea
Analysis of seizures involving the transport of rhino horn by sea revealed overlaps with other forms of wildlife trafficking. In many instances, substantial quantities of ivory were seized alongside rhino horns. In other cases, rhino horns have been found in consignments of wildlife derivatives alongside leopard skins, pangolin scales and teeth from African big cats.
On May 19, 2015, authorities at the Port of Singapore seized four rhino horns alongside approximately 1,783 pieces of raw ivory and 22 teeth believed to be from African big cats. The consignment, destined for Vietnam, was hidden in two 20-foot containers that had originated in Mombasa, Kenya. Another seizure of 142kg (313 pounds) of rhino horn occurred at Tien Sa port in Da Nang, Vietnam in August 2015. Two containers declared as containing "marble blocks" arrived from Mozambique when police intercepted the shipment.
Much of the trade occurs by air, but the average weight of a rhino horn seizure was larger when trafficked by sea. The average weight of a rhino horn seizure where the transport was by sea was 34kg (75 pounds) whereas the average weight of a rhino horn seizure at airports was 13kg (29 pounds).
Smuggling methods are infinitely versatile, limited only by imagination and opportunity. As new smuggling methods are identified by law enforcement agencies, trafficking networks adapt and refine their tactics, finding new methods of concealment and new weaknesses to exploit.
The smugglers' efforts are sometimes crude; wrapping horns in aluminum foil, smearing them with toothpaste and shampoo to hide the smell of decay, or coating them in wax. Over time, more sophisticated methods have emerged; horns disguised as curios and toys, hidden in bags of cashew nuts, wine boxes and consignments of wood, or concealed in imitation electronic and machine parts. Circuitous transit routes, luggage drops and exchanges are used to confuse the trail.
Transport companies can play a role in curbing the trade, says TRAFFIC spokesman Dr Richard Thomas. "TRAFFIC has clearly demonstrated how wildlife traffickers are constantly changing their modes of operation: it's essential the transport industry is alert and on the lookout for those abusing their services to smuggle products around the world. The organized gangs behind this despicable trade are cunning, but transport companies can play a vital role in helping put a stop to their criminal activities."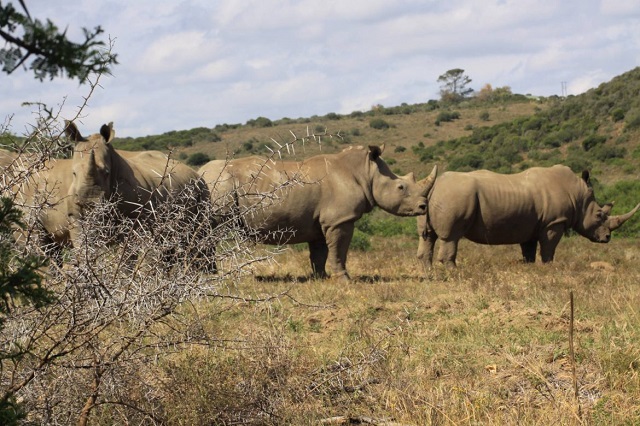 The opinions expressed herein are the author's and not necessarily those of The Maritime Executive.