Navy Sponsors Autonomous Boat Competition for Students
On June 24, the Association for Unmanned Vehicle Systems International (AUVSI) held its annual RoboBoat competition for budding robotics engineers, turning a quiet park in South Daytona Beach into a high-tech, waterborne adventure race. To compete, each high school, college and graduate-level team built an autonomous boat to navigate through scenarios of increasing complexity, with minimal external input.
In the first scenario, the autonomous boat must transit an obstacle course of red and green buoys, round a marker and return to the starting point. In a second scenario, the boat has to locate a "docking station" with an active pinger. Once it reaches this station, the team launches an aerial drone to take imagery of a number corresponding to the next station. This number must be communicated to the boat, which must navigate autonomously to the correct station. In a third task, the autonomous boat has to find an opening in a field of obstacles to reach a buoy. Upon reaching the buoy, the vehicle circles it, then finds an opening to exit the obstacle field.
"To me, this is a systems engineering competition. All the competitors learn how hard it is to integrate hardware and software. This is a multifaceted, multi-tier, real-world learning opportunity, more than you'd ever see inside a classroom," said William Porter, an electrical engineer with Naval Surface Warfare Center Panama City and a member of the technical staff for the event. (The Office of Naval Research is among the event's sponsors, along with Northrup Grumman and MathWorks.)
Travis Moscicki, graduate researcher and previous contestant, said that the experience is more than just technical, too. "Student teams are often required to help with . . . raising the thousands or tens of thousands of dollars required to build a competitive system and then attend the competition," he said.
This year, the teams had a larger course and had to incorporate new challenges – like communication between their autonomous vehicle and an autonomous unmanned aerial vehicle (UAV), and new obstacles like a carousel station. The vehicle enters a carousel of numbered items at a location determined by requesting a carousel code and circling a floating platform in the appropriate slot. Galih Ghafara of the Institut Teknologu Sepuluh Nopember (ITSN) said that "the carousel will be our biggest challenge, since we have no data to reference what the obstacle will be like."
High school students Matthew Mason and Rajiv Narayanan were among the youngest competitors. They said that they had had only six weeks to familiarize themselves with their system and prepare, and while they were a bit nervous, they were looking forward to learning from the experience.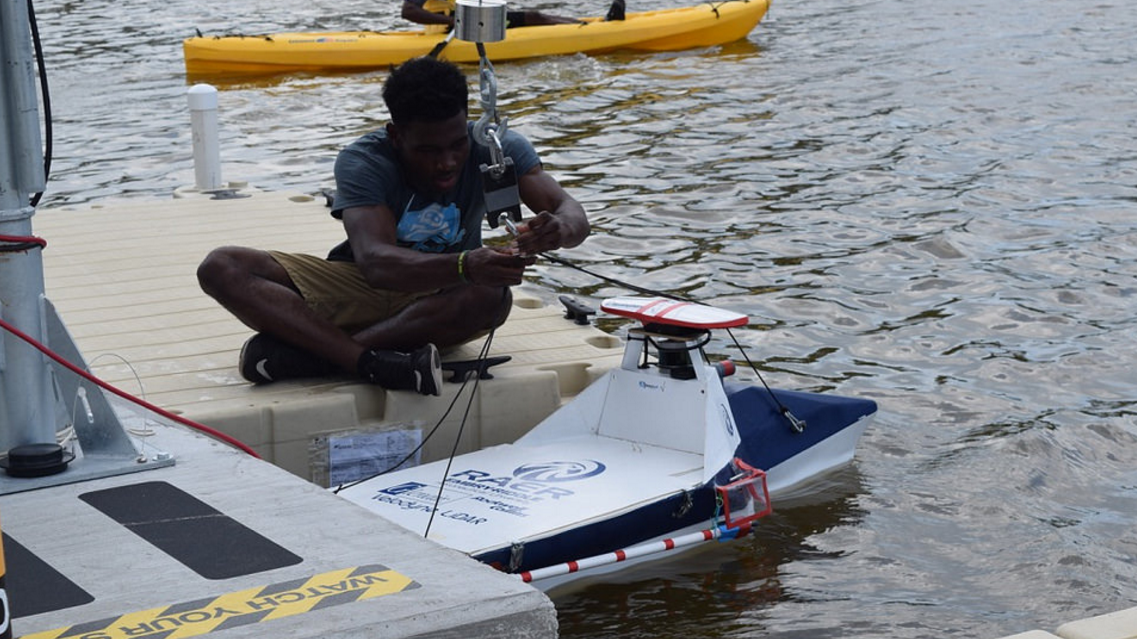 The Embry-Riddle Aeronautical University team prepares for a qualifying event
Novel Approaches and Vehicles
The vehicle from the Georgia Institute of Technology (GIT) team, Rich Girl, attracted a lot of attention with its high-level data fusion, incorporating real-time data with the dynamic model of the vehicle, helping to better predict how the boat will respond when encountering different environmental situations. This software has been used in the other AUVSI competitions such as RoboSub and RobotX. according to GIT's Vinny Ruiasd. "The software is able to be so versatile because the teams use similar hardware throughout all three platforms. Since the hardware is common, the main differences between the platforms are the dynamic models of each vehicle," he said.
Other teams highlighted unique designs that help them overcome hurdles they had experienced in previous competitions. ITSN's Galih Ghafara explained how his team had split their vehicle into three separate modules, each transported as checked luggage, making the trek of over 10,000 miles from Indonesia much simpler. Nick Serle of the Daytona Beach Home Schoolers (DBHS) displayed their flatboat design, which helped them overcome previous center-of-buoyancy issues encountered last year with their pontoon-style vessel, saying that "we take away more from our failures than our successes."
Competition Results
As the competition concluded the teams were awarded first to fifth place based on their accumulated points. The results and special awards were:
1st Place – Daytona Beach Homeschoolers - $5,000
2nd Place – Hagerty High School - $4,000
3rd Place – Georgia Tech - $3,500
4th Place – Institut Teknologi Sepuluh Nopember - $3,000
5th Place – Embry-Riddle Aeronautical University - $2,500
Drone Award – Tecnológico de Monterrey- $1000
Speed Award – Hagerty High School- $500
Paper & Video – University of Michigan- $500
Steven Jarrard is a marketing assistant and special correspondent for Maritime Executive Magazine.
The opinions expressed herein are the author's and not necessarily those of The Maritime Executive.