Migrants: Libya is Not Somalia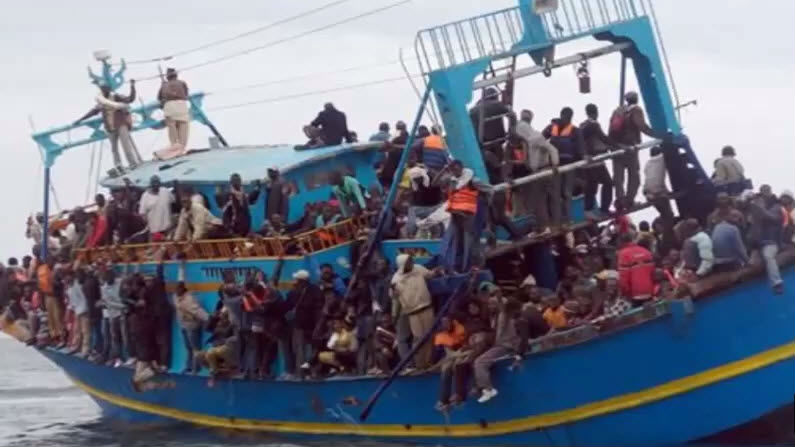 Op-ed by David Hammond
EU leaders have suggested that military capabilities should be used to deny Libyan human traffickers the use of their boats. The idea, coming from politicians such as the French President, Francois Hollande, Roberta Pinotti, Italy's defence minister, and EU Migration Commissioner, Dimitris Avramopoulos, is an interesting one. The aim is to stem the flow of illegal migrants into Europe, but can it legally work?
The connection between such suggested targeted military actions and potential reductions in human rights violations, including physical abuses and the murder of innocent migrants desperate to cross the Mediterranean Sea, does not make sense without a comprehensive political, military and humanitarian approach backed by an appropriately worded UN Resolution.
Even then, Libya may well have something to say about interference in national matters within their territorial boundaries without express prior permission and advance notice.
In the current UK election period it would be a bold move to consider action in Libyan territory against a criminal element that does not remain static while risking expensive military equipment and the lives of service personnel without firm legal standing and UN backing.
Such planning, money and effort would be better spent addressing and implementing the recommendations already put forward by the 2014 Fundamental Rights Conference in Italy, the bolstering the support to the shipping industry for Search And Rescue (SAR) operations as recently requested by the International Chamber of Shipping and the European Community Shipowners' Association, as well as supporting NGOs working to alleviate the suffering of those rescued around the southern Mediterranean States.
Somalia
The proposition to deny traffickers the use of their boats appears to be somewhat based upon the success of EUNAVFOR forces as part of Operation ATALANTA, a UK led operation on 15 May 2012 near the port of Haradhere where Somali pirate logistic sites containing fuel, engines, and ocean going skiffs were destroyed by military force. The aim was to write down the pirates' capabilities that were focused on hijacking merchant ships for multi-million dollar returns.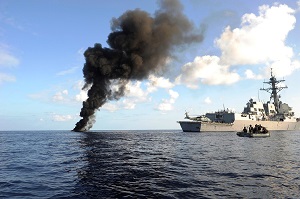 This operation was one of just a handful focused on land by EU forces, not part of sustained landward targeting of boats as being suggested in Libya. Importantly, such operations were first authorized under UN Security Council Resolution (UNSCR) 1816 (2008). This resolution expressly stated: "…for which advance notification has been provided by the TFG [Trans Federal Government] to the Secretary-General". In short, permission was need from the recognized State authorities before military actions were taken.
On that occasion the operations off the Somali coast were a success. This was to be virtually guaranteed by the application of superior firepower, the deployment of strategic reconnaissance capabilities on known static camps, and most importantly, the legal backing of numerous UN Security Council Resolutions (UNSCRs) that provided both political and legal authorization to conduct such operations.
This legal process started with UNSCR 1814 (2008) and currently spans 15 piracy specific resolutions with the UN continuing remaining seized of the matter under UNSCR 2184 (2104). Notably early on, the UN invoked military action under Chapter VII of the UN Charter: "Action with respect to threats to the peace, breaches of the peace and acts of aggression" under UNSCR 1851 which included "…seizure and disposition of boats…".
Specifically, the authorization to use military force inside another State's territorial waters was first articulated in UNSCR 1846 on December 2, 2008 and was stated as allowing "…under relevant international law, all necessary means" to repress acts of piracy and armed robbery at sea.
The wording "all necessary means" was widely interpreted by national and EU Naval Forces (EUNAVFOR) as allowing for a broad interpretation of what military capabilities and what degrees of force under national military Rules of Engagement could be used. Further, the UN mandate was supported by a then forward leaning political appetite across the EU to achieve results against the growing piracy threat to international commerce.
Crucially, the UN consistently made it clear that actions against the pirates and their boats applied "...only with respect to the situation in Somalia and…that this resolution shall not be considered as establishing customary international law". The UNSCRs were therefore not setting a precedent for such actions elsewhere.
Libya
While there are some parallels that could be drawn with Somalia, the situation in Libya is very different. In this case, it is about the crime of people smuggling, not piracy or armed robbery at sea.
Libya is still a functioning State, albeit divided between the western-backed government and the Islamist dominated factions who now control Tripoli and the west of the country such as ISIL, Libyan Dawn, Al-Qaida and Ansar Al Charia. The latest UNSCR 2214 27 March 2015 explicitly recognizes the government of Libya, and therefore it is a functioning State.
As recently as mid-2014 there was genuine hope on the streets of Tripoli that despite ongoing lawlessness and occasional neighborhood fighting, the concept of a new democratic State would finally become a reality.
Then the streets were busy and generally calm. Coffee and the very sweet tasting honey covered baroush were being consumed in coffee bars while discussions on the future government structure dominated conversations. Human rights were being openly discussed and the Danish Institute for Human Rights had been in-country assisting with writing strategic documentation for the Libyan National Council for Civil Liberties and Human Rights (NCCLHR).
The international airport was open; it was being refurbished and many airlines including international carriers had re-instigated regular flights between Tripoli and major European hubs. Diplomatic missions and NGOs were also working hard to rebuild the political, judicial and constabulary systems.
On the 14 January 2014 the first human rights conference since the fall of the former regime was held at the Radisson Blu hotel. It was busy with many of the Tripoli-based ambassadors and numerous international NGOs present. Against all the odds a Declaration for the Adoption of the UN Guiding Principles on Business and Human Rights was presented by the Libyan National Council for Civil Liberties and Human Rights (NCCLHR) and signed in front of the audience as a first for North Africa. The aim was to support and encourage ethical investment and prompt economic stability in a resource rich North African state. There was much to be positive about.
The consequences of the failure of the western intervention in Libya through the NATO campaign have, nonetheless, seen a virtual collapse in the rule of law and a failure in the establishment of a definitive government.
The International Criminal Court trial of Saif al-Islam al-Gaddafi who is allegedly criminally responsible as indirect co-perpetrator for two counts of crimes against humanity continues. Gross human rights abuses as reported through the International Committee of the Red Cross, Human Rights Watch and other NGOs. The intimidation and closing of the NCCLHR by Islamic militias has damaged the only independent national human rights platform.
The perpetration of the Gharghur massacre of November 15, 2013 by the Misrata militia remains fresh in people's minds, as does the murder of leading human rights figures of the 2011 Revolution such as Mrs. Salwa Bugaighis on 26 June 2014 at her home in Benghazi.
Libya is clearly far from benign compared to Somalia at the time of the 15 May 2012 coastal raid. There is currently no UNSCR that permits the same freedom of military actions as enjoyed by EUNVAFOR. Heavy weapons and military capabilities, even if irregular in standing, are abundant in the coastal areas and most importantly, Libya has functioning forces capable of patrolling and defending Libyan waters as it is entitled to do under International Law. Foreign military actions would, at first instance, be in breach of Libyan sovereignty.
Human Trafficking
Operating in the vacuum of effective law enforcement is the thriving trade in the trafficking of human beings. This is a long-running and well-organized criminal enterprise that can adapt and reposition itself at a speed that arguably cannot be matched by currently deployed European military assets.
Currently, there are few Libyan constabulary forces able to effectively interdict and arrest human traffickers, while the Libyan courts do not effectively function. Consequently, there are no lawful sanctions. There are no judicial "teeth".
Even if successful in accounting for the destruction of some human trafficker's boats in surgical strikes, the traffickers will simply find other locations to load their human cargoes, noting that the human rights of those cargoes are not part of their business model considerations. The trade will therefore continue.
Meantime, issues of positive identification of innocent persons, the proportionate use of force and the distinction of civilians from criminal individuals are fundamental issues to be addressed if military action was to be invited and indeed authorized by the recognized government of Libya.
As for any future UNSCR, it will need to be "…consistent with applicable international law, including international human rights law".
David Hammond is a barrister at 9 Bedford Row International Group and is the Founder of Human Rights at Sea, a private not-for-profit maritime human rights organization based in London.
The opinions expressed herein are the author's and not necessarily those of The Maritime Executive.