Maritime Technology Questions Answered at Veson's 2023 Conference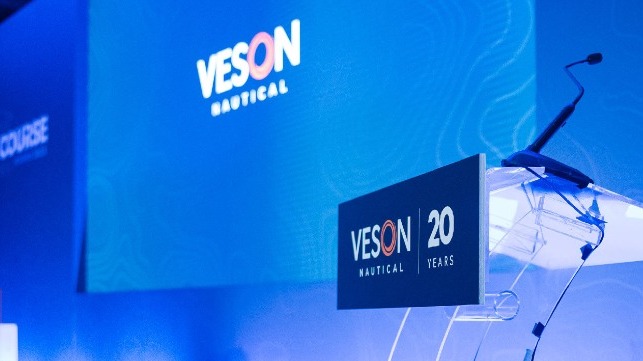 Veson Nautical, a leader in maritime freight management solutions, recently held ONCOURSE 2023, its maritime technology conference, in the lively city of Athens, Greece. This event celebrated Veson's two decades of dedication to developing, implementing, and supporting solutions that drive the maritime industry, encompassing marine contract management, vessel document management, and data analytics. Veson's gathering offered a unique opportunity for maritime experts to come together, engage in open discussions on industry-wide challenges, and collaborate on strategies from diverse viewpoints.
ONCOURSE 2023 brought together nearly 300 professionals, including operators, owners, commodity traders, and oil & gas experts, along with technology and platform providers. The event featured over 30 speakers and panelists, with half representing Veson and the other half being industry professionals from various points in the supply chain. Some notable participants included industry leaders from companies such as Fednav, Cargill, Marathon Petroleum, NYK Line, NORDEN, Sedna, RightShip, ZeroNorth, Alpha Ori Technologies, Marcura, Coach Solutions, and StormGeo.
We invite you to join us for an upcoming webinar about the data and tech trends discussed at ONCOURSE 2023. Learn more and register here.
Throughout the two-day event, attendees exchanged their expertise on utilizing data and technology solutions to tackle industry hurdles, including issues like data accuracy and uniformity, adhering to regulations, optimizing operations, enhancing system connectivity, and beyond. Here are some of the key questions and takeaways from these discussions on maritime technology:
How are maritime professionals navigating today's complex, rapidly evolving, and often siloed technology landscape?
With the increasing influx of technological solutions into the maritime sector to advance its digital transformation, industry stakeholders are facing the challenge of integrating their technology stack into a unified ecosystem that aligns with their unique requirements. Another consideration is determining which technology solutions and emerging trends to commit resources to and how to maximize their effectiveness, whether it's the excitement around AI-driven automation or the complexity of establishing standards across systems and industry. The central themes that emerge are connectivity and contextual relevance.
Laurent Reit, Vice-President, Technology and Digital Transformation, Fednav Limited described how they distinguish between what to do in-house and what to outsource to strategic tools and systems:
"We have a core team, a very small, very efficient team that can do analytics. We then extend that team with external consultants, partners, and outside data. [...] Why would I do it in house? As long as my internal team is specific, why wouldn't I grab the best data and processes out there?"
When asked about the potential use cases of AI at Fednav, Laurent added: "We're a shipping company, we're not a software company. So, we're going to use dedicated tools to provide the level of service and AI understanding that we need. We are still in the early stages of experimenting with AI, but we are approaching it strategically and starting small."
The need for advanced collaboration and integration between systems is clear. Sigrid Teig, Commercial Director - PortLog, at Marcura, a member of the Veson Platform Partner Network, sheds light on this point:
"We are way past integrations that mechanically push or pull data from one interface into another. Instead, we are moving towards truly harnessing the data within each platform by pooling it for contextual insights. Different tech stacks and user constituents require fast-moving solutions that are connected."
Pelle Sommansson, Chief Growth Officer, ZeroNorth pointed out how standardization and connectivity go hand in hand, saying:
"The industry needs to arrive at some consensus about how to standardize information, which we don't currently have. At ZeroNorth, they learned early on that it's about much more than a one-way integration, but rather two- and three-way integrations. These more complex integrations make having standards even more important to mitigate confusion."
What are the building blocks of a strong data foundation?
Data is playing an increasingly pivotal role in managing and moving global commodities and fleets. We know that data is critical to operations, and that there is plenty of it in the maritime industry, but we also recognize that data remains futile unless it can be acted upon effectively. The key is to harness systems and processes that generate relevant, dependable data in a uniform and contextually meaningful manner.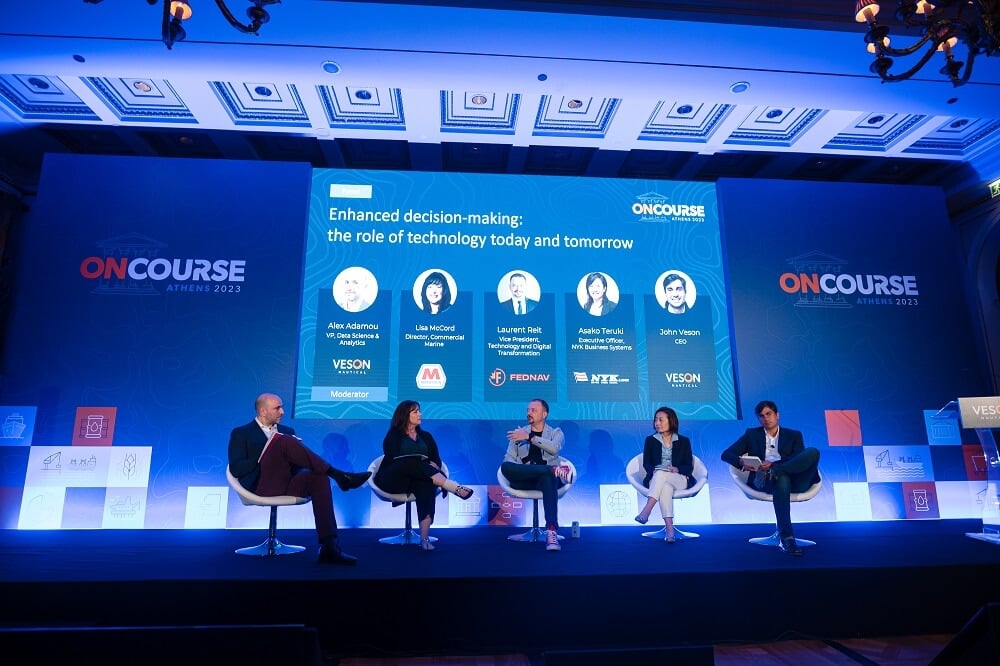 Timely, accurate information that can be easily shared across internal stakeholders is the crux of a strong data foundation. Rene Greiner, Data and Digital Lead, Cargill shared this about the importance of contextual data at Cargill:
"We have to orchestrate an ecosystem of truth. All of this has to be brought together, so you can have a good clean data stack for the future."
Lisa McCord, Director, Commercial Marine at Marathon Petroleum Company reiterated the importance of high-quality data, saying:
"We're better with how we put data in, getting everyone to understand that quality data input is so important. Our priority is to streamline processes and do the back-casting to understand if we made the right decisions to improve future outcomes."
We at Veson understand the impact that accurate, relevant, and validated data can have on your commercial and environmental success, which is why we continue to advance our data offerings with Q88, Oceanbolt, and VesselsValue. Alex Adamou, VP, Data Science & Analytics, Veson Nautical said this in a conversation about the role of data science in the evolution of Veson's suite of products:
"When it comes to optimization, you can start with a single voyage and then extend that to a sequence of voyages for a single vessel and extend that even further to a fleet of vessels. The optimization problems get harder and more layered as you go up that hierarchy, but the gains you can make are arguably larger and larger."
How are industry professionals strategizing for decarbonization and regulatory changes like EU ETS?
As we approach 2024, stakeholders in the maritime industry are preparing for the implications of increasing regulatory complexity, such as how CII ratings will feed into agreements and how to account for the expenses and manage the risk that will be associated with the EU ETS. While there are still some logistical uncertainties, one thing is for certain: the industry's commitment to and emphasis on decarbonization.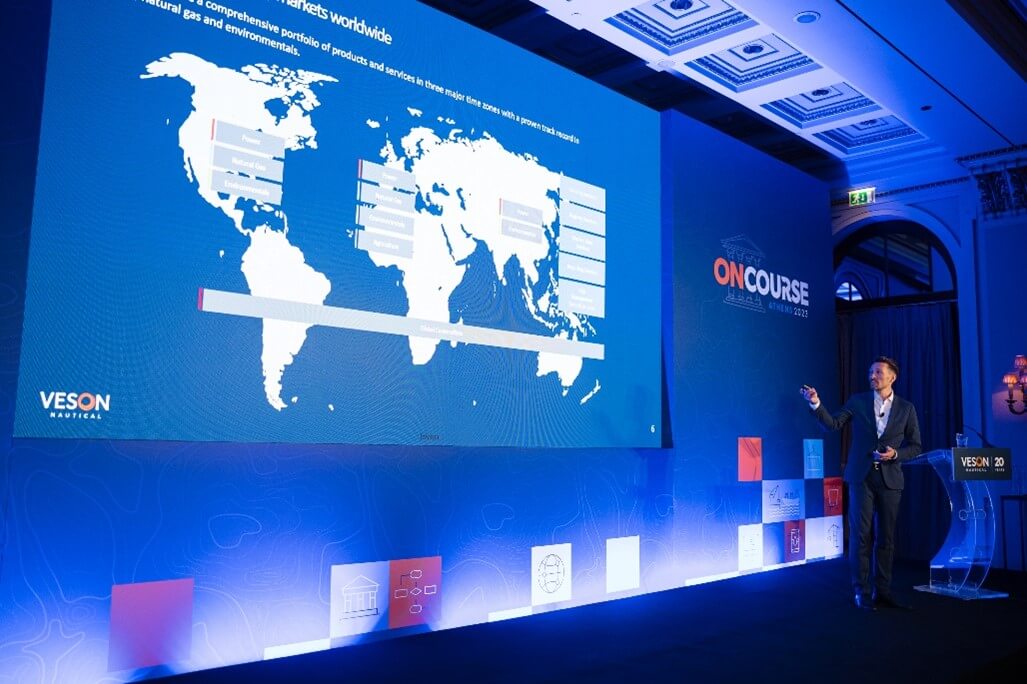 Christian Fleischer, Head of Sales Environmentals, EEX discussed the political landscape, emissions markets, and admission options and requirements surrounding the upcoming EU ETS regulation:
"Players from the shipping sector can access the EU ETS directly or indirectly, be it through an exchange membership, brokers or intermediaries, or banks. There are many important aspects to consider, such as the extent of your compliance obligation, cash sensitivity, preference for cleared activity, the fees and effort required, and more."
See the full EEX presentation on EU ETS here.
While we can't predict the future of decarbonization in maritime, we can take immediate steps to factor it into daily decisions. Jon Lane, Senior Manager, Sustainability, RightShip said this when asked about the critical focuses for decarbonization in the next 12 to 18 months:
"In terms of the short-term measures we can take from next year through 2030, we'll of course have EU ETS and CII to get a handle on. Additionally, it's all about getting those efficiency gains locked in for vessels so that we are prepared for the transition to those alternative low and zero-carbon fuels. It'll be about looking to new tech and advancing the data we have around decarbonization efforts so we can understand the impact and help industry players make informed decisions."
Thomas Hechmann, Growth Director, Coach Solutions shared this sentiment on change management in a discussion on decarbonization in maritime shipping:
"One of the biggest industry challenges in terms of decarbonization is not so much technology development but the mindset shift and incentivization that is required to create change at the day-to-day level."
Asako Teruki, Executive Officer, NYK Business Systems noted decarbonization as one of the most pressing industry challenges for which no adequate solution currently exists, stating:
"Decarbonization is the biggest challenge we are facing as an industry. We have an obligation and responsibility to society to make considerate decisions for the future."
For more on how NYK Line is leveraging data for value creation and standardization, read this two-part Veson interview.
ONCOURSE 2023 represented a significant milestone in Veson's journey, being its 20-year anniversary and most successful client event to date. It served as an opportunity for us to engage in meaningful conversations with industry leaders, further expanding our collaborative efforts to address the most critical challenges and future priorities within the sector. Thank you to all who attended – together, we are charting a course toward a brighter future for the maritime industry.
We endeavor to continue providing solutions that allow our users to make the most optimal decisions for their business at any given time. Data plays a key role in this, and our product roadmap includes advancements in how you can leverage data across your Veson solutions. Oceanbolt's API-first framework provides the foundation for Veson's data delivery, while Q88 provides contextual data through its standardized repository of vessel and voyage documents and VesselsValue adds advanced data validation and standardization to ensure high data integrity. Integrations between these respective solutions and the Veson IMOS Platform help streamline workflows and enhance decision-making. We are pleased to offer these enhancements and look forward to announcing more advancements in the future.
Greg Wilkins is VP of Global Account Management at Veson Nautical.
To hear more about the data and tech trends discussed at ONCOURSE 2023, access this on-demand webinar.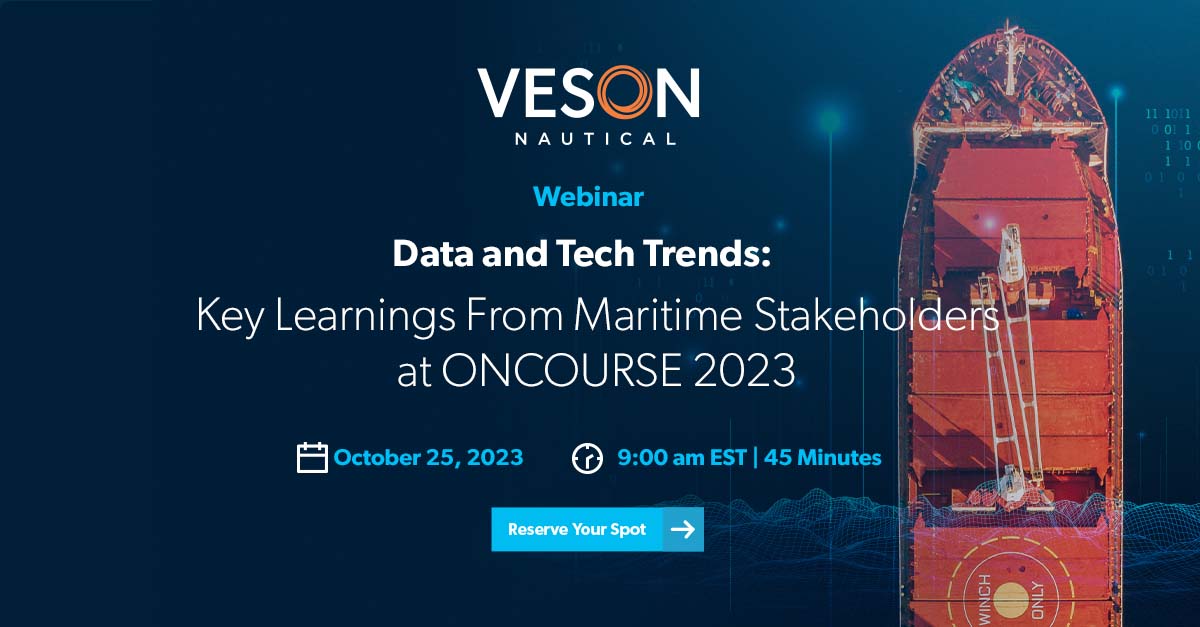 The opinions expressed herein are the author's and not necessarily those of The Maritime Executive.