Israel Boosts Animal Welfare Protocols, Protests Continue
Israel's Forum of Livestock Importers signed a convention earlier this month obligating them to self-regulate on animal welfare. The covenant was signed at a ceremony held in the office of Minister of Agriculture, Uri Ariel, who has supported the process.
Ran De-Levy, a member of the Forum of Livestock Importers, told local media that the group was happy to cooperate with the Minster to improve animal welfare. Ariel, in turn, said the ministry leads a zero-tolerance policy on animal welfare, and he was pleased with the voluntary action of the importers.
The regulations cover livestock imports from source to fattening in Israel and call for oversight from an external inspection company. They were developed with animal welfare and veterinary support, along with support from Dr Joffrid Mackett, an animal welfare expert from Australia.
Australia is the only country in the world with legislation that decrees that the welfare of Australian-originated livestock remains the responsibility of the Australian exporter. The livestock retain their national identity to the point of slaughter, irrespective of any subsequent ownership transfer. Under the Exporter Supply Chain Assurance System (ESCAS), Australian livestock must not be sold outside of approved supply chains and cannot be purchased for home slaughter or for slaughter at facilities that have not been approved as meeting international animal welfare standards.
A spokesperson for Australia's live export industry said: "Given the introduction of supply chain standards in Israel is based on Australia's existing Australian Standards for the Export of Livestock and ESCAS requirements, it represents further alignment between Australian livestock exporters and our Israeli customers. It also demonstrates how our influence can help to improve livestock export practices and animal welfare outcomes for livestock not just from Australia, but other countries too."
Israel's new self-regulation is based on the recommendations set out in the World Organization for Animal Health (OIE), as are those of Australia.
Conflict has been ongoing in Israel over live imports, with those against the trade being accused of spreading misinformation, most recently over sickness on board a shipment of animals from Portugal. The Director of the Veterinary Services at the Ministry of Agriculture attacked the organization Israel Against Live Shipments accusing it of making false claims. Contrarily, the organization denies this and points to a lack of transparency in the industry.
Australian animal welfare organization Animals Australia has indicated that it had inside information that someone on the vessel in the Portugal shipment case had called for veterinary assistance during the voyage, and someone had also turned off the vessel's AIS for a number of hours, something it says indicates there was most likely a problem on board.
Several organizations have protested against the industry, and Israel Against Live Shipments says over 10,000 people attended their latest march. A spokesperson for the organization says the move to self-regulate is a complete farce, continuing the path of the Agriculture Office which allows the importers to have their own quarantine as a watch for illnesses on the animals they import. "How can anyone with an interest in this business really truly care for the welfare of the animals? The profits of importers are on the line, and therefore they have every reason to potentially hide anything that would impact those profits negatively."
Immediately after the march, Knesset member, MK Eytan Broshi, issued a statement saying that there could never be a ban on live imports. However, he is proposing new legislation in October which would limit voyage duration to six days, a move which would exclude Australian importers from the industry.
In the 2016-17 financial year, Israel imported 45,831 Australian cattle (making it Australia's third largest market for beef cattle behind Indonesia and Vietnam) and 104,679 Australian sheep (making it Australia's sixth largest sheep market).
Israel Against Live Shipments says they will continue to fight for a complete ban, as there is no compromise on cruelty.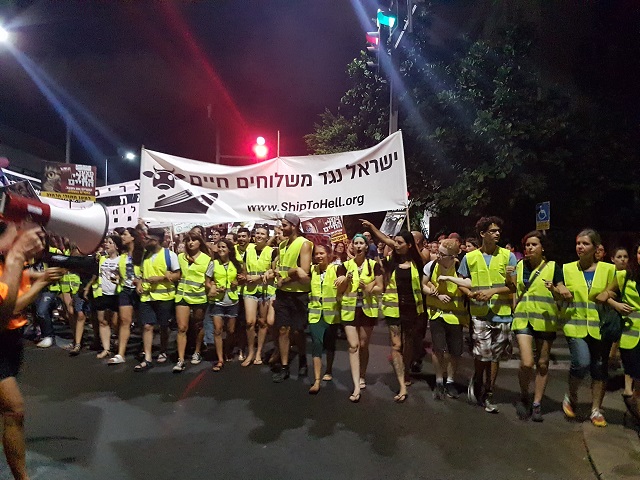 Credit: Israel Against Live Shipments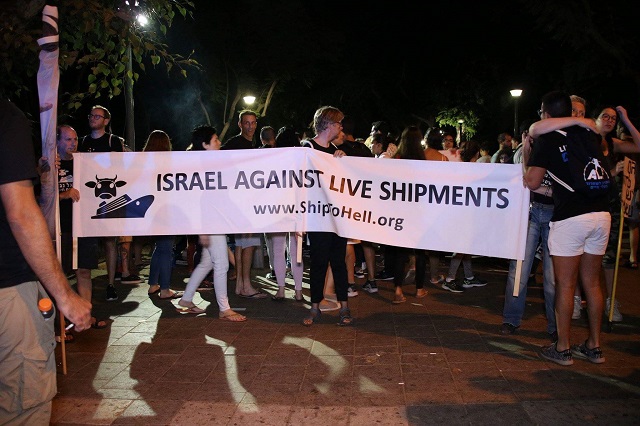 Credit: Israel Against Live Shipments
The opinions expressed herein are the author's and not necessarily those of The Maritime Executive.