Grand Bahama Shipyard Takes On More Complex Projects
Grand Bahama Shipyard, one of the leaders in ship repair, is targeting future growth through the expansion of its services. Already a leader in providing dry docking services to both the cruise and commercial shipping industries, it is working to expand into larger and more complex projects.
"Our core competency needs to be project management," points out David Skentelbery, the recently appointed Chief Executive Officer of the shipyard. With over forty years of experience in the marine industry, Skentelbery joined Grand Bahama at the beginning of 2016 as the Chief Commercial Officer before being appointed Acting CEO and recently confirmed as CEO of the yard. His goal is to grow the business by demonstrating its capability to handle project management and larger programs for shipping companies.
Conceived in response to the cruise industry's desire for a regional shipyard facility, Grand Bahama Shipyard started in 2000 with one drydock capable of handling ships to up to 27,000 tons displacement. Previously the nearest shipyards required longer traveling distance for the cruise lines either to the east coast of the U.S. or in the Gulf of Mexico. With continuing investments, Grand Bahama Shipyard added a second drydock in 2001 capable of handling ships up to 50,000 tons displacement and by 2009 a third drydock was commissioned, giving the yard its current lifting capacity of up to approximately 82,500 tons displacement.
Located less than 100 miles from cruise line homeports in Miami and Fort Lauderdale, the yard has grown along with the cruise ship industry. In 2007, it handled 18 cruise ships, as well as 56 commercial vessels and 31 smaller wet dock projects. Growth has continued with the yard having serviced 20 cruise ships as well as 49 commercial ships in 2016 and a further 23 cruise ships and 75 commercial vessels last year.
"After 17 years in business, we are starting to move more into the hotel side of the business," explains Skentelbery. "We are moving up the food chain looking at improving and increasing the yard's capabilities in the next five years." The goal is to handle everything from routine maintenance and occasional emergency repair projects to major refurbishment programs that are becoming increasingly frequent in the cruise ship sector.
A typical scope of work for the yard includes steel fabrication and repairs, engine and technical systems, hull treatments and tank cleaning as well as overhauls of generators, electric motors and gearboxes, deck machinery and pipe replacement. The yard has also been involved with the installation of scrubbers and the maintenance and repair of pod propulsion systems.
In 2017, for example, among the projects that Grand Bahama Shipyard completed was Royal Caribbean International's 73,817 gross ton, 916-foot long Grandeur of the Seas. This included the installation of a scrubber system, enhancements to aluminum and steel structures on the upper decks and the complete hull blasting and application of silicone coating. Additionally, a 1,500 square meter scaffold was constructed to support interior renovations.
Grand Bahama Shipyard also completed steel structural work on the hull and upper decks of two vessels for Princess Cruises and a major pod overhaul for Celebrity Cruises' Celebrity Summit.
Demonstrating the expanded services that Skentelbery is targeting, in the fall of 2017, the yard undertook a major project for Carnival Cruise Line providing a turnkey solution for the major revitalization of the 70,000 gross ton, 855-foot long Carnival Elation. Work on the 19-year old ship included deck fabrications for the cabins and passenger areas, the addition of a ducktail and sponsons to aid buoyancy and 98 balconies retrofitted to existing cabins in the hull. Working with contractor ALMACO, 38 new staterooms were fitted on a new Deck 14. A new water park was also added and extensive renovations of the passengers' areas and amenities were undertaken. In March 2018, a similar project was completed on her sister ship the Carnival Paradise.
The complexity of the Carnival Elation project was increased further by a hurricane that passed through the Bahamas forcing work to be suspended, materials to be secured and the ship taken out of drydock and into open water. "The trick is to be ready to deal with challenges," says Skentelbery, noting that they do "a lot of risk analysis planning for big events such as a hurricane as well as the smaller issues that crop up during a drydocking."
Among the elements required for a successful drydocking are time management, meticulous planning, logistics management and availability of subcontractors and materials. Grand Bahama takes pride in its track record of completing projects on time and on budget.
Skentelbery explains that the company will be looking to expand its ability to do more wet dock projects. This will be more cost efficient for the shipping lines and permit Grand Bahama Shipyard to take on a greater scope of work. In addition to its three drydocks, the company has both the Finger Pier and North Beach Wharf areas to do wet dock work, and each can accommodate ships up to 985 feet in length and with a depth of 42 feet.
Skentelbery is also looking at the possibility of co-locating with key suppliers at the yard to enhance further its partnerships and services provided to shipping lines. ALMACO, for example, set up its mobile cabin factory at the shipyard during the extensive Carnival revitalizations, pre-assembling cabin units and massing materials needed to expedite the efforts.
Using these strategies, Grand Bahama Shipyard is confident that they can continue to grow their book of business. The current cruise ship season wound down in April as the ships reposition for their summer deployments, but cruise work resumes in the fall. In the interim, the yard will keep busy with commercial vessels.
This year, Grand Bahama Shipyard expects to service 29 cruise ships. They are currently reserving work up to three years in advance working with the shipowners to plan programs that provide greater efficiency and productivity.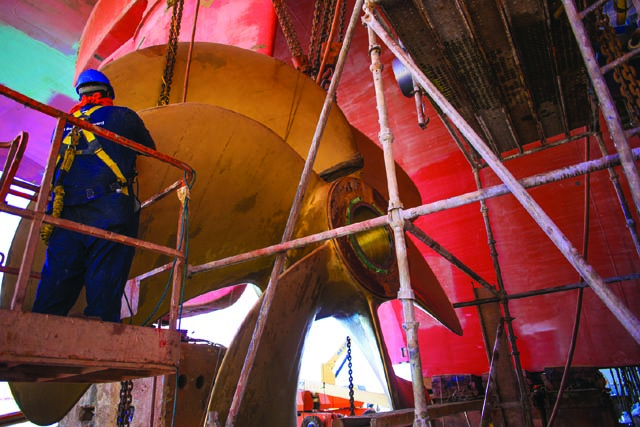 Carnival Breeze undergoing mechanical work.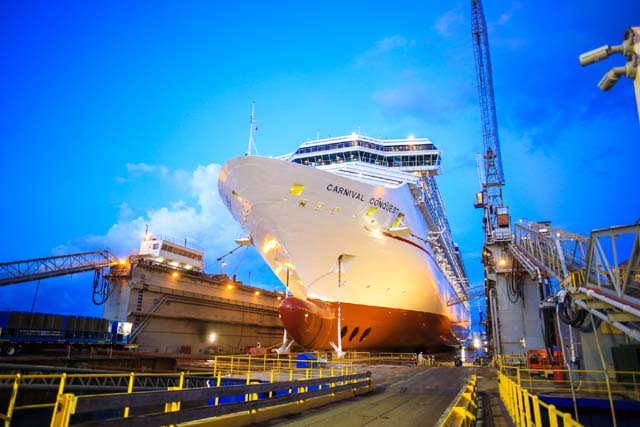 Carnival Conquest in drydock.
Carnival Liberty undergoing overhaul.
Empress of the Seas at the yard.
The opinions expressed herein are the author's and not necessarily those of The Maritime Executive.