GenFlat Answers the $20B Empty Container Repositioning Problem
GenFlat Marine Containers are the future of shipping containers. Recently recognized by Transport and Logistics Middle East as the "Most Inspiring Container Technology of 2023," GenFlat's goals are to help companies with three things: saving costs, creating space, and carbon emission reduction. GenFlat containers are manufactured by the largest and best marine container manufacturer in the world, CIMC, and exceed the strength and rigidity capacities of conventional marine containers.
How it works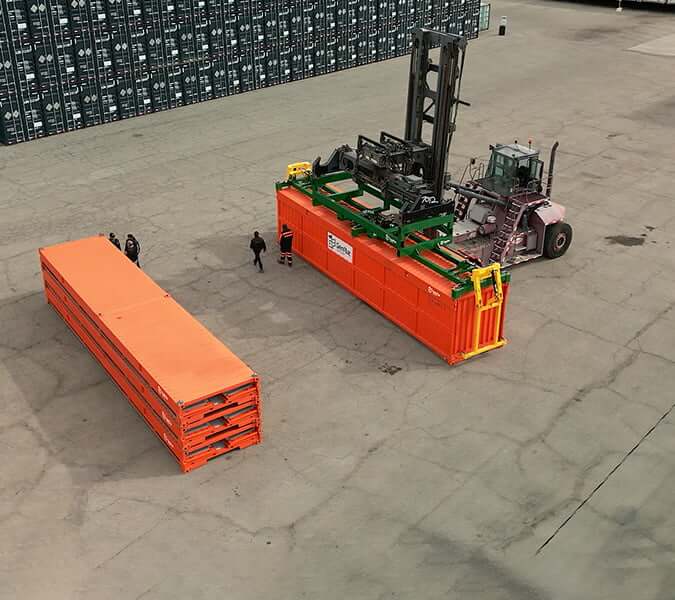 Expand: The actuator attaches in six locking positions utilizing the traditional industry standard "twist locking" mechanism
Collapse: The actuator collapses the GenFlat Container in 80 seconds
Unlock: A single worker unlocks the end doors while the end arms of the actuator perform the collapsing operation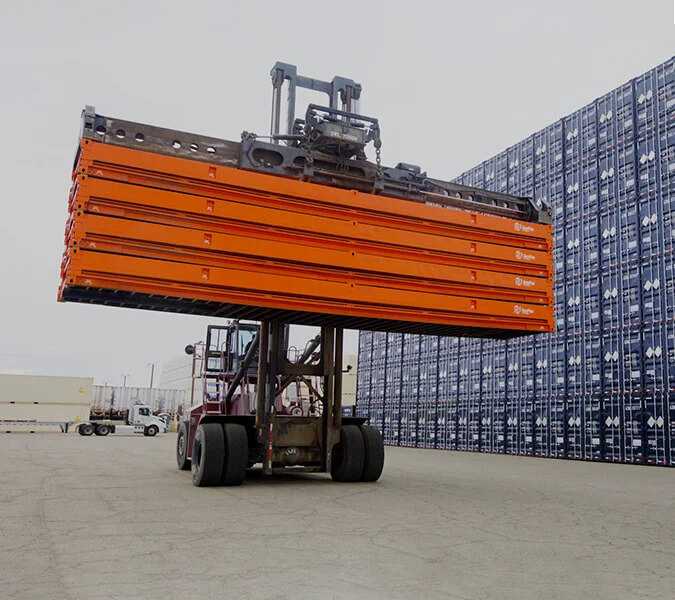 Stack: Locking technology stacks four empty GenFlats into the exact space of a 40-foot High Cube (HC) container
The GenFlat Advantage
GenFlat reduces the carbon footprint of all transportation conveyances along the empty marine container repositioning routes. GenFlat Containers reduces container repositioning costs by 75 percent.
GenFlat containers take up less space in major marine container terminals, container yards, intermodal yard depots, stack trains, barges, and vessels. Every major trade lane benefits by reducing trips and handling allowing for multimodal transportation.
Fewer transportation moves mean reduced fuel consumption, reduced traffic and reduced emissions.
GenFlat Specs
GenFlat Containers have been ISO tested and certified and are watertight.
Total Length: 40 feet
Max Goss Weight: 32,5000 kgs
Tare Weight: 5,300 kgs
Payload: 27,200 kgs
Cargo Capacity: 65.3 CBM / 2,306 CFT
When empty and collapsed / stacked the GenFlat Container utilizes 25 percent of the space traditionally occupied by one 40-foot HC shipping container. Four collapsed GenFlat containers take up the same space as one 40-foot HC container.
Interested in saving money, reducing space, and cutting carbon emissions? GenFlat is accepting applications for their GenFlat Innovator Program and are giving away 20 containers, 2 state-of-the-art actuators, and full logistical support to one company.
Reach out to Matt Albanese at [email protected] or visit www.genflat.com to learn more.
The opinions expressed herein are the author's and not necessarily those of The Maritime Executive.