Coastguardsman Goes Inland to Rescue His Own Family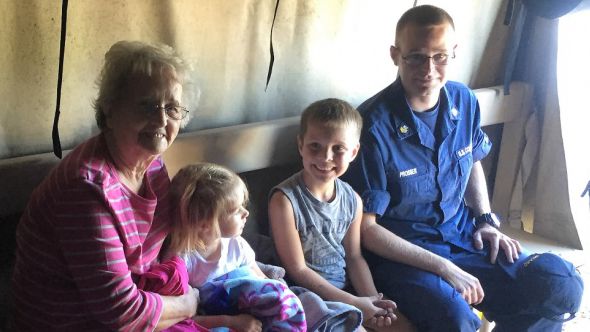 When Petty Officer First Class James Prosser and his wife Nicole decided to send their kids to stay with Nicole's mother in Lumberton, North Carolina on October 6, the last thing they expected was the town to experience some of the most catastrophic flooding in state history.

With Hurricane Matthew headed toward Wilmington, the couple's decision to move the kids away from the coast eventually backfired. The storm took a surprise turn inland, toppling trees and swelling rivers with rain throughout many parts of southeastern North Carolina.

Prosser brought his six-year-old son, Ethan, and two-year-old daughter, Annalynne, to Lumberton on Thursday, October 6, then returned to Wilmington to assume his responsibilities for Coast Guard Sector North Carolina.

With his kids in the care of his mother-in-law, Tammy Bradley, Prosser was able to focus on his round-the-clock Coast Guard duties. Perhaps his most critical task was keeping the generators running at the Sector North Carolina building, the equivalent of Coast Guard Headquarters for the state.

Prosser's mother-in-law, a healthcare worker in Lumberton, was called in to work at the Lumberton Hospital shortly after the hurricane passed. She placed the Prosser children in the care of her parents, 80-year-old Nancy Sykes and 82-year-old R.D. Sykes.

By late Saturday morning, Prosser received word that Lumberton had taken a beating from the hurricane. His kids were now with their grandparents in a house with no electricity or running water.

He grew concerned, but was not truly alarmed until later in the weekend, when he realized the Lumber River was still rising.

"Lumberton has been the go-to safe haven during hurricanes for me and my family for about eight years now," said Prosser. "But after the town was battered by Hurricane Matthew, following two weeks of unusually- high rainfall, it became a dangerous place where water was suddenly filling the streets."

By Monday morning, the levee in Lumberton had broken, and Prosser was working feverishly with members of the sector command to determine how best to get his kids home safely.

Master Chief Petty Officer Louis Coleman volunteered to travel with Prosser, so the two loaded up their trucks with several gallons of drinking water and headed to Lumberton.

The ride from Wilmington to Lumberton normally takes 90 minutes in favorable traffic and road conditions. But on this day, Coleman and Prosser faced significant challenges that slowed their journey.

About 10 miles outside Lumberton, the two began to encounter obstacles. Despite large, fallen oak trees and floodwater along the road, Coleman and Prosser recognized that the highway they were taking was the only way into Lumberton by vehicle. As they approached the city from the south, they encountered a group of North Carolina State Troopers.

"They were confused as to why we were headed in to town at first, but as soon as we explained why we needed to get in, they let us through," said Prosser. "Most people were trying to leave town, not get in, and we began to see why. Damage from the hurricane became much more evident the closer we got to Lumberton, but I was blown away by the damage we encountered when we got within city limits."

Eventually, they came to an area too flooded to proceed by vehicle, but were lucky enough to encounter water rescue teams from New York City and New Jersey Fire and Police Departments.

"We parked our trucks, and water rescue team members let us load all the drinking water we brought onto their boats," said Prosser. "We climbed aboard and rode with them through the flooded streets."
Prosser said that during the hour-and-a-half boat ride through town, they saw submerged vehicles and homes flooded in four to eight feet of water. They faced underwater hazards like mailboxes, fences and street signs while dodging downed power lines.

Prosser said the water wasn't standing; there were strong currents flowing between houses that pushed the boats off course.

"I'd been to Lumberton enough to know my way around, but on this day I didn't recognize anything at first," said Prosser. "Eventually we approached a church that looked familiar. We saw helicopters overhead with people dangling from cables. They were hoisting people from the flooded waters to safety."

The group made it to an incident command post (ICP) comprised of multiple agencies working together: the U.S. Marshalls, New York Fire Fighters and Police, FEMA and multiple state and local agencies.

The incident commander arranged for Prosser and Coleman to ride in an SUV with New York Fire and Police. Using cell phones to navigate, the group finally located the Sykes' residence. Luckily, the house was located on a patch of dry land a few hundred yards from the river.
"When we got there, my two children came running out the door," said Prosser. "While it was a huge relief to know they were safe at that moment, I knew we were all still in danger. We needed to get out of there as quickly as possible, before we got trapped by floodwaters."

The group quickly delivered ice and water to other nearby flood victims and strongly encouraged everyone they encountered to evacuate the area. Prosser gathered his wife's grandparents' medication, and the group headed back to the incident command post in the SUV.

Fortunately, the group received full support from the North Carolina Air National Guard 236th Brigade Engineer Battalion (BEB) out of Durham.

The BEB provided the group a ride in an M35 2½-ton cargo truck. When even the cargo truck reached an area too deep to cross, the group was forced to improvise once again. Coleman noticed a small skiff tied up near a flooded funeral home. He and Prosser used the skiff to transport the kids and their grandparents across the deep floodwaters to their vehicles as the rising Lumber River threatened their escape. Coleman managed to retie the boat where he found it before wading back through the water to his truck.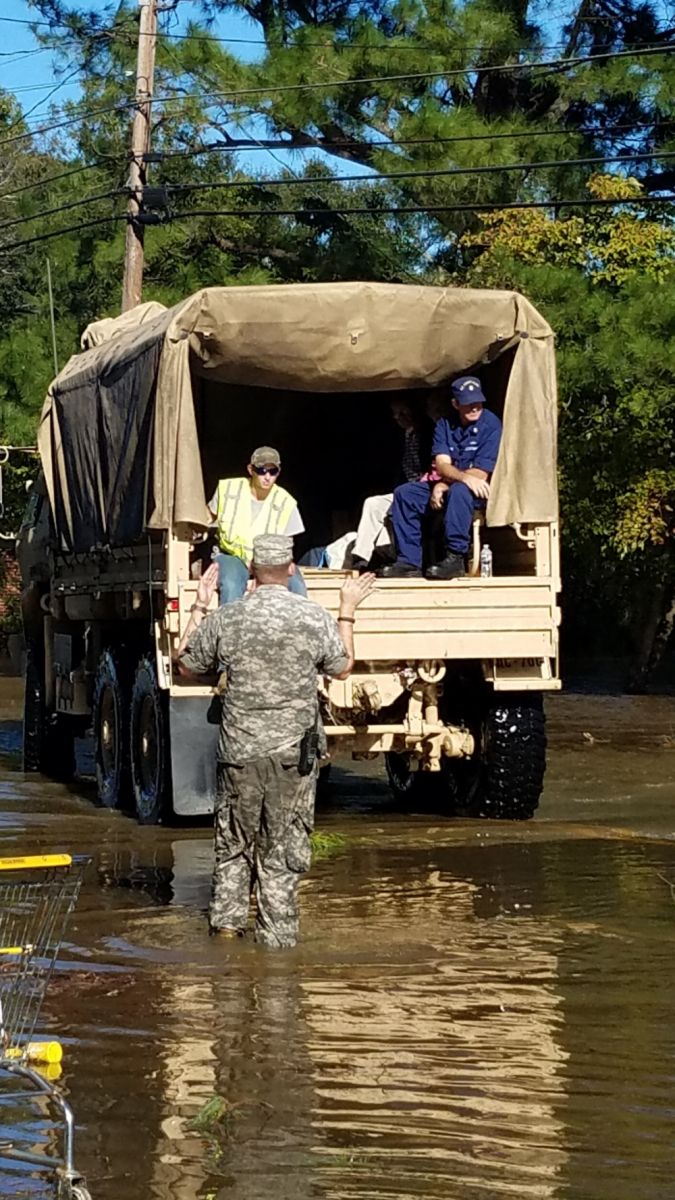 Although they made it out of Lumberton, impassable highways delayed their journey home. The group had to travel roughly four hours through South Carolina to get back to Wilmington due to road closures. They finally arrived home around 9 p.m., more than 12 hours after setting out that morning.

"When we got back, my wife was a happy mess," said Prosser. "She was smiling and crying at the same time. She was relieved, gave both kids a big hug. It was a happy reunion, but I couldn't stop thinking about all those people back in Lumberton."

Prosser continued to work long hours each day at sector, all the while coordinating volunteers and donations for a return trip to Lumberton. He planned to provide the community with much needed food, water, clothing and other staples.

"I have no idea where Prosser found the time to do what he did," said Coleman. "But he reached out to all the Coast Guardsmen here at Sector North Carolina, as well as the local Wilmington community, and people responded."

"We collected more than $300 worth of bottled drinking water, almost a full ton of clothing, too much canned and boxed food to count, as well as diapers, soap and other hygiene items," said Prosser.

On Sunday, October 16, a group of Coast Guard volunteers from Sector North Carolina loaded Coleman's trailer with all the donations. Once again, Prosser and Coleman headed to Lumberton.
PO1 Prosser loading relief donations

Arriving back in town, they continued to be amazed by all the volunteers. Civilians from local churches and a mosque, Lumberton Police and countless other people were gathered at organized locations to accept and distribute goods.

Though the flood waters have begun to recede in Eastern North Carolina, the damage will scar the region and its people for some time to come. However, there appears to be no shortage of organized support and caring individuals who continue to make a difference.

"Sometimes after a disaster, you hear on the news about chaos bringing out the worst in people," said Coleman. "While that is sometimes true, it is more often the case that these times bring out the best. We can't thank enough all the people who helped us in Lumberton."

"The Coast Guard is a very family-oriented branch of the military," said Prosser. "We as Coast Guardsmen look out for each other and for each other's families. I have family in Lumberton and my Coast Guard family was happy to reach out to them in a time of need. My command was involved the entire time, from me planning to get my kids back home, to our return trip with supplies."

As part of the North Carolina family, Coast Guard Sector North Carolina personnel will continue their response to Hurricane Matthew's aftermath and the subsequent flooding throughout the region.
Photos courtesy USCG / PO1 James Prosser / Master Chief Petty Officer Louis Coleman
This article appears courtesy of U.S. Coast Guard News and can be found in its original form here.
The opinions expressed herein are the author's and not necessarily those of The Maritime Executive.