Interview: John Murray, CEO and Director of Port Canaveral
Port Canaveral is off to a strong start in 2023. Rebounding from the pandemic and the temporary loss of its cruise business, the port made some critical decisions shaping its future. Now it's roaring back.
Recently, John Murray, CEO and Director, met with Tony Munoz, publisher of The Maritime Executive, to discuss the port's rebound and outlook for the future. He discusses the port's leadership in cruising and LNG as well as the growth in cargo and the response to key issues such as the development of shore power capabilities.


TME: How's the port doing?

John Murray: We're off to a strong start in 2023. We're five months into our fiscal year and I'm pleased to report we are ahead of budget and the business is performing well in all key areas.
On the cruise side, we had a strong winter deployment and, unlike some of the other ports, most of our ships are year-round. We only have a few that are seasonal and in some cases the lines are swapping out ships, sending others to homeport at Port Canaveral. For the summer we're also going to be the homeport for a British cruise line that will be flying its passengers in from the U.K. Cargo is also well ahead of plan. We're moving aggressively to expand our cargo capabilities to support the continued growth of central Florida.

TME: Like all ports, you were hit pretty hard by the pandemic. What did you do to deal with the sudden changes?

John Murray: It was a difficult period for everyone, but we were strategic about how to manage the business and where to go from there. 2019 was our best year ever with $107 million in revenue, and we were looking forward to a strong year when the pandemic forced the shutdown and made us look long and hard at our business. We're not part of a county government like Miami or Port Everglades. We have no backstop. Our port is a special district in the State of Florida. There are a couple of other ports set up that way – Palm Beach and Port Fernandina. We have an elected board.
When the pandemic shut down cruising it took away a large portion of our revenue stream. We do have the power to levy a tax, but we haven't done so since 1986. If you look at the millage rates permitted by statute, it's nothing compared to losing 80 percent of your revenue stream. So we did the things you have to do.


TME: What's the first thing you do when you're having a problem like what you experienced?

John Murray: You say, "Where's the cash?" Don't spend it on anything we don't need. Any projects we can cut right now that we've got a cash commitment for, let's look at them all. And if we don't have to spend it, let's not.

We had certain projects that we could not stop, like we had Cruise Terminal 3 underway. We had some work being done at Cruise Terminal 8. Those were all using restricted revenue funds anyway. We also had some bank and bond funding for those, but once you get that money, you can only spend it on those projects. So we couldn't spend those monies on operating expenses and because they were strategic, we continued those projects through the pandemic.
Last year, in FY 2021, when we were down for 17 months, we had to do some very radical things. You make the hard calls and do what you got to do. During COVID, we laid off 43 percent of our workforce, but we did the best we could to retain all of our talents. We maintained all of our key staff and reassigned key cruise people to other areas of the operation. And we got through it because we knew when the pandemic started, we didn't know if the business would start up again fast or slow, but we knew it would come back and we needed to be prepared. I kept saying it went off like a light switch; we'll come back like a different switch, which is kind of the way it did happen.

TME: So how did the business come back?

John Murray: Last year was a startup year in many ways. When we started, COVID was still going, and ship capacities were initially running at about 50 percent. We weren't the first to start. Miami started with about four ships before we started our first one. We knew it would be different coming back. Instead of restarting all at once, we knew it would be a different switch, building back slowly, which also gave us time to prepare and be strategic.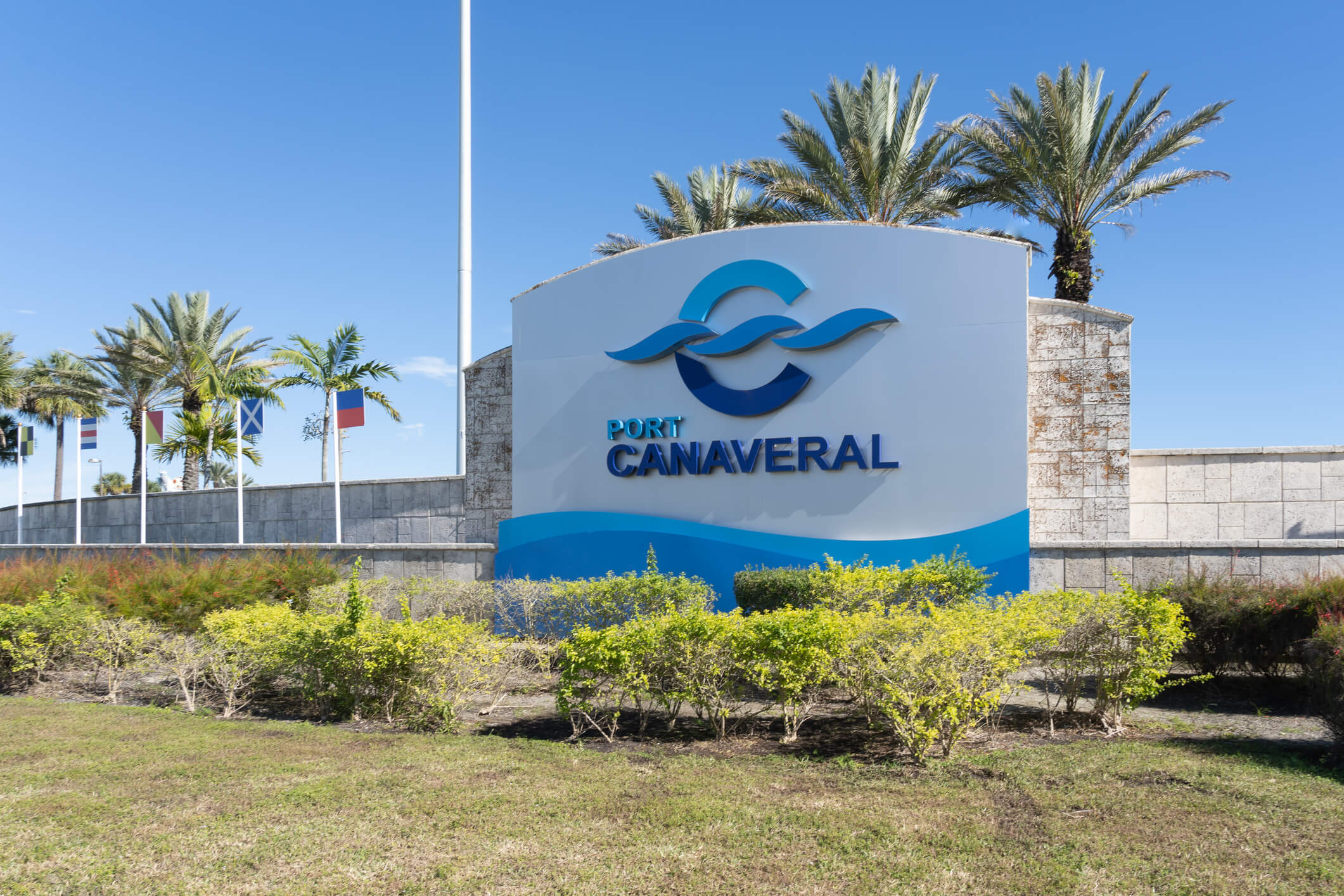 The budget? When we came back last year, it was $129 million but we had budgeted $109 million. This year we budgeted $154 million. We budgeted for a boom year, but I'm proud to report it's going to be much more of a boom year. We'll be exceeding that number as our six months is up now for the first half of the year. We already have a pretty good indication of where we'll end up for the full fiscal year.

TME: Is cruise leading you back?
John Murray: We've been the second busiest cruise homeport for probably the last eight or nine years. Cruising started slowing in Port Canaveral versus the South Florida ports, but we've been growing steadily. We offer a unique experience for visitors, ranging from our beaches and links to the aerospace industry plus of course the major theme parks. Everything is supported by a world-class airport.
When the numbers came out for calendar year 2022, everyone was surprised. Port Canaveral is now the busiest cruise port in the world. As central Florida's seaport, we handled 4.1 million cruise passengers. By comparison, PortMiami was just over 4 million while Port Everglades continues to be third with about 1.7 million passengers.
We were strategic and worked closely with our cruise partners to help them build back their business. Carnival Cruise Line for the first time sent a brand new ship to Port Canaveral, launching its LNG-fueled Mardi Gras in our port. Royal Caribbean International also sent the largest cruise ship in the world, the Wonder of the Seas, to homeport at Port Canaveral. MSC Cruises is also expanding its operations in our port, sending several of its newest and largest cruise ships to Port Canaveral. Disney is one of our longest-homeported cruise lines and we've grown along with them. They sent their brand new LNG-fueled Disney Wish to Port Canaveral when it launched last year. Norwegian Cruise Line is also sending its newest ships to Port Canaveral.

TME: So, how many ships did you have overall?

John Murray: We were just under 800 cruise ship calls. And the cargo ships were somewhere about the same. We had 13 homeported cruise ships for the winter season, using us as their gateway port. That's a change from the old days. The cruise lines are headquartered here in Florida but mostly in Miami and South Florida. When a new ship came out, it was always the case that the new ship goes to Miami, generally, or Port Everglades, one of the two southern ports close to the home offices. Then a year or two later they would come to Port Canaveral.

TME: How did you change it so that new cruise ships come to Port Canaveral first?

John Murray: When I started at Port Canaveral seven years ago, and I'm looking at the future cruise list, I said, "All these ships are being built with LNG. How do we do that?" We did not have an LNG capability nor did anyone else at that point. So we got out in front of LNG. What happened when the Mardi Gras was built and ready to go with LNG? We were ready before PortMiami or Port Everglades and we could offer our cruise partners the ability to bring their new LNG cruise ships to the U.S. When Carnival's Mardi Gras arrived in the summer of 2021 we had already been working with partners in the bunkering and fuel sectors. We were ready to go before the Mardi Gras launched. A year later Disney took delivery of its first LNG cruise ship, Disney Wish, and again we were prepared.

TME: How did you do that?

John Murray: The bottom line is you got to figure it out. Nobody had done it before. So we went through the hard work of educating the community and working with the suppliers One key element was training. Training is critical. We've got a firefighting academy for LNG at Port Canaveral. It's operated on port property, and now we're training others. We just had the fire department of New York down here a few weeks ago. We're also doing the training for maritime unions who are sending personnel through our firefighting academy for the new LNG ships out there.
We got out in front of it. Working with our partners we have two bunker barges. One is JAX LNG, and the other is from Shell. Neither of the boats are based here, but they're ready when we need them. Shell brings product from Elba Island, which is about 5 miles downstream from Savannah where they have an LNG terminal. JAX LNG comes from Jacksonville. It's coastwise barging and integrated, articulated tug barges. They come in. They fuel the ships. They go back and get more fuel and are ready for the next bunkering operation.
The situation changed after the war began in Ukraine and Europe needed new sources of LNG. The U.S. is exporting large amounts of LNG and that meant they were pulling off the network at Elba Island and shipping all that LNG to Europe. The domestic gas price was down, so suddenly the incentive was there to move everything they could to Europe.
So we did some other things with Shell. We were bunkering over the dock to the barge with 40-foot ISO containers coming in with LNG. The barge was put alongside the Carnival's Mardi Gras. We did that for six months. It was all approved by the Coast Guard, the fire department and everybody else, so instead of coming directly from the barge we went from tank to barge to the cruise ship to keep the LNG flowing despite the changes in the market.

TME: What about cold ironing? There's a big push for the ports to go over to shore power.
John Murray: It's a big challenge for us. The nearest village or city to us is Cape Canaveral, which has about the same population (6,700 people) as the number of passengers on an Oasis-class cruise ship. Our grid is not there and is not ready to handle that type of demand. The electric project they're doing down in South Florida looks to be a little simpler and they saying they are going to have it finished in the next couple of years. Even so, you can't just plug in seven large cruise ships at seven berths just because they're electrified. The infrastructure needs to be backed up with generating capabilities too.
The infrastructure on the shoreside is big; it's the long pole of the tent. In our case, we need new substations, substations dedicated to terminals. Miami, of course, is an island with all its terminals in a row. It also has some conduit underground. It makes their hook-ups much easier because it's a single straight line. At Canaveral, we have six terminals in six different directions. Some are on the port's north side; some are on the south side, which means we will need to have two substations, one in the north and one in the south, depending on how you configure these things. We've gone through preliminary estimates. It looks like it's about a $200 million project for us – not us, but for the landside to be ready, to prepare to receive the equipment to charge the ships. It's a huge expenditure.

TME: What's driving all this? Does it make sense to make these investments?

John Murray: This is all driven by IMO regulations. The operators need the credits but it seems like the regulations don't take LNG into account. You sit there and think, "Okay, I got an LNG-powered ship alongside the dock, right? That gas is clean. No issue there. But they tell me they're going to have to plug that ship into the Florida grid. As I understand it, Florida's power generation is only 73 or 74 percent gas. The balance is nuclear, oil and coal. So you're taking a clean-burning ship and plugging it into a grid that's not drawing from a cleaner source. So what's the advantage?
We have two LNG ships out of our thirteen at Port Canaveral. Two others are coming that aren't known yet. But they'll be LNG-powered too. So I'm sitting here thinking, "Who's going to pay $200 million to plug all this stuff in? And is it a realistic thing to do?

TME: What's next for Port Canaveral?

John Murray: Marella Cruises, which is a British-based company and part of a major travel company, TUI Group, will operate here for the summer. It's a pretty unique situation for any cruise port. They're flying 777s across the ocean with their guests. They'll do some things in Florida and stay in tourism-type activities. All-inclusive package. And they'll also have a seven-day cruise in the middle of that. Marella's vessel at Port Canaveral will be homeporting for 26 sailings.
Cruising will continue to be a big part of our operation this summer. We don't have that fall-off in the summer. We only have two seasonal vessels that are going to be leaving us.

TME: What about cargo?

John Murray: Cargo is doing great. Tonnage is 14 percent ahead of budget at the end of the first five months of the fiscal year. Cargo revenues are about 20 percent ahead of projections. We've seen big increases in petroleum shipments but also lumber and aggregates.

We're working equally as hard on the cargo side of our business as cruise. Our Board of Commissioners just approved a $38 million project to redevelop our unused North Cargo Berth 4. It's mostly been offline since 2014. Next to it at North Cargo Terminal 3, we're also completing a big upgrade project. The budget for that was $48 million.

TME: How are you paying for all these improvements?

John Murray: A lot of the cargo projects are being funded with state and federal grants. We're very grateful for their help and they understand it pays off in boosts to the Florida economy.

We also reinvest. It's one of the things we're doing right now while times are good and we have other big projects that we're facing. We plan not to go into the bond or bank markets right now with interest rates where they are. All of our bond and longer-term bank debt, 20-year debt, is under two percent. So, why would we pay any of that off? We maintain that and cash-fund our next projects as much as possible.
When I'm sitting with a rating agency, bank or anybody right now and they say, "Oh, your revenue. You're too heavy in the cruise." I say yes and we're smart about how we run our business. We just went through a hard 18 months, and we survived because we manage our money well. We didn't have any issues with our bondholders or banks. Everybody's just happy that we're around the back end of it. And we're doing quite well.
We're operating today with about 25 people fewer than we had in 2019. We took a lot of time to automate some processes while in pandemic mode. We said, "What are the things we like to do and never have time to do?" We had some billing systems with our parks and recreation that we overhauled. We had issues with our parking garages, which we overhauled.
We got rid of cash-handling processes. Linked to the cruise business, people were putting cash into all the machines around the port. It required people collecting it, bringing in the armored car company to pick it up and haul it away. We don't do that anymore. It's all cashless and made operations easier and more secure for us and our customers.
We were recently voted the best cruise port in the U.S. for the third year in a row. We expect over 900 cruise calls this year and are projecting 5.8 million passengers. Our cruise partners are happy and sending us their newest and best ships. We're handling more cargo, and at what other port can you see a rocket fly off into space and come back through our terminals? Things are looking good and we're excited about the future. – MarEx
https://www.portcanaveral.com/
The opinions expressed herein are the author's and not necessarily those of The Maritime Executive.