The technology supporting unmanned vehicles on land, at sea and in the air is rapidly improving. On land and in the air, they are already making large inroads into search and rescue (SAR) response. In the near future, unmanned marine vehicles will likely play a significant role in maritime SAR response as well, says John Dalziel, Adjunct Professor in the Department of Industrial Engineering, Dalhousie University, Halifax, Nova Scotia, Canada.
Speaking to the International Maritime Rescue Federation Future Technology Panel meeting in Gothenburg, Sweden, on November 22, Dalziel described efforts that he and colleague Dr Ronald Pelot are making in assessing the potential for unmanned marine vehicles in maritime search and rescue in Atlantic Canada.
Do unmanned marine vehicles have a potential role in maritime SAR systems, and if so, what roles might they fulfill?
Dalziel and Pelot looked at the SAR resource needs, the technologies, the advantages and disadvantages of unmanned vehicles and the possible technical hurdles. They also reviewed the international work that has been done or is ongoing - such as the ICARUS SAR Project in Europe, the military trials on autonomous surface vessels for roles such as mine and submarine hunting, the EMILY (Emergency Integrated Lifesaving Lanyard) system from the United States and the work on autonomous commercial vessels ongoing in Scandinavia.
Initially they focused on the waters off northern Labrador and between Baffin Island and Greenland. There have been several incidents in these waters in recent years, SAR resources are limited and survival time is short.
They concluded that technical issues are rapidly being overcome - there are proven control and communication technologies available. Control may be from a ship, an aircraft or shore station - either nearby or remote. The unmanned vehicle could conceivably operate largely autonomously - with pre-set operational protocols.
Operating with other assets, such as an aircraft or unmanned aerial vehicle (UAV) or even a person ashore may allow the unmanned marine vehicle a greater view of the area, to aid in rescue or avoid dangers. Operating with a mesh of UAVs could also give the unmanned marine vehicle a greater view of the area to aid in rescue or avoid dangers, as well as extending its operating range.
Alternatively, to improve communications, and to aid in rescue and avoiding dangers, infrared and visual cameras and communication antenna could possibly be supported from a tethered UAV, a balloon or even a kite.
The unmanned marine vehicle would communicate back to the control center using First Person View technology; the operator at the remote control station could feel he were onboard the unmanned marine vehicle, without the inherent danger. The operator would have a close-up view of the situation to assess the best course of action, may be able to ascertain the condition of the person(s) being assisted, and may be able to communicate with them – gaining knowledge of the situation and giving them encouragement.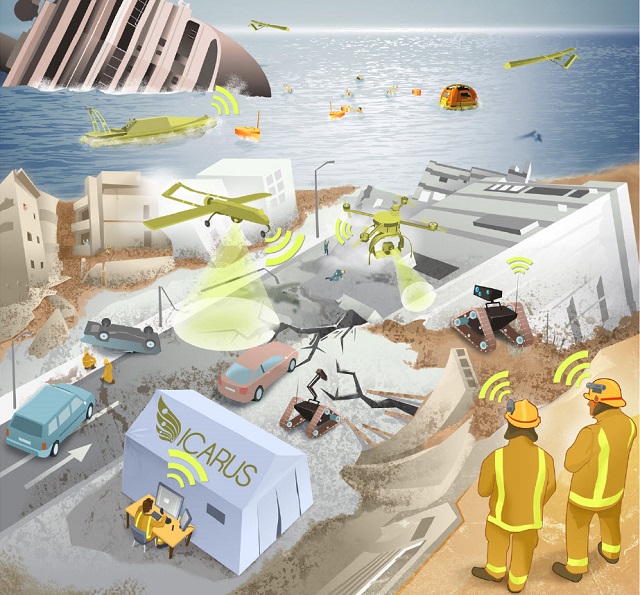 The primary technical hurdle may be how to rescue people who are incapacitated and cannot help themselves. What assistance can an unmanned marine vehicle be expected to give or not give? The answer is likely not a one size fits all solution - it may vary from case to case. For instance, in a man overboard situation, it may provide temporary flotation to a person who remains partly able to help themselves, and pinpoints their location - assisting the ship or manned rescue boat to locate them as quickly as possible.
In the case of a SAR-tech parachuted into the ocean from a plane, the unmanned marine vehicle could be maneuvered to him and provide a refuge and operational platform. In the case of a rescue aircraft dropping a life-raft, to which survivors in the water would have to swim, the unmanned marine vehicle could be piloted to the survivors, perhaps with an attached raft for additional out of water survivor capacity.
In the case of persons unable to help themselves, due to hypothermia or other cause, it may be possible to design a mechanism to bring them on board and into some shelter – prolonging their survival time for assistance to arrive.
The variations of size and capability are large. In all cases in the continuum of rescue response, which ranges from nothing to being in the emergency room of a major medical facility, the unmanned marine vehicle would likely fall somewhere between nothing and a manned rescue boat. However, to a person in the water, the unmanned marine vehicle would most likely appear to be a massive improvement on nothing.
Operator training and unmanned marine vehicle acceptance may be another major hurdle - the initial systems may have significant short-comings and may require considerable 'beta' testing. Regulatory compliance issues are another possible hurdle - countries such as Norway are already working on this.
Unmanned marine vehicles may have a range of sizes, technologies, capabilities and applications. Uses could range from: local rescue - fire services and police, man overboard response, ship-based response - launch in advance of or in lieu of a manned boat, surf zone and dangerous environment response, deployment from an aircraft or as a stand-alone vessel - such as in remote location.
At this stage Dalziel and Pelot do not see an unmanned marine vehicle replacing manned craft - more likely it will be working in conjunction with them. From a cost-benefit analysis perspective, considering competing demands on limited resources, some of the benefits could include possible capital and operational savings when integrated into a SAR system, savings due to serious incidents averted or reduced and reduced risk to rescue personnel.
Dalziel and Pelot are undertaking further studies with the aim of building a prototype, followed by operational trials with a SAR organization.
John Dalziel is Adjunct Professor, Department of Industrial Engineering, Dalhousie University, Halifax, Nova Scotia, Canada. email: John.Dalziel@Dal.ca
The opinions expressed herein are the author's and not necessarily those of The Maritime Executive.