Unmanned Response Boat Disperses Spills with Water Jets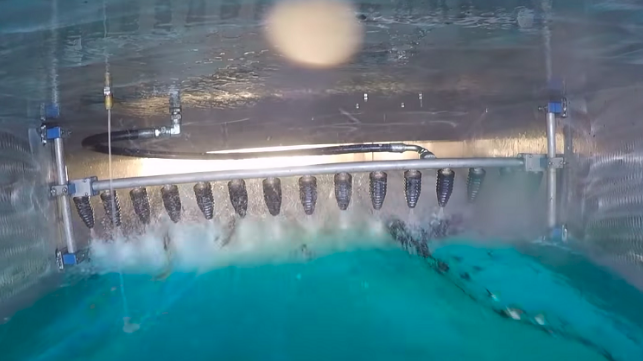 The new spill response boat Vorax disperses oil with high pressure water jets, and it was recently displayed for the environmental authorities and future customers in California.
The six-meter boat looks like a racing boat, but is something completely different: it's the world's first unmanned spill response boat, and it's armed with a chemical-free dispersant in the form of seawater. The technology was developed by SINTEF and commercialized through the spinoff company Blue Impact AS.
Chemical-free solution
The catamaran drives back and forth over the oil spill and pulverizes the oil into small biodegradable particles using high pressure water jets.
"In this way, the oil particles will dissolve and become part of nature's cycle," says former SINTEF researcher and Blue Impact entrepreneur Stein Erik Sørstrøm. Blue Impact has worldwide patents on this technology.
The California Department of Fish and Wildlife has observed a demonstration of the company's method to remove oil leaking naturally from the ocean floor outside of Santa Barbara. In this area it is not permitted to use chemicals to remove oil spills.
"This was our first major test for whether mechanical dispersion will work not only in theory but also in practice," said Karl Nevland, co-founder of Blue Impact and Field Operations Manager in California. The U.S. Coast Guard, National Environmental Authorities and private oil recovery organizations were also present during the test.
Like drones in the ocean
Most oil spills are small, and the need is greatest in coastal waters - not on the open sea. It is also the intention that more boats will operate together. They could then be used in a coordinated manner, almost like drones.
The equipment can be easily transported by car trailer or under a helicopter and inserted where there has been oil spill. The advantage of an unmanned boat is - first and foremost - that personnel should not be exposed to oil spills.
Another advantage is that unmanned vessels can be used in higher-risk areas to a greater extent than manned vessels, and may in theory be operational 24 hours a day, according to Sørstrøm.
This editorial appears courtesy of Gemini Research News and appears here in abbreviated form.
Correction: This coverage originally suggested that the California Department of Fish and Wildlife had conducted a test of the Blue Impact system. This is not correct: the agency witnessed a demonstration of its capabilities, but did not conduct a test itself.
The opinions expressed herein are the author's and not necessarily those of The Maritime Executive.