U.S. Coast Guard Deploys Drones to Inspect Aids to Navigation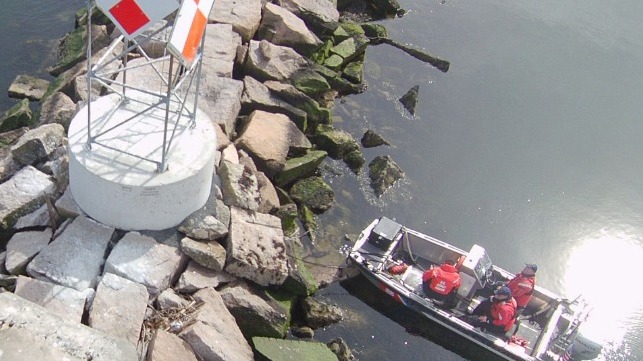 In a first, U.S. Coast Guard Civil Engineering Unit Providence, Rhode Island, is using a drone to inspect the construction of new fixed Aids to Navigation (ATON) structures.
Lt. Kieron D. McCarthy conducted the inspections by piloting the Unmanned Aerial System (UAS) from a small boat assigned to the U.S. Coast Guard Cutter Bollard.
Hand launching the drone from the 16-foot boat, the CEU inspected and approved the steel tower structures that serve as fixed channel markers at Housatonic River, Black Rock, and Duck Island. All of the new ATON are located within 30 minutes of New Haven, Connecticut.
McCarthy said using the UAS saved the CEU more than 30 hours of work and reduced the risk of having to climb the structures.
"We were able to complete all three inspections in six hours," said McCarthy, the project lead and UAS pilot. "The evolution originally had the Bollard getting under way for 12 hours to visit each site.
"To acquire aerial photographs without the UAS, we would have had to use a contracted helicopter or a Coast Guard helicopter, which would be too costly and impractical," continued McCarthy. "They estimate a helicopter at $14,500 for a day."
CEU Providence uses a drone from a small boat to inspect the Housatonic River channel marker. (U.S. Coast Guard photo by Lt. Kieron McCarthy)
McCarthy had to complete Department of Defense UAS training and earn a Federal Aviation Administration pilot certificate to operate the UAS. He has been flying the UAS since his unit received it last June. CEU Providence is one of eight CEUs in the U.S. Coast Guard with UAS capability
"It has proved to be exceptionally helpful with CEU's mission. Largely for elevated assets or assets over water such as roofs, siding, towers, piers and wave breaks," said McCarthy. "The UAS has allowed us to be more self-sufficient when it comes to accessing hard to reach assets."
McCarthy said the Unmanned Aerial System is also an effective tool for post-hurricane damage assessments. "We can use it to quickly map and photograph an area immediately after a storm goes through," he said.
Petty Officer 1st Class Patrick M. Rogers, the executive petty officer and coxswain on U.S. Coast Guard Cutter Bollard, said using the drone reduced the time, effort and risk needed to complete the inspections. "Our aids usually take a minimum of two members to do an inspection in order to have a certified climber and rescue climber," said Rogers. "The UAS was able to be operated by one person."
ATON lighting and batteries still require trained climbers but UAS is ideally suited for verifying new ATON construction,s said Rogers. "It can easily do a visual inspection on the actual structure," he said.
Bollard breaks ice for ferry traffic and other waterborne commerce around Long Island Sound, and Rogers said the Unmanned Aerial System could aid this mission as well. "For ice breaking, we could get a 360-degree view of the condition and develop a plan accordingly," said Rogers. "Things like ice type and thickness could be recognized from visual stills the UAS could take."
This article appears courtesy of Coast Guard Compass and may be found in its original form here.
The opinions expressed herein are the author's and not necessarily those of The Maritime Executive.