On Tuesday, President Donald Trump signed executive orders to approve the construction of the Keystone XL and Dakota Access pipelines, rolling back the Obama administration's actions on the controversial projects.
Trump paved the way for Keystone XL to move forward, but he suggested that his administration is "going to renegotiate some of the terms" under which it will be built. In particular, he made clear that he would like to see the use of American-made pipe for its construction.
Environmentalists have opposed these midstream projects for years, and opponents argue that the pipelines will contribute to global climate change – especially Keystone XL, which would connect energy-intensive Canadian tar sands production to U.S. Gulf Coast refineries and export terminals. Environmental groups contend that by unlocking the full potential of tar sands production, Keystone XL would increase North American greenhouse gas emissions.
If American domestic drilling activity and oil production remain on an upward trend, the extra supply of Canadian oil could increase crude export loadings at Corpus Christi and the Houston Ship Channel – a central argument of Democratic representatives in Congress, who have long argued that the extra Canadian crude would cross American soil only to depart again via tanker. (While objectionable for some, this could be a positive development for tanker operators, midstream firms and Canadian upstream companies.)
Canada is the largest supplier of oil to the United States, and its producers are essentially in a captive market: at present, they have only limited access to marine export terminals for sales to overseas buyers. Canada's pipeline proponents argue that this forces Canadian producers to sell to American buyers at American WTI benchmark prices, which generally trade below the international Brent standard. By linking Alberta with the Gulf Coast, Keystone XL could be an efficient solution to this problem, and it may postpone the need for TransCanada's longer and more costly Energy East pipeline route.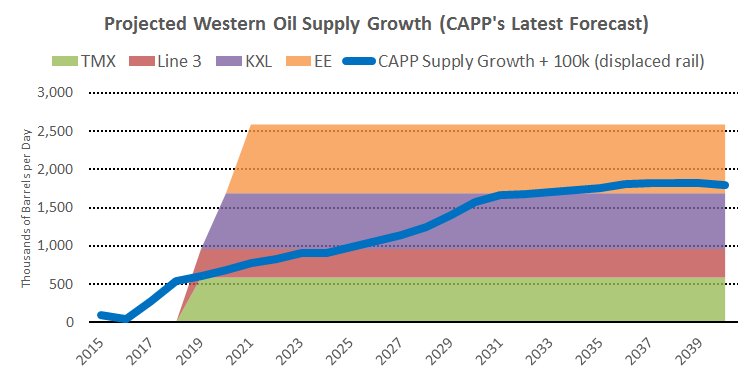 Projected Western Canada oil production versus projected pipeline capacity (CAPP)
The American Petroleum Institute hailed Trump's decision. "We are pleased to see the new direction being taken by this administration to recognize the importance of our nation's energy infrastructure by restoring the rule of law in the permitting process that's critical to pipelines and other infrastructure projects," said API president and CEO Jack Gerard. "Critical energy infrastructure projects like the Keystone XL and the Dakota Access Pipelines will help deliver energy to American consumers and businesses safely and efficiently."
The opinions expressed herein are the author's and not necessarily those of The Maritime Executive.