Sanctions Impacting Russia's Icebreaker Plans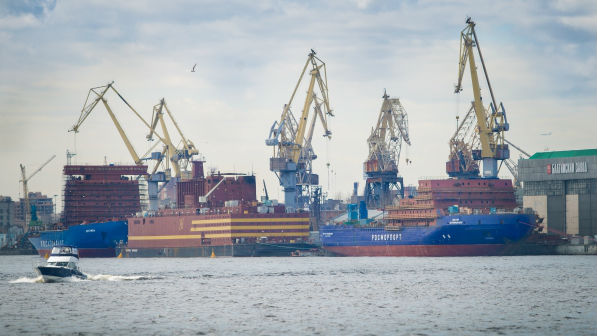 While Russian authorities assert that their newest and most powerful icebreaker, the Arktika, will be ready to take to the seas in 2019, fresh admissions that sanctions are hobbling the effort are laying the groundwork for more possible delays.
The remarks came from Maskim Peshkov, director of the office of budget planning for Russia's state nuclear corporation Rosatom, marking the first time a high ranking official has acceded that Russia's political hostilities with Ukraine might be slowing the new icebreaker line down.
During an energy committee hearing in the Russian parliament last week, Peshkov said that Rosatom was having trouble manufacturing a critical turbine that would connect the Arktika's reactors to its propulsion system.
The reason: none of the western companies Rosatom had initially approached can do business with Russia anymore.
"When the icebreaker was being designed, we didn't have to worry about sanctions," Peshkov told the lawmakers. "Then, the project still envisioned including specific imported components."
He said that in the meantime, Rosatom has tried to find domestic companies to hammer out the missing parts, and added that he and his colleagues "were undertaking all efforts" to ensure that the Arktika won't have to be delayed yet again.
The report appeared in the official Parlamentskaya Gazeta, Russia's official newspaper on legislative affairs.
Originally, the Arktika was supposed to be ready this year. When its construction started to lag over a lack of imported parts, Russian President Vladimir Putin had to personally approve its delay.
Russia is hanging its hopes that a new line of icebreakers, of which the Arktika is the first, will be available to help develop massive Arctic oil and natural gas projects, but many of those projects have been cooled by Western sanctions as well.
In fact, Atomflot, Russia's nuclear icebreaker port in Murmansk, recently pulled the Sovietsky Soyuz, one of its older icebreakers, out of service because it was too expensive to maintain for oil deals that are now uncertain as a result of sanctions.
Russia is nonetheless pushing ahead with building its LK-60 line of massive new icebreakers, which are designed to be more powerful than their predecessors and to surpass them in length by as much as 50 meters.
The ships are designed with a shallow draft to allow them to navigate the Arctic's tributary rivers in Northern Siberia. Their two RITM-200 reactors – which remain largely untested – will propel them through ice as much as three meters thick.
Late last month, the Arktika's hull was joined by the hull for the Sibir, and both are now moored at St Petersburg's Baltic Shipyard, awaiting further construction. The Sibir is slated for commissioning in 2020.
But oil projects are abandoning the Arctic in droves. The deal whose sinking occasioned the decommissioning of the Soveitsky Soyuz, was a $500 billion joint project between Rosneft and Exxon Mobil.
And while that one was thwarted by sanctions, more practical concerns over shaky oil prices and sky-high production costs have cause other oil majors to leave their Arctic ambitions behind.
Last year, Royal Dutch Shell and ConocoPhillips gave up $2.5 billion worth of oil drilling rights in the Russian Arctic after crude prices fell off a cliff. The going rate of $30 to $40 a barrel, the companies said, just wouldn't pay their Arctic bills.
The one fossil fuel project advancing in the Russian Arctic with any vigor is the Yamal gas field on the Yamal Peninsula. But even that was rocked by sanctions until China – its primary intended customer – bailed Moscow out with a $12 billion loan.
A third newline icebreaker, called the Ural, is expected to join the Arktika and the Sibir in 2021. Atomflot has said all three new icebreakers will be contracted nearly exclusively to the Yamal LNG project for the next two decades.
Source: Bellona
The opinions expressed herein are the author's and not necessarily those of The Maritime Executive.