Remembering the Loss of the Warilda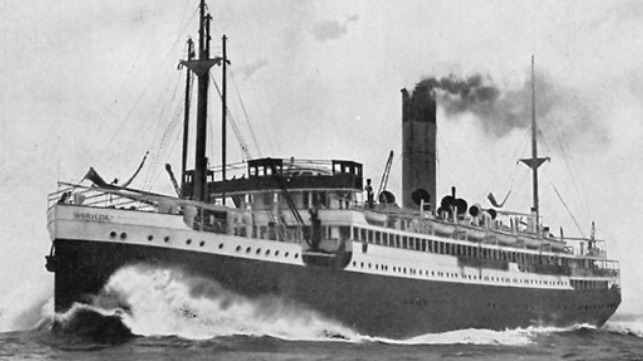 Flags will be lowered in Southampton on Friday to mark the centenary of one of the city's greatest maritime tragedies. Despite being marked with the Red Cross, the ambulance transport ship Warilda was torpedoed by the U-boat UC-49 in the middle of the Channel on August 3, 1918. She was carrying 614 casualties home from the Western Front for convalescence in the UK.
More than 120 people went down with the ship, whose death throes were agonizing: the torpedo blast wrecked one of Warilda's propellers and jammed/destroyed her steering gear. As a result, the ship sailed around in circles for about two hours at 15 knots – making it extremely difficult to launch the lifeboats, or for her escorts to come alongside and take people off.
Among the most prominent victims was Violet Long, Deputy Chief Controller of the Queen Mary's Army Auxiliary Corps – the Army's equivalent of the Wrens. She was the last woman to leave the stricken ship, having made sure her colleagues were safely off.
Most of the wounded, nursing staff and crew were rescued and subsequently landed in Southampton – Warilda's original destination on her voyage from Le Havre. Survivors were taken to the Royal Victoria Hospital in Netley and the Jellicoe Sailors' Rest, which was based in Washington Terrace (now Orchard Lane) and run by Southampton-based maritime charity Sailors' Society, which also provided clothing for many of the survivors.
The Warilda was originally built for carrying passengers on the UK-Australia run. First she was converted to a troopship to ferry Anzacs to Gallipoli and, later, France, then she became a hospital/ambulance transport between Southampton and Le Havre, moving thousands of wounded from the Continent involved in battles such as the Somme, Passchendaele and the German spring offensives of 1918.
As for UC-49, the submarine which fired the fatal torpedo, she was depth charged to destruction five days later. All hands were lost.
The opinions expressed herein are the author's and not necessarily those of The Maritime Executive.