North East Asia Summit Signals Return to Cooperation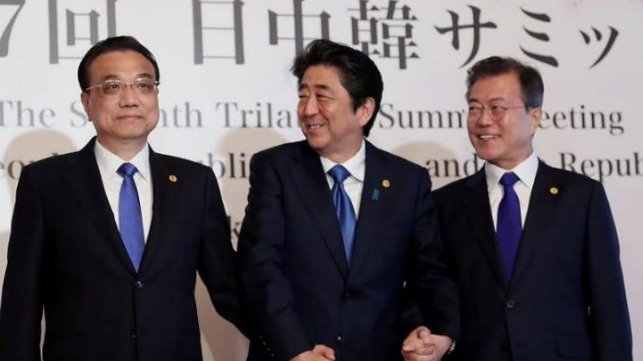 Facing uncertain times in U.S. policy and a pivot to diplomacy from North Korea, leaders of China, Japan and South Korea met in Tokyo on May 9 to downplay historical grievances and show their support for denuclearization, trade and better relations. But underlying disputes could still resurface.
What's the significance of the 7th China-Japan-South Korea Trilateral Summit?
The main purpose of the meeting was simply to showcase good vibes among the three leaders. Beijing, Tokyo and Seoul are trying to overcome contemporary disputes and historical grievances so that they can promote regional trade and investment and coordinate their policies, particularly on North Korea. There were three broad priorities: improve diplomatic relations, manage the Korean peninsula crisis and make progress on cooperation mechanisms, as the joint statement emphasizes.
China and Japan also held bilateral meetings in which they signed ten agreements, including a long-delayed one to set up a maritime and aerial communication mechanism that may help manage military encounters, particularly in the East China Sea.
These summits are supposed to be held annually, and indeed were from 2008-2012, but then Sino-Japanese tensions interrupted them for two years. The last summit was held in Seoul in 2015, and many years have passed since leaders from South Korea and China visited Japan. A secretariat and ministerial meetings keep the ball rolling between summits, but to have China's second-ranking official, Premier Li Keqiang, and South Korea's President Moon Jae-in both make their first state visits to Tokyo as leaders sends the message that diplomatic, business and cultural relations with Japan have top-level backing.
If relations continue to improve we could see a return to annual meetings. That would aid the causes of regional diplomacy and conflict prevention. But geopolitics, particularly the three countries' divergent relations with the United States, will limit the depth of cooperation.
What's driving the recent diplomatic warming between the three countries?
The three governments have had difficult political relations going back to the beginning of the 20th century, and indeed since ancient times. In recent years, China-Japan relations have been particularly fraught due to their territorial dispute over the East China Sea islets and rocks that Japan calls Senkaku and China calls Diaoyu.
China-South Korea relations have been on a rollercoaster over Seoul's deployment of the U.S. Terminal High Altitude Area Defense (THAAD) anti-missile system and Beijing's economic retaliation. Tokyo and Seoul also have bilateral frictions over history and territory.
South Korea and Japan, formal U.S. allies, are perennially wary of China's growing power and assertiveness, as China is of the U.S. military presence the alliance ensures in North East Asia.
But since the election of President Donald Trump, the three nations have grown acutely concerned about the possibility of abrupt foreign and economic policy shifts in Washington, especially the looming threats of a U.S.-China trade war and an actual war on the Korean peninsula.
Trump's pullout from the Trans-Pacific Partnership (TPP) and refusal to exempt Japan from steel and aluminum tariffs dismayed Prime Minister Shinzo Abe, while his bellicose rhetoric on North Korea and drive to renegotiate the Korea-U.S. Free Trade Agreement rattled Moon's government.
Beijing has simmering disagreements with Washington over U.S. policies on Taiwan and the South China Sea and what it perceives as American efforts to constrain its growing sphere of influence. China's efforts to improve relations with South Korea and Japan are part of a broader push to mend fences with regional neighbors that has included similar overtures to India, the Philippines, Singapore and Vietnam.
Uncertainty from across the Pacific is driving the trio to minimize regional irritants so that they can focus attention on managing tensions between Washington and Pyongyang and offset any harm to their economies from U.S. policies.
What did the three leaders discuss regarding North Korea? How much consensus or disagreement is there among them?
The trilateral meeting came at a delicate time, amid North Korean leader Kim Jong-un's first meeting with China's President Xi Jinping in March, the inter-Korean summit on April 27, another surprise Kim-Xi meeting on May 8-9 and the planned Trump-Kim summit in Singapore on June 12. The three countries issued a statement that endorsed that diplomatic process, including the Panmunjom Declaration signed between the two Koreas, which pledges efforts to finally end the Korean War, and reaffirmed their commitment to the complete denuclearization of the Korean peninsula. But there was no public agreement on next steps.
The three have a common interest in forestalling U.S. military action, which could spiral into a regional war. That gives them an incentive to communicate and coordinate. Each country also wants to maintain its own influence in the process, however, and that's where their views and interests diverge.
President Moon sought support for his ambitious peace agenda for the peninsula. In a bilateral side meeting, he got Premier Li to endorse the idea of a package of economic assistance for North Korea in exchange for denuclearization, including agreement to do joint research on a railway project that would link Seoul to China via Sinuiju in North Korea. Together with improving business ties and the resumption of bilateral defense talks, these steps illustrate increasing alignment between Seoul and Beijing, both bilaterally and in terms of engagement with Pyongyang.
China supports Kim Jong-un's preference for phased and synchronised measures that would address both denuclearization and his regime's security concerns. It is proposing a dual-track approach in which there would be parallel progress on nuclear weapons and a peace agreement. Such a process would likely include a series of economic rewards for steps North Korea takes in the right direction.
By contrast, Japan wants to maintain a policy of maximum pressure on, and containment of, North Korea. Abe sought and reportedly received assurances from Moon that there would be no early rewards without agreement from the United Nations and the U.S. Japan wants to ensure that any deal with North Korea will include restrictions on short-, mid- and long-range missiles, as well as biological and chemical weapons.
Abe likely raised these concerns at the summit. He also got support from Li and Moon to resolve, as soon as possible, the long-festering issue of Japanese citizens abducted by North Korea in the 1970s and 1980s. Moon encouraged Abe to reopen a diplomatic dialogue with Kim.
Economically and militarily, Japan is potentially an important player in Korean peninsula dynamics, but in recent diplomacy it has been more observer than participant. Abe's hosting of the summit, as well as his unprecedented phone call with Xi shortly beforehand, reflect efforts to keep Japan in the game.
What progress did China, Japan and South Korea make on economic cooperation?
The three agreed to accelerate negotiations on a trilateral free trade agreement, and Premier Li suggested a new framework through which other countries could join. They also endorsed initiatives to cooperate on intellectual property, health and aging, the environment and cultural exchange. Last year saw about $670 billion in trade between China, Japan and South Korea, and their senior trade ministers participated in the summit, seeking ways to offset potential harm from U.S. measures.
Combined, the three economies account for one fifth of global GDP in nominal terms, close to that of the U.S. and more than the European Union (at purchasing power parity, they exceed U.S. GDP by a wide margin). They have had a "warm economics, cold politics" relationship for the last decade, and this summit focused on progress in areas where they are most aligned: trade and investment. In the age of Trump's "America First" policy, the leaders sought to portray themselves as defenders of economic globalization and free trade, even though their governments have trade and industrial policies in a number of sectors that could be considered protectionist and mercantilist.
China secured political agreement to accelerate negotiations on the multilateral trade agreement it is promoting, the Regional Comprehensive Economic Partnership (RCEP), which is expected to be signed later this year. Meanwhile, Japan still has hopes for a "Comprehensive and Progressive" version of the Trans-Pacific Partnership (CPTPP) that Trump pulled out of last year. The CPTPP has been signed by eleven countries but not yet ratified. That trade pact is open to China, but it would be tough for Beijing to meet its high standards without major reforms to the state-directed economy. South Korea just renegotiated its free trade agreement with the U.S. and hasn't yet announced if it wants to join the CPTPP, but a decision is expected soon.
How significant is this improvement in Japan-China relations?
This year marks the 40th anniversary of the China-Japan Treaty of Peace and Friendship, and the two countries have made what appears to be a genuine effort to improve relations over the past year. Prime Minister Abe's relatively long and secure tenure at the helm of Japan's Liberal Democratic Party, along with his relatively hawkish and nationalist reputation, have helped him in this project. That political capital at home has enabled him to take the risk of friendly overtures to China, starting with a personal letter delivered by a senior official to President Xi at China's Belt and Road Forum in May 2017.
In meetings with Premier Li following the trilateral summit, Abe formally agreed that Japan would participate in China's signature Belt and Road Initiative and set up a public-private sector council to consider cooperation on a project-by-project basis. This agreement is a public relations win for China, but how much actual cooperation ensues will depend on whether Chinese companies carrying out projects actually welcome involvement from Japanese counterparts and the stricter environmental and governance standards they will require. If the two can find some joint projects, developing countries could benefit through greater access to capital, technology and expertise.
Supporting this strategic shift, Abe has said Japan might be willing to join the Asian Infrastructure Investment Bank that China spearheaded. The two countries also agreed to restart a bilateral currency swap line that would let their central banks borrow from each other in emergencies, and established a $31.4 billion quota for Japanese investors to trade in yuan-denominated securities in China.
At the bilateral meetings, Abe said he wants to raise relations to a new level and Li said "blue skies are appearing." Li has now invited Abe to visit Beijing later this year. (Moon also invited Abe to Seoul.) If diplomacy continues to go well, in 2019 we could see President Xi make his first state visit to Tokyo, probably on the sidelines of the G20 summit next June. That would complete Abe's plan to normalize relations.
China and Japan agreed to start operating a military hotline for the East China Sea. Why does that matter?
The maritime and aerial communication mechanism that the two defense ministries agreed to on May 9 should help them manage encounters between their military ships and aircraft, primarily in and around the East China Sea, where the two have a sovereignty dispute over the Diaoyu/Senkaku islands. It's because of that dispute that negotiations on the mechanism have taken nearly a decade. Japan controls the islands and was concerned that mentioning the area could be construed as legitimizing China's claim to them, so the agreement does not specify a geographic scope.
There are three parts to the mechanism: a common radio frequency between Japan's Self-Defence Forces and China's People's Liberation Army, a hotline connecting their senior defense officials, and a commitment to hold regular military dialogues to improve the relationship. Both countries are already party to the Code for Unplanned Encounters at Sea, but that doesn't cover the high-level engagement needed to address politicized incidents. So the agreement at the summit is a step forward.
The larger issue is a growing strategic rivalry at sea between Japan and its ally the U.S., on one side, and China, on the other. Beijing has been rapidly modernizing and expanding its navy, coast guard and merchant fleet. On May 13, China began sea trials for its second aircraft carrier, underlining a shift in the naval balance that has prompted Japan to develop its own naval and defensive capabilities, including plans to construct two frigates per year and deploying cruise missiles to some of its southern islands. Tokyo's annual defense white papers have recently emphasized a growing threat from China, and its new Third Basic Plan on Ocean Policy notably prioritizes national security over sustainable development. China does have a tendency to use incremental increases in its naval presence to assert its dominance.
Neither country seeks an armed clash, but as more vessels and planes drill and patrol in the North East Asian seas and skies, the probability of accidents is rising. The hotline symbolizes a renewed effort to manage frictions, and the best case would be if there is never a need to use it. Taken together with other recent steps such as renewed bilateral military consultations, its value as a positive political signal probably exceeds its practical utility.
Once the hotline goes into operation on June 8, Beijing and Tokyo should keep it open at all times and ensure that pilots, captains and senior decision-makers respond quickly and professionally in case of an incident. Crisis Group has been encouraging China and Japan to implement this and other measures.
This very welcome diplomatic progress could be derailed or impeded by multiple factors, including the domestic political scandals dogging Abe, his continued drive to normalize Japan's military posture, the reticence in China to spend political capital on improving ties with Tokyo, China's expanding maritime presence and military capabilities, and the difficulty of reconciling sovereignty claims, not to mention U.S.-China and U.S.-North Korea tensions. As Li Keqiang said during his visit, "we are seeing the 'spring' of China-Japan relations, but we also need to watch out for any possible returned 'chills.'"
Michael Kovrig is Senior Adviser, North East Asia, for the Crisis Group.
The opinions expressed herein are the author's and not necessarily those of The Maritime Executive.