From 1804 to the early 1920s, steam locomotives dominated the rail industry, but by the 1930s the diesel-electric locomotive had proven its economic superiority over steam. Instead of generating steam in an enormous boiler, diesel locomotives relied on diesel to power a generator that, in turn, powered electric motors on the wheels, allowing them to run faster and longer than steam locomotives. These advancements in diesel engine and electrical equipment technology triggered a dash to diesel power.
At the same time, Victaulic's mechanical pipe couplings were gaining popularity among the transportation giants of the day. By the 1930s, Victaulic had a growing list of rail customers, like the Pennsylvania Railroad Company, Westinghouse Electric & Manufacturing Company and Baldwin Locomotive Works. They relied on Victaulic solutions because for the first time it allowed them to construct piping systems from short lengths within the space limitations of a locomotive.
In 1930, Baldwin built the B-73 Yard Locomotive for the American Steel & Wire Division of United States Steel. Every part of this locomotive – from trucks and traction motors to prime mover and powertrain – was "made in PA." Its car body and mechanical parts were built by Baldwin at Eddystone, near Philadelphia, its electrical equipment produced at East Pittsburgh, its diesel engine manufactured by Westinghouse at its South Philadelphia works and the couplings, connecting its water, oil, and fuel supply lines, by Victaulic Company of America outside of Easton.
Upon its completion, the locomotive weighed 78 tons and was rated at 400 horsepower. In addition to the American Steel & Wire Division of United States Steel, The American Rolling Mill Company (Armco) also used the locomotive after it was refurbished by Westinghouse in 1942. Eventually. newer and larger diesels sidelined B-73, and in 1970, Armco donated the unit to the Pennsylvania Trolley Museum in Washington, PA.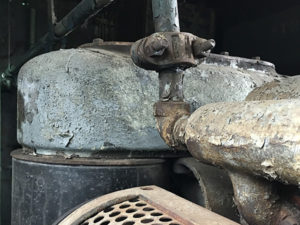 According to Bob Jordan, the museum's president, B-73 remains in operating condition and provides backup power for their collection – and the couplings have never been a point of service or maintenance since the locomotive was acquired in 1971. The longevity of Yard Locomotive B-73 and its diesel fuel, lubricating oil, and engine cooling water lines is living proof of the lasting advantage that grooved piping systems brought to industrial applications. Many of the qualities that made these patented joints desirable in the 1930s still hold true today: speed and ease of installation; safety, reduced fire hazards and issues associated with welding; reduced downtime; and reduction in vibration and noise transmission.
The opinions expressed herein are the author's and not necessarily those of The Maritime Executive.