Type 45 destroyer HMS Daring today sailed from Romania to continue her operational deployment in the Black Sea.
Fresh from security operations in the Gulf, the Portsmouth-based warship visited Constanta this week for a routine port visit on her way home after supporting maritime security operations in the Gulf. It is the first time HMS Daring has been alongside in Romania.
As part of the long-planned visit, the 8,000-tonne air defence destroyer spent time conducting training at sea with the Romanian Navy and Air Force before getting alongside and taking part in defence engagement activities with the UK's NATO allies.
Commander Marcus Hember, the ship's Commanding Officer, said: "It was a real honour to take HMS Daring into Constanta for the first time and we are privileged and honoured to have had such support from our host nation. We thoroughly enjoyed spending some time with our counterparts here and further developing an already strong bond between the UK and Romania."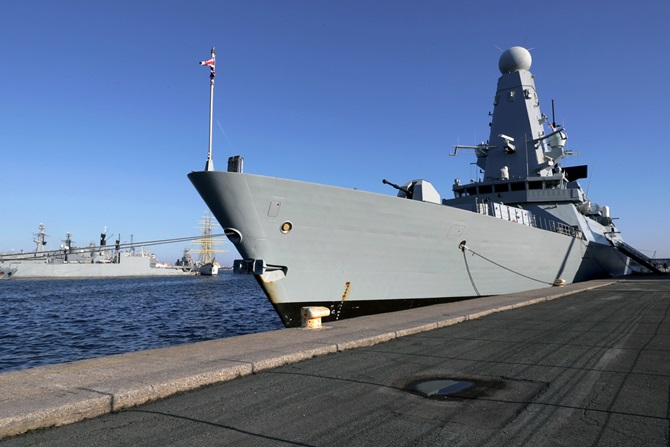 The Type 45 destroyer has now handed over her security duties east of Suez to Plymouth-based HMS Monmouth, her mission in the Middle East complete after seven and a half months in the region.
Before entering the Black Sea, the Type 45 destroyer had been protecting 800,000 tonnes of merchant shipping in the Middle East. The ship undertook 20 journeys through the Bab-el-Mandeb strait, reassuring merchant vessels and keeping the sea lanes open for trade. Around 95 per cent of Britain's economic activity depends upon the sea and a vast amount of global trade passes through the region.
HMS Daring has been key to providing reassurance in the region, being equipped to tackle possible air and surface threats with her combination of surveillance radars and Sea Viper missiles. Having now left Constanta, the ship will continue her operational deployment through the Mediterranean to provide maritime security before heading home for Portsmouth and concluding her nine months at sea.
The opinions expressed herein are the author's and not necessarily those of The Maritime Executive.