Anti-Immigration Groups Block Migrant Rescue Ship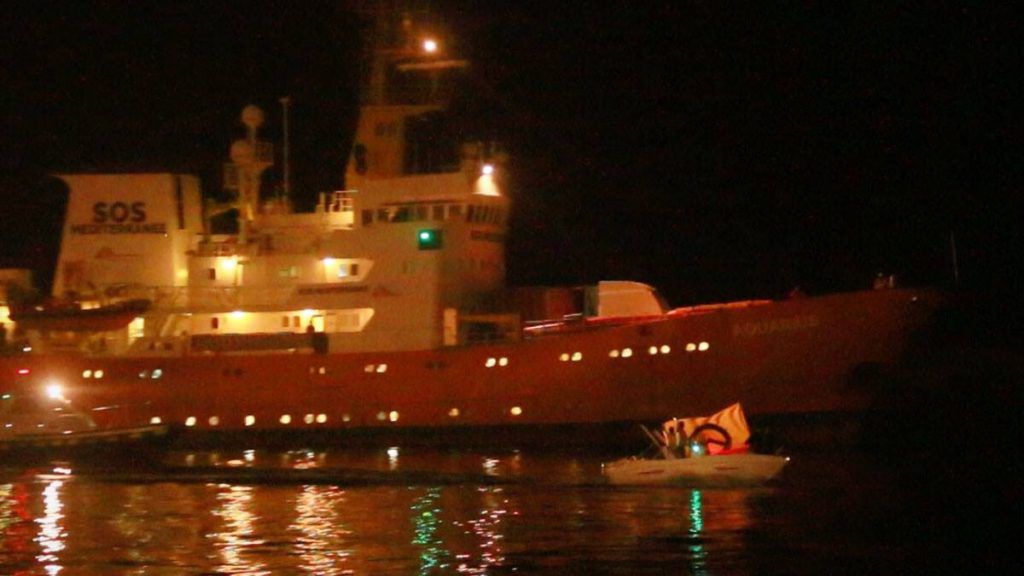 On Friday, members of the white nationalist groups Generazione Identitaria Italia and Identitäre Bewegung Österreich boarded a small boat and stationed themselves in front of the migrant rescue ship Aquarius, blocking her departure for a regular patrol off the coast of Libya.
Courtesy Generazione Identitaria
SOS Mediterranee, the Aquarius' operator, says that the vessel operates a rescue mission aimed at stemming the growing number of migrant deaths at sea. She has participated in about 100 rescues so far, saving a total of about 18,000 people from the overloaded rafts and boats that human smugglers provide for the crossing. Once they are rescued, the migrants are taken to Catania and other Italian ports, where they can apply for EU asylum.
The "identitarian" activists see things differently: according to a translation of a recent statement, they claim that rescue vessels "take on illegal immigrants destined for our ethnic replacement," part of a "silent genocide against Europeans." Antifascist organizations contend that these "ethnic" allegations bear similarity to neo-Nazi beliefs.
The activists' ambitions extend beyond Saturday's brief protest, which ended peacefully when the Italian coast guard intervened. If they can gather more resources, their next action may take place at sea: "We are looking for a ship, a captain and crew who are willing to join with us in this battle of civilization," said Generazione Identitaria in a statement.
As for the Aquarius, her operator says that she headed out to sea without further incident (video below), and stands ready to perform her mission.
UPDATE: Our lifesaving work continues on the #Mediterranean. The #Aquarius has left port in #Catania and will be ready to rescue on Sunday. pic.twitter.com/zEPdW3PaK6

— MSF Sea (@MSF_Sea) May 12, 2017
The opinions expressed herein are the author's and not necessarily those of The Maritime Executive.