Ambition Meets Action at Singapore Maritime Week 2023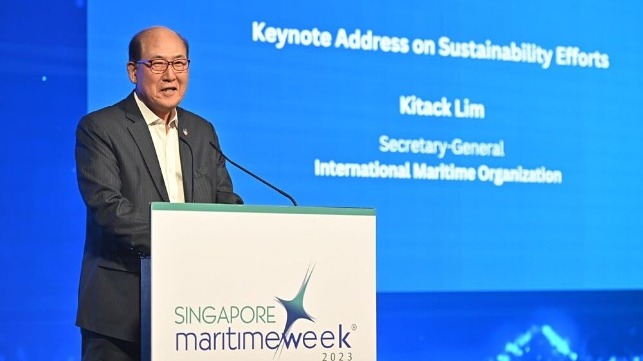 Singapore Maritime Week (SMW) returned for its 17th edition from April 24-28, 2023. Themed "Ambition Meets Action," SMW2023 brought together the international maritime community to take collective action to achieve the ambitions for innovation, decarbonization, and talent. The conference was one of the largest to date, with about 50 events and an expected attendance of 20,000 participants. SMW provides a unique platform for stakeholders to exchange knowledge, discuss the latest trends and developments, and explore new opportunities.
Sea Asia 2023, a flagship event held biennially in conjunction with SMW, also returned for its 9th edition from April 25-27. Organized by Informa Markets and the Singapore Maritime Foundation, over 300 exhibitors from 70 participating countries showcased their products and services. In addition, the event featured conferences, exhibitions, and networking sessions that focused on the latest trends and developments in the maritime industry, including digitalization, decarbonization, and the future of shipping.
From April 25-26, the MarineTech Conference, also held in conjunction with SMW, was held to showcase and discuss trending technology and innovation relating to smart ports, smart shipping, decarbonization, cybersecurity, and crew welfare. Mr. Chee Hong Tat, Senior Minister of State, Ministry of Transport, delivered the opening remarks and pledged to continue support for advanced R&D for ports. Under a program run by the Maritime Port Authority (MPA) and Port Authority of Singapore (PSA), state-sponsored research will focus on automation, robotics, digital and sustainability solutions. This includes robotic methods for coning/deconing containers; drone ship-to-shore deliveries; remote ship inspections; and other innovations. Singapore is also rolling out a harbor-wide 5G network for connectivity at its major anchorages, fairways and terminals.
With its 2023 conclusion, Singapore Maritime Week and its surrounding activities demonstrate significant resolve to position the city-state as a major maritime hub. In addition to the conferences, Singapore's actions and investments prove their point. These include international partnerships to establish Green and Digital Shipping Corridors (GDSC), the Port Technology Research & Develop Program, e-Automated Guided Vehicles (e-AGVs), drone technology, the PIER71 start-up incubator, and the Agency for Science, Technology, and Research (A*STAR) Artificial Intelligence Maritime Program. It should be no wonder why Singapore is currently ranked "First Overall" in the Maritime Technology category by DNV-Menon's Leading Maritime Cities of the World report.
The opinions expressed herein are the author's and not necessarily those of The Maritime Executive.