AAPA Itemizes Trump Wish List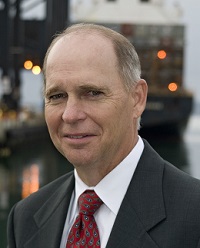 At the end of 2016 in the U.S., the American Association of Port Authorities (AAPA) was celebrating its hard-won advocacy for comprehensive navigation improvements in the new water resources bill (WIIN, S.612) and was busy analyzing what impacts the new Trump Administration's policies may have on the nation's seaports.
While President-elect Trump's plan is to invest up to $1 trillion in U.S. infrastructure over 10 years, AAPA wants to ensure this plan presents opportunities for America's ports. To that end, AAPA sent the Trump transition team its policy and funding recommendations for freight infrastructure, which include improving freight mobility, modernizing shipping channels, ensuring against seaport terrorism and building environmental resilience.
Policy and Funding Recommendations
With regard to improving the freight-handling capacity of the country's roadways, railways and waterways, with particular emphasis on connections with U.S. seaports, AAPA recommends:
• Providing additional Fixing America's Surface Transportation (FAST) Act investments and a sustainable freight trust fund to plan and build multimodal projects;
• Establishing a properly funded and staffed Office of Multimodal Freight Transportation within the USDOT Office of the Secretary;
• Supporting funding for a robust Strong Ports program under the USDOT Administration to help ports plan for their 21st century infrastructure needs;
• Increasing investments for authorized marine highway projects to ensure transport alternatives alongside congested landside transport corridors; and,
• Increasing funding for transport infrastructure grants to $1.25 billion per year.
On the topic of modernizing and fully maintaining America's deep-draft navigation channels, AAPA recommends:
• Making HMT spending a priority;
• Continuing the goal toward full use of the HMT;
• Ensuring equity and fairness of HMT distributions;
• Increasing funding for HMT maintenance spending in the FY2018 president's budget request, including funding for Donor and Energy Transfer Ports;
• Devising a permanent solution as part of tax reform or other legislation for ensuring all annual HMT revenues are spent;
• Increasing federal investment in navigation channel deepening and widening;
• Improving efficiencies in the deep-draft study and construction process;
• Continuing progress to finish navigation projects in a timely manner to better compete in world markets; and,
• Providing operations and maintenance funding for the National Oceanic and Atmospheric Administration's Physical Oceanic Real-Time System (PORTS) to help mariners navigate safely.
To help secure America's ports and waterside borders from crime and terrorism, AAPA recommends:
• Increasing the Federal Emergency Management Administration's Port Security Grant Program (PSGP) funding level to at least $100 million per year;
• Directing grant funding to ports rather than to other entities with very low commercial seaport threats;
• Continuing the management and control of the PSGP at the federal level;
• Providing 500 additional Customs and Border Protection (CBP) maritime staff to U.S. seaports to meet trade needs and ensure cargo is safe and moves efficiently; and,
• Securing adequate federal funding to purchase, install and maintain Radiation Portal Monitors (RPM) within ports throughout the U.S.
To help protect the environment and build environmental resilience, AAPA recommends:
• Increasing funding for the Environmental Protection Agency's Diesel Emissions Reduction Act (DERA) program;
• Creating a 21st Century Port Portfolio within the Department of Energy (DOE) that allows ports and the DOE to partner on new technologies that reduce air emissions, connect ports to the grid, provide electrification opportunities for port operations, and provide support and expertise for new clean energy terminal designs and build-outs; and
• Ensuring federal agency programs that address natural disasters and coastal erosion include assistance to seaports to help predict, plan and adopt mitigation strategies.
To help fund these programs and activities, AAPA supports a multi-layered approach that includes direct spending, grants, and alternative financing such as bonds, infrastructure banks and the Transportation Infrastructure Finance and Innovation Act (TIFIA) program.
Looking Ahead
In addition to following up on its recommendations above, AAPA will urge the new president and Congress to partner together on a comprehensive infrastructure package, including tax incentives and increased federal investments, which will close the gap on the significant unmet infrastructure needs in and around our seaports.
Funding seaport- related infrastructure, including the connections on the land- and water-side of port facilities, is vital to optimize the supply chain and enhance America's competitiveness. Seaport activity supports more than 23 million American jobs, accounts for over a quarter of our economy while providing $321 billion annually in tax revenue. While ports and their private-sector partners plan to invest $155 billion into infrastructure between 2016 and 2020, federal freight infrastructure investments plans appear nowhere close to that.
AAPA believes that strategic investments in America's transportation infrastructure will return huge dividends in terms of job creation, economic growth and tax revenue, so this will be the focus of the association's 2017 advocacy agenda.
Kurt Nagle is President and CEO of AAPA.
The opinions expressed herein are the author's and not necessarily those of The Maritime Executive.