Winners Announced for "Connecting Ships, Ports and People" Art Contest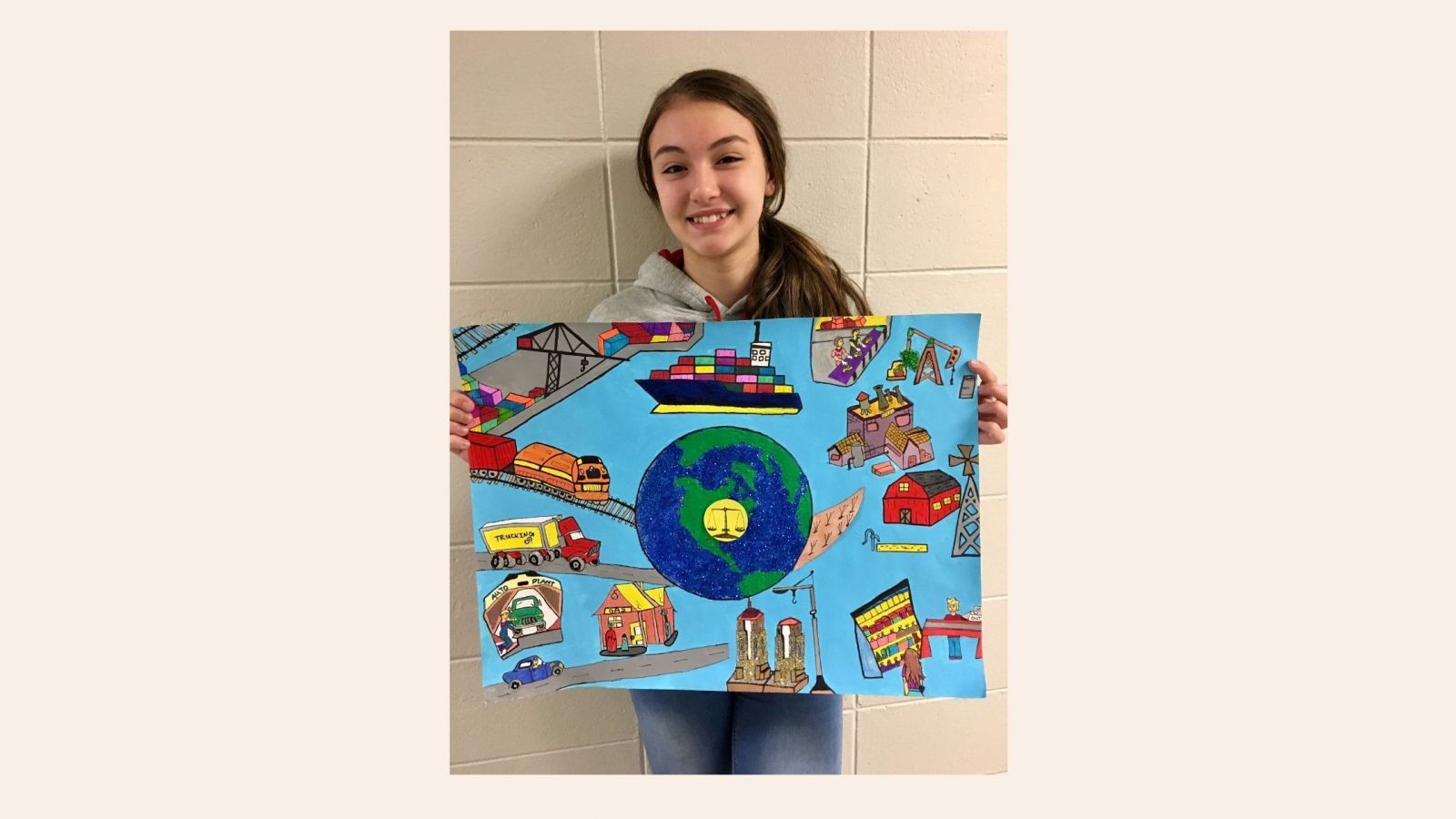 Two grand prize winners and ten finalists have been chosen from over 500 entries in the 2017 "Connecting Ships, Ports and People" calendar art contest sponsored by the North American Marine Environment Protection Association (NAMEPA), the United States Coast Guard (USCG), Mystic Aquarium and the Inter-American Committee on Ports of the Organization of American States (CIP-OAS). Each year, these organizations invite students enrolled in grades K-12 throughout the Americas (North America, Central America, South America, and the Caribbean) to create a poster on a theme related to the marine environment and the maritime industry.
The 2017 contest celebrated the men and women employed on the ships and at the ports who work very hard to ensure that shipping remains the most environmentally friendly and safest way to transport goods across the world before reaching our homes, schools, and communities. Students were asked to submit an original poster that creatively depicts the connections among ships, ports and people and how these connections affect our everyday lives.
In September 2017, the winning artwork will be featured on the NAMEPA, USCG, Mystic Aquarium and CIP-OAS websites, as well as at the London headquarters of the International Maritime Organization- the United Nations body governing the maritime industry- for the World Maritime Day celebration. Finalists will receive a certificate and a calendar with the artwork from all 12 winners. The two grand-prize winning artists (one from each of the grade brackets) will receive, in addition to the certificate and calendar, a $100 cash prize and a USCG prize package. The 2018 calendars showcasing the winning entries will be bilingual (English and Spanish).
For more information about "Connecting Ships, Ports and People", visit www.namepa.net/art-contest.
Grand Prize Winners
K-5th Grades
• Nelson Valencia – Grade 3, Unidad Educativa Atahualpa, Ibarara, Ecuador
6th-12th Grades
• Camille Quindica – Grade 7, Kapolei Middle School, Kapolei, Hawaii, United States
Finalists
K-5th Grades
• Christian Bacca- Grade 5, Instituto Dr. Marco Aurelio Soto, San Lorenzo, Valle, Honduras
• Dakota Bitterman- Grade 4, Cedar Road Elementary, Chesapeake, Virginia, United States
• Theo Campoverde- Grade 2, Unidad Educativa Particular Católica de Cuenca, Cuenca, Ecuador
• Edna Canales- Grade 5, La Estancia School, Comayagüela, Francisco Morazán, Honduras
• Brandon Aron Larrea Yepez- Grade 1, Unidad Educativa Atahualpa, Ibarara, Ecuador
6th-12th Grades
• Zulmy Almendarez- Grade 8, CEB Republica de Honduras, Choluteca, Honduras
• Daniela Paredes, Grade 8, La Estancia School, Comayagüela, Francisco Morazán, Honduras
• Rachel Pizzolato, Grade 7, John Curtis Christian School, River Ridge, Louisiana, United States
• John Dang Vo, Grade 7, River Road Middle School, Elizabeth City, North Carolina, United States
• Aisha Wilson, Grade 6, Spanish Town Primary School, Spanish Town, St. Catherine, Jamaica
The products and services herein described in this press release are not endorsed by The Maritime Executive.