UECC Boosts Presence in the Biscay & Connects Pasajes with Cuxhaven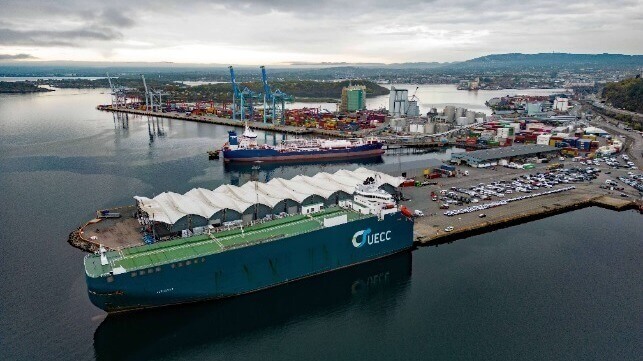 [By: UECC]
UECC will establish a direct link between the Port of Pasajes, Spain and the Port of Cuxhaven, Germany as of the 5 th of May 2023. The Autostar (https://uecc.com/fleet/our-vessels/) will be
deployed in this new service, which is at the back of a new major car OEM contract secured by UECC.
The Autostar will sail in a 9-10 days rotation from Pasajes via Zeebrugge to Cuxhaven and back via Southampton to Pasajes. This will further boost UECC's sailing frequency in the Biscay to 3-4 sailings per week. The Autostar is also suitable for loading high and heavy and breakbulk rolling cargoes, up to 82 metric tons, in addition to cars (2080 RT43 units capacity).

The transit time from Pasajes to Zeebrugge will be 2 days, Pasajes to Cuxhaven 3 days, Zeebrugge to Cuxhaven 1 day and Cuxhaven to Southampton 1,5 days. From Zeebrugge UECC is able to connect to numerous European ports through its extensive liner trading network: (https://uecc.com/media/1624/uecc-liner-trading-network-feb-2023.pdf) serving 22 ports from the Baltic Sea in the north to the Mediterranean Sea in the south.

"I am very pleased with this new development" said Per Christian Mørk, UECC's COO. Mørk further stated "this will further cement our position in the Biscay and UECC is able to offer the market a service second to none in this area".
The products and services herein described in this press release are not endorsed by The Maritime Executive.