Thailand Emerging as International Maritime Training Hub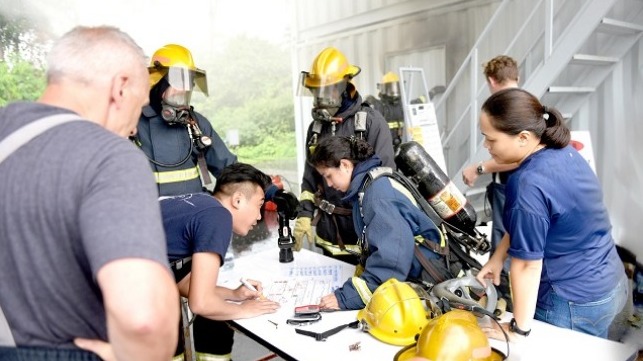 Since mid 2015 when MCA first approved a Thailand based seafarer training facility, the growth of that destination as a popular focus for both advanced seafarers and also entry level crew to complete STCW 2010 and the new updating STCW courses, has been nothing short of astonishing.
Anthony Gould, CEO and major investor in Galileo Maritime Academy, said at the recent launch of their Survival Craft and Fast Rescue Boats training facility in Phuket: "Over the last three years international professional seafarers coming to Phuket, Thailand, for advanced refresher and other MCA courses in approved marine engineering, efficient deckhand, medical care, disaster prevention and management, vessel stability, security and rescue training, has increased by more than 100 percent each year."
Gould, himself a lifelong seafarer and CEO of shipping and cargo operators, added: "My team at Galileo expected growth as our new IMO, MNTB and ISPS facilities came on line, but what has surprised us is the distance that so many of our students and captains are traveling to attend MCA courses here in Phuket. Over the last 12 months we have welcomed professional seafarers from U.S., Canada, Australia, South Africa, Sweden, Norway, France and the U.K., in addition to our local student groups from Thailand, Malaysia, India, Hong Kong and Indonesia."
Now with more than 20 MCA approved courses being delivered each month, Galileo Maritime Academy is expecting similar growth in international students from the cruise ship and offshore oil and gas industries, partly due to the growth in cruise ship operations based in Asia and voyaging to new Asian cruise destinations such as Phuket and Phang Nga Bay, the Andaman Islands, the Mergui archipelago, Bali and Lombok, the Philippines and Papua New Guinea and the Soloman Islands, and also because of the starting recovery of the oil and gas offshore operations.
Bill O'Leary, principal consultant to the Malaysian National Fund on marine development and one of the four partners in Galileo, commented, "Safety and security at sea have always been important but over the last few years there has been an international review of maritime practices and this has led to new inter-governmental regulations and training requirements. Also insurance underwriters and ship owners are becoming aware of the need for higher standards and real practical experience in training exercises such as fire-fighting, rescue and survival operations and disaster management. MCA certification is the standard they trust and that is what we are now able to deliver in amazing Phuket"
The products and services herein described in this press release are not endorsed by The Maritime Executive.