Syncrolift® And DM Consulting Join Forces to Make Shipyards Safer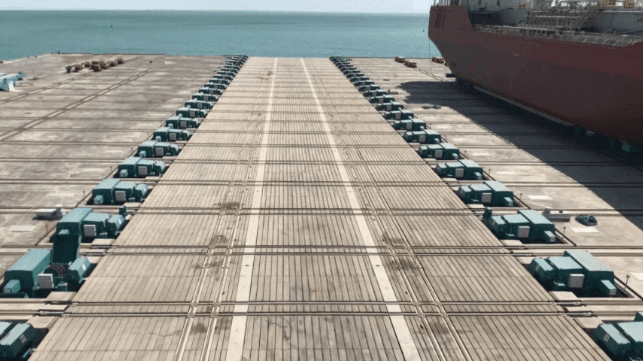 [By Syncrolift®]
Many current shipyard practices date back to the 1700s – the days of sail, square-riggers, Nelson, and John Paul Jones. Some of those practices are very slow, unsafe, and labor-intensive.
Legacy engineering is dangerous, and by definition should be a thing of the past.
Syncrolift® Inc. of Miami, FL, and DM Consulting Inc (DMC) of San Diego, CA – two world leaders in the field of drydock engineering are joining forces to modernize shipyard operations and bring them into the 21ST Century. Together the two companies are committed to bringing modern, safer, and best-engineering practices to the industry.
Established in 2000, DMC is recognized worldwide as a leading authority on the drydocking of ships and vessels. DMC personnel are dry dock experts with a combined 150+ years of experience in the industry, including involvement in over 2500 vessel drydocking projects and covering in excess of 5000 drydocking operations.
DMC conducts Dry Dock Training around the world, in addition to a re-occurring International Dry Dock Conference and Advance Training Forum. Syncrolift® has been a significant player in the shipyard market for seven decades with 300 shiplift installations around the world. In addition to the eponymous Syncrolift®, the company also supplies innovative Fast Docking™ products and transfer systems for heavy load handling of ships which maximize shipyard productivity. Nuclear-powered submarines are transferred to launch on Syncrolift® transfer systems in shipyards for both the US and UK navies.
Syncrolift® supports its worldwide products in service with a network of service stations in North America, Europe, Middle East, Far-East, and Australasia. Syncrolift® makes sure to stay close to its customers worldwide and this new venture with DMC will provide additional training and support wherever required.
The two companies are dedicated to maximizing safety in all aspects of Drydock engineering. DMC Dry Dock Training Course has accreditation with both The Society of Naval Architects & Marine Engineers (SNAME) and The Royal Institution of Naval Architects (RINA). All Syncrolifts® are built to Lloyds Register Code for Lifting Appliances in a Marine Environment.
The products and services herein described in this press release are not endorsed by The Maritime Executive.