Seaspan Shipyards Surpasses $2B Under National Shipbuilding Strategy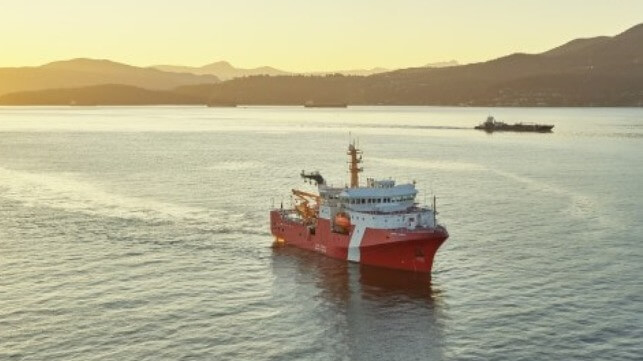 As the shipbuilding industry in Canada continues its resurgence, Seaspan Shipyards (Seaspan) has awarded more than $2 billion in contracts to Canadian companies to design and construct new, large non-combat vessels for the Royal Canadian Navy and the Canadian Coast Guard. This includes the supply-chain engaged for the three ships already delivered, the three currently under construction in the shipyard and the two-classes of vessels currently in the design phase. These vessels are being built as part of Canada's National Shipbuilding Strategy (NSS), a multi-decade program to renew Canada's federal fleet of ships and create economic impact and employment opportunities across the country.
Seaspan's cross-Canada NSS supply chain continues to grow, and now includes more than 700 Canadian businesses, with greater than half being small and medium-sized enterprises – defined as having fewer than 250 employees. The long-term contracts provided to these businesses by Seaspan under the NSS provide a source of stable revenue that encourages suppliers to reinvest in R&D, technology and process improvements, skills development, and new infrastructure. British Columbia represents the largest contingent of suppliers, totaling more than 500 companies, while Ontario companies represent the largest contract value, over $950 million.
Seaspan is proving that the NSS is working in Canada. In October 2020, Seaspan completed the first full class of ships under the NSS, delivering all three Offshore Fisheries Science Vessels (OFSVs) to the Canadian Coast Guard. Construction and delivery of the third OFSV was completed by working continuously, and safely, through the COVID-19 pandemic. Construction is also currently underway on the Canadian Coast Guard's Offshore Oceanographic Science Vessel, and two Joint Support Ships for the Royal Canadian Navy, the longest naval vessels to ever be built in Canada.
As Seaspan moves forward with the design of Canada's Polar Icebreaker and the Multi-Purpose Vessels, contracts will continue to be awarded to its Canadian supply chain partners as additional services and materials are required.
"At Seaspan, we know that teamwork builds ships, and that teamwork extends to Canadian companies, many of which are small and medium sized business that we rely on within our supply-chain. The growth, in number and size, of our Canadian suppliers gives further proof that the National Shipbuilding Strategy is working, and that its goal of rebuilding a domestic shipbuilding industry is on a clear path to success. Canada is a maritime nation, and the shipbuilding industry will continue to be a steady and growing contributor to Canada's economy. Given the uncertainty of Canada's economic outlook, we're pleased to be growing the economic opportunities for Canadian companies and Canadian shipbuilders, from coast to coast."
– Steve Christiansen, Vice-President, Supply Chain Management, Seaspan Shipyards
QUICK FACTS
• Seaspan is one of the most modern shipyards in North America, following its privately funded $185M shipyard modernization, development of a skilled workforce of 3,200 and state-of-the-art, purpose-built infrastructure to deliver the entire non-combat fleet.
• Over the next 25 years, Seaspan will build and deliver 19 large, complex vessels for the Royal Canadian Navy and Canadian Coast Guard.
• In October 2021, Seaspan celebrated its 10th year as a strategic partner in the NSS: the milestone marked the rebirth of a sustainable, thriving shipbuilding industry of strategic importance to Canada that is delivering ships, economic growth and jobs.
o Watch the Seaspan-NSS 10th year anniversary video.
• Seaspan has invested more than $24 million to support education, learning, research, and skills development in the marine industry, with a special focus on reducing barriers for underrepresented groups, bringing a broad range of new talent into the industry and the trades, including more women and Indigenous people, and creating opportunities for youth through internships and apprenticeships.
The products and services herein described in this press release are not endorsed by The Maritime Executive.