SC Ports Handles Record Cargo at Inland Port Greer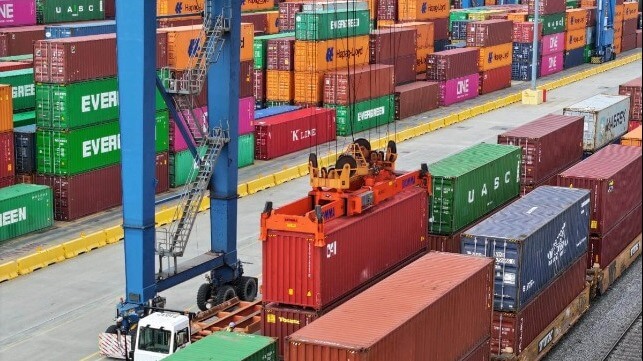 [By: SC Ports]
SC Ports' rail-served inland ports are speeding goods to market, with Inland Port Greer handling more cargo than ever before in October.
The team at Inland Port Greer loaded and unloaded 17,000 containers filled with goods last month, which is a 42% increase from last October. Inland Port Dillon also had a strong month, handling 3,148 containers in October, up 31% from last year.
South Carolina's two rail-served inland ports provide quick access to inland markets, ensuring goods efficiently flow to and from the Port of Charleston. Customers benefit from supply chain efficiencies and reduced emissions by moving more cargo by rail.
SC Ports is currently expanding Inland Port Greer to double its cargo capacity and increase rail capabilities.
"The bustling logistics hub moves cargo 24/7 for many advanced manufacturers, tire producers, apparel companies and major retailers," Melvin said. "This growth demanded an expansion to meet our customers' needs."
The new, rail-served Navy Base Intermodal Facility, which is currently under construction in North Charleston, will feed more cargo to the inland ports. Both CSX and Norfolk Southern will serve this near-port intermodal yard when it opens in 2025.
"As companies expand their operations and invest in new facilities in South Carolina and throughout the Southeast, SC Ports is investing in critical port infrastructure to support this growth," Melvin said.
Overall, SC Ports handled 235,006 TEUs and 129,171 pier containers in October. Container volumes are down about 9% year-over-year, with empty volumes driving the decline. Loaded import and export TEUs were down 1%, while empty TEUs were down 27%.
Although the trends of a tempered global economy and overstocking continue, October showed a little relief with loaded TEUs near October 2022 highs.
October also showed signs of strength and optimism with SC Ports celebrating its highest monthly container volume ever at Wando Welch Terminal with 116,745 pier containers in October, surpassing the previous record set in March 2021.
"The Southeast continues to be a thriving market where people and businesses want to locate," SC Ports' Chief Commercial Officer Byron Miller said. "South Carolina Ports is well-positioned through strategic investments to support this growth. We are a powerful alternative gateway on the U.S. East Coast for shippers wanting a reliable supply chain partner and access to a booming market."
SC Ports handled 16,209 vehicles in October, down nearly 10% year-over-year, but up 9% fiscal-year-to-date with 79,116 vehicles handled since July. SC Ports accommodated 27,209 cruise passengers in October, up 11% year-over-year.
SC Ports also recently celebrated the groundbreaking of a new 15,000-square-foot community center in North Charleston.
The products and services herein described in this press release are not endorsed by The Maritime Executive.