Purus Marine & Nordic Hamburg Select Value Maritime's Filtree System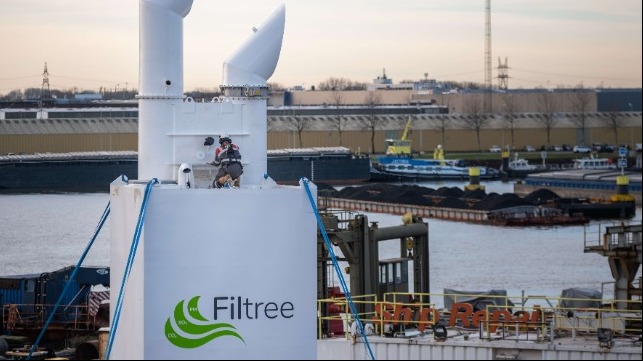 Purus Marine and Nordic Hamburg have placed an order with Value Maritime for four emissions-reducing Filtree Systems, including Clean Loop System and 30% carbon capture. The systems will be installed on its four newbuild container vessels that will be operated by BG Freight Line.
The contract is a milestone for Value Maritime, being the first time the company's revolutionary product has been ordered for installation on newbuild container vessels. The 12.5 MW systems will be delivered between September 2023 and February 2024 and will be installed at Value Maritime's berth in Rotterdam.
The newbuild container vessels will be operated by BG Freight Line, who ordered two Filtree Systems with carbon capture for container vessels BG Onyx and BG Ruby earlier in 2022.
Cleaning air and water
The Filtree System is based on innovative technology that filters sulphur, CO2 and 99% of ultra-fine particulate matter from vessels' exhaust streams. This will enable BG Freight Line to significantly reduce emissions while continuing to sail on high sulphur fuel that is both more cost-efficient and helps to reduce maintenance requirements. In this manner, the Filtree System offers a quick return on investment.

With the Clean Loop mechanism, the system is also able to filter oil residues and particulate matter from its own washing water, giving the water a neutral pH value, which contributes to reducing acidification of seas and rivers.
Carbon circle
The Filtree Systems that will be installed on the newbuild container vessels will additionally feature a modular CO2 capture and storage system. This innovative technology captures CO2 from exhaust emissions and uses it to charge a "CO2 battery," where it is stored and transported to shore. On shore, the CO2 is discharged for use, for example, in the agricultural industry, after which the battery is returned to the vessel to be recharged, thus representing a 100% circular solution.
Plug and play
The Filtree is a plug and play system. The nature of its design has ensured its straightforward retrofitting. This current order suggests a significant shift is taking place in the maritime industry, with more and more companies considering ways to reduce their emissions.
Laurens Visser, Container Vessels Specialist at Value Maritime: "We are pleased to receive this order, our first for Filtree systems to be installed on newbuild container vessels. This signifies the changes that are presently taking place in decision-making within the industry. Cleaner, more sustainable shipping has risen on the agenda of many maritime companies over the past years. We are now seeing companies proactively looking to reduce their emissions not only retrospectively but from the very outset of operations. This is a welcome development that shows the seriousness with which the industry is taking up the challenges of climate change and the energy transition."
The products and services herein described in this press release are not endorsed by The Maritime Executive.