Protecting the Great Lakes & St. Lawrence Seaway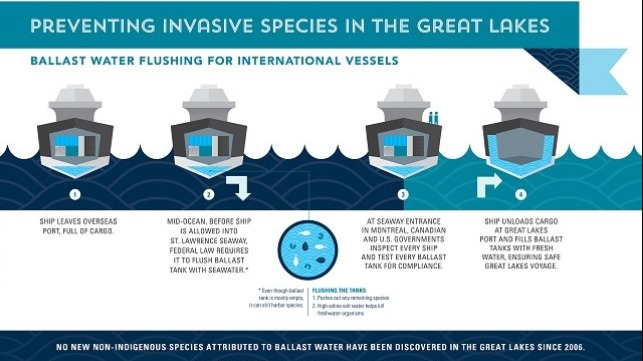 The Great Lakes - St. Lawrence Seaway system is the longest deep-draft waterway in the world, and this year marks its 60th shipping season. This marine highway is home to some of North America's most important ports that promote trade and commerce for the Great Lakes region and America's heartland.
Ships move approximately 160 million tons of cargo on the System each year, carrying iron ore and limestone for the steel industry, coal for power generation, grain for farming operations, and cement for construction, among many other materials crucial to building up the Great Lakes economy. Great Lakes shipping supports 227,000 jobs in the United States and Canada and annually sustains $34 billion in business revenues.
"Commercial shipping is critical to the economic prosperity of the Great Lakes region," said Steve Fisher, Executive Director of the American Great Lakes Ports Association. "Study after study has demonstrated that waterborne transportation is the most cost-effective, energy-efficient and environmentally-friendly mode of transportation."
Key to being an environmentally-friendly mode of transportation includes taking action to reduce the risk of introducing invasive species via ships' ballast water.
Understanding Ballast Water and Invasive Species
Ballast water is used to stabilize vessels at sea. Water is pumped into ships in order to maintain safe operating conditions throughout a voyage and is pumped out when not required.
This practice reduces stress on the hull, provides stability, improves propulsion and maneuverability and compensates for weight changes when cargo is loaded and unloaded.
While ballast water is essential for the safety of the crew and ship and for efficient shipping operations, it may include non-native marine species. These unwanted hitchhikers can pose serious consequences for the Great Lakes if moved from one ecosystem to another. Some of these species can become "invasive," a term used to indicate a species that is causing ecological, economic and health problems. However, by following rigorous, well-defined management protocols, and installing and using effective ballast water treatment systems on ocean-going vessels, these ecological threats can be significantly minimized and possibly eliminated.
Ships inadvertently spread invasive aquatic species such as zebra mussels and round gobies in their ballast water discharges, and it was only in the 1980s that ballast water was identified as a major source of non-native aquatic species being introduced to our Great Lakes. As a result, federal regulations were introduced in the United States and Canada beginning in the 1990s, and in 2006 the two governments required ocean-going vessels entering the Great Lakes region undergo the most rigorous ballast management and inspection procedures in the world.
"For all who love the Great Lakes, it is important to understand that progress is being made on the ballast water problem," said Fisher. Both industry and government are taking action to create effective solutions to the ballast water issue.
The products and services herein described in this press release are not endorsed by The Maritime Executive.