Launch of Safety@Sea Week 2018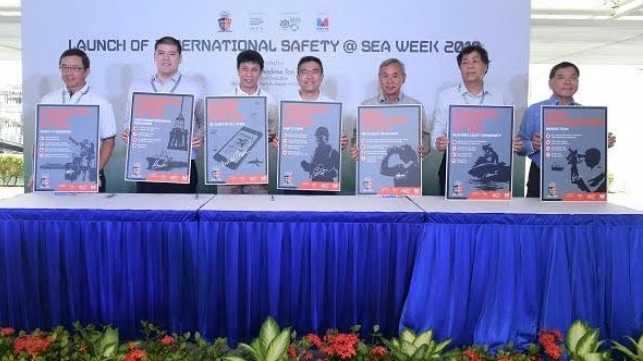 A refreshed Safety@Sea Singapore Campaign was unveiled today by Chief Executive of the Maritime and Port Authority of Singapore (MPA), Mr Andrew Tan, at the launch of the 5th International Safety@Sea Week at Marina South Pier. To improve the safety of passengers on MPA-licensed regional ferries, MPA will also co-fund the upgrading of lifejackets and receptacles on board MPA-licensed regional passenger ferries.=
Refreshed Safety@Sea Singapore Campaign
The Safety@Sea Singapore Campaign is an industry-wide effort to increase awareness of safe practices and inculcate a safety-first culture at sea. This year's campaign will take a more targeted approach in reaching out to various stakeholders with relevant and hard-hitting safety messages.

MPA will circulate a new set of eye-catching posters with updated safety messages tailored for target groups such as bridge teams, crew, ferry passengers and the pleasure craft community. MPA will also develop a new Safety@Sea website, a one-stop digital platform for the maritime community to get up-to-date information on events and collaterals relating to maritime safety.

These new initiatives are on top of ongoing efforts such as regular industry-wide briefing sessions to share best practices, screening of safety videos on board ferries and at passenger terminals, and regular checks on vessels to ensure the observance of safety standards and maintenance of safety equipment.
Co-funding Buckle-Type Lifejackets & Customised Lifejacket Receptacles
At the launch, MPA also announced its commitment of up to $800,000 to co-fund the supply, installation, delivery and commissioning of new buckle-type lifejackets and customised lifejacket receptacles on board MPA-licensed regional passenger ferries, which carried 6.5 million passengers on the Singapore-Malaysia and Singapore-Indonesia routes last year. The new lifejackets are compliant to international standards such as the Life-Saving Appliance (LSA) Code.

Feasibility studies on these buckle-type lifejackets and customised lifejacket receptacles have also commenced with regional ferry operators on board nine ferries. Results show that the buckle-type lifejacket is easier and faster to put on during an emergency, while the customised lifejacket receptacle, which will be fitted under passenger seats, protects the lifejacket and reduces the time taken by passengers to access the lifejackets.

Mr Andrew Tan, Chief Executive, MPA said, "The human element remains a critical area in maritime safety, contributing to a majority of the incidents around the world. This year, we will continue to focus on the basics by raising safety standards, championing safe practices and reinforcing the safety mindset within the maritime community. Everyone has a part to play to raise safety standards."

MPA organises the International Safety@Sea Week annually to enhance maritime safety by raising awareness and instilling a safety-first culture. This year's International Safety@Sea Week will run from 18 to 22 June 2018, featuring workshops and industry visits, as well as the flagship International Safety@Sea Conference from 20 to 21 June 2018. More than 250 international maritime professionals will come together to share best practices, exchange ideas and collaborate to enhance maritime safety.
The products and services herein described in this press release are not endorsed by The Maritime Executive.