Kiel Port Prize Honors Mibau's Jos Van Der Meer
Port Business Community Marks 34th "Sprottenback"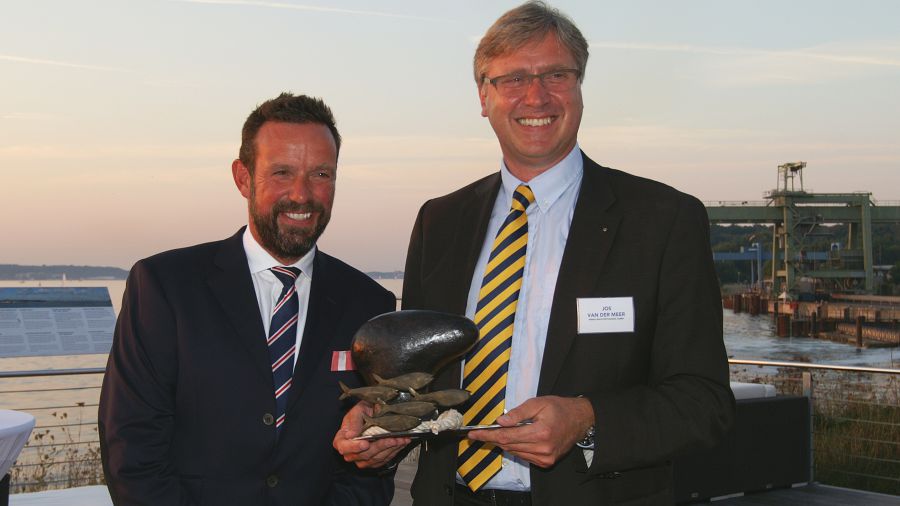 The Port of Kiel awarded its annual Port Prize on the evening of September 8th to Jos van der Meer, Managing Director of Mibau Baustoffhandel GmbH. The award was presented by Dr. Dirk Claus, Managing Director of the PORT OF KIEL (SEEHAFEN KIEL GmbH & Co. KG) as part of celebrations at the Ostuferhafen Cruise Shipping Terminal marking the "Sprottenback" – the traditional annual social get-together of the port business community. In a speech honoring the Port Prize recipient, Dirk Claus said "the firm of Mibau supplies the entire economy of Schleswig-Holstein with mineral building materials by sea. Jos van der Meer has through his own personal engagement made a substantial contribution to expanding this regional supply function in the Port of Kiel". Mibau has been in Kiel since 1999 and utilizes the Scheerhafen, located at the exit from the Kiel Canal, as its handling and storage hub. In its first year of operation in 2000 the firm delivered about 150,000 tons of crushed stone of various categories. Last year the volume of building materials handled passed the 360,000 ton mark for the first time. "I am delighted to receive this award of the Port Prize", said Jos van der Meer. "Using Kiel as a location ensures the best possible supply of our customers in Schleswig-Holstein. Excellent co-operation with the PORT OF KIEL, our agents UCA and our warehouse stockist Jens Bülck guarantees the constantly smooth handling of our shipments."
More than 10 million tons of stone of different sizes are produced each year in the Norwegian quarries of Mibau. Bulk carriers transport it from there to different handling terminals in northern Europe. Boasting discharge capacities of up to 3,000 tons an hour, as much as 31,000 tons of stone can be offloaded in the shortest possible time. The bulk cargo from the ships' holds is discharged directly by means of pivotable conveyor belts of up to 85 meters in length – a process which considerably reduces berthing times in port. Because of its very low noise and dust levels this unloading system is also particularly eco-friendly. Using cargo holds of diverse types, ships can transport as many as seven different stone sizes simultaneously. "By increasing the size of our warehousing area in the Scheerhafen we were able to increase the stone product range handled in Kiel by three", said Jos van der Meer. "This opened up new regional markets and we were able to increase handling volumes". The open storage area at the Scheerhafen was extended some 25% by the PORT OF KIEL in 2013. Since then 10,325 m² of storage in addition to quayside and transport areas have been available to Mibau. Dirk Claus said "Mibau is writing a story of success in Kiel and is underscoring the significance of the Scheerhafen as a handling location for bulk goods."
Port Prize Recipient Jos van der Meer, Managing Director of Mibau Baustoffhandel GmbH:
Port Prize winner Jos van der Meer, born March 25th 1961 in Bloemendaal, in the Netherlands, has been with the company since 1981 and has been the Managing Director of Mibau Baustoffhandel GmbH since 2001. The Mibau concern maintains more than 50 handling and storage sites in northern Europe and operates five of the six biggest coastal stone quarries in Scandinavia. Closely integrated into the Mibau logistics chain is Stema Shipping's fleet of self-discharging vessels, which guarantee scheduled sea transport between the stone quarries and the handling sites. More than 200 people work for and with the company in seven countries. The names Mibau and Stema stand for one of the largest suppliers of mineral building materials in northern Europe. Among other things, Mibau promotes and producers gravel for asphalt and concrete, rail track ballast, water armor ballast, aggregate for asphalt and concrete, track ballast, armor stone, gravel mixes and ballast base courses along with natural lysit.
Kiel Port Prize 2016
This year's Kiel Port Prize is a sculpture created by ANTARIS, the Eckenförder designer and metal smith Patrick Schlosser, and is in the form of a bollard with sprats swimming around it. The sculpture is a unique and valuable piece of metal art, painstakingly hand-crafted by the artist. The bollard symbolizes the strong ties between shipping and a safe port haven. The sprats, which always swim in swarms, graphically symbolize the community and its determination to move forward. The prize is awarded on the recommendation of the Advisory Board of the PORT OF KIEL with the framework of the "Sprottenback" celebration to someone who has, in some special way, earned the gratitude of the Port of Kiel.
Former Recipients of the Kiel Port Prize
The Port Prize was first awarded in 2005. Previous recipients have been: 2005: Samuil Vindergauz (Line Director of the Shipping Company LISCO), 2006: Hans-Dieter Nehrhoff (Technical Managing Director of the Kiel Community Power Plant), 2007: Gunnar Blomdahl (CEO of Stena Line ), 2008: Röttger Wittern (Managing Director of Sartori & Berger), 2009:Trond Kleivdal (CEO of the Norwegian shipping company Color Line), 2010: Anders Refsgaard (Vice President of the shipping company DFDS Seaways), 2011: Ingolf Kästner (Head of International Transport at Kombiverkehs KG), 2012: Award of the Grand Seal of the State Capital of Kiel to Heinz Bachmann (longstanding Marketing Director of the SEEHAFEN KIEL), 2013: Claudia Roller (Board Chairman of Hamburg Hafen Marketing), 2014: Frank Erschkat (Head of the Hamburg production center of DB Schenker Rail AG), 2015: Niclas Mårtensson, Chief Operating Officer (COO) der Stena Line Group.
The Port of Kiel
Kiel is one of the most versatile port locations on the Baltic coast. Terminal facilities for passenger and cargo ships of almost every kind and size are located around the Kiel Fiord. Kiel is an important ferry port with connections to Scandinavia, the Baltic region and Russia. It is also one of northern Europe's leading cruise shipping ports and plays an important role as a regional supplier of both breakbulk and bulk goods. Ferry services are the backbone of port activity, accounting for about 80% of Kiel's overall handling of 6.2 million tons in 2015. At the same time, a passenger handling volume of more than two million travelers underscores the significance of sea tourism and the port's capability in that sector. Its geographic location and hinterland rail and road links make the port just as attractive for both cargo handling and passenger services. As for its regional supply function, Kiel handled more than a million tons of bulk cargo last year. Commodities in this sector included agricultural products like grain, feedstuffs and oils, building materials such as crushed stone, or fuels like mineral oils, pellets and coal.
The products and services herein described in this press release are not endorsed by The Maritime Executive.