Intellian Technologies Unveils Electronically Scanned Array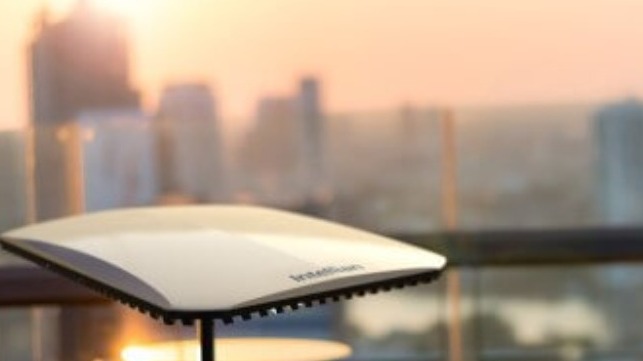 Intellian Technologies Inc., a global provider of resilient multi-constellation, feature-rich satellite user terminals and communications solutions, unveils their latest Electronically Scanned Array (ESA) technology at Satellite 2023, Washington, D.C. Intellian's flat panel user terminal portfolio includes solutions for operating across the fixed enterprise, land mobility, maritime, government, and defence sectors. The full-duplex ESA user terminal will operate on the OneWeb satellite network, with production slated to commence in Q3 2023.
Flat panels are ideally suited for Low Earth Orbit (LEO) networks. The OneWeb LEO satellites require satellite hand-overs approximately every two to three minutes, depending on the user terminal's location. As such, Intellian's flat panel is designed to scan electronically over a wide field of view within hundreds of microseconds for seamless handovers. Intellian's ESA product design focus has been on optimization of size, weight, power and cost so they can provide seamless connectivity for remote communities and minimal infrastructure through to cellular backhaul solutions and installations on critical first responder vehicles.
The full-duplex user terminal, OW11FL, features a low-profile weatherized antenna designed to deliver high reliability and performance to Enterprise customers. Paired with the CNX-WiFi indoor unit, the OW11FL delivers the ideal solution for enterprise, community broadband, and civil government applications.
The innovative modular ESA user terminal, designed by Intellian's industry-leading in-house engineers, has enabled parallel development of a half-duplex user terminal and will facilitate rapid development of other configurations and form factors to address alternative markets and use cases, including a military man-pack, also on display at Satellite 2023.
Intellian is a vertically integrated product company with their flat panel solutions designed at the Advanced Development Center and manufactured at Intellian's state-of-the-art Campus 2, in Korea.
Eric Sung, President, and CEO at Intellian Technologies Inc, said: "This milestone is a testament to our position as a leading technological innovator within the satcoms industry. By keeping production in-house at our state-of-the-art facilities, Intellian can deliver exceptional quality-assured products with scale and control over our supply chain. We are excited to unveil our new ESA technology at Satellite 2023 to the market and look forward to providing assured connectivity across fixed enterprise, land mobility, maritime, government, and defence sectors."
About Intellian Technologies, Inc.
A passion for innovation and agile responsiveness to customer needs drives Intellian. As the crucial link between satellite networks and millions of people on Earth, Intellian's leading technology and antennas empower global connectivity across oceans and continents, organizations, and communities. Strategic thinking, an obsession with quality, and a proven ability to deliver enable Intellian to invent for the future, creating mutual success for partners and customers as the world's connectivity needs evolve. For more information, follow @intellian and visit intelliantech.com. Intellian Technologies Inc. is listed on the Korean Stock Exchange, KOSDAQ (189300:KS)
The products and services herein described in this press release are not endorsed by The Maritime Executive.