IAMPE Congratulates Latest Jacksonville MPM/MPE Graduates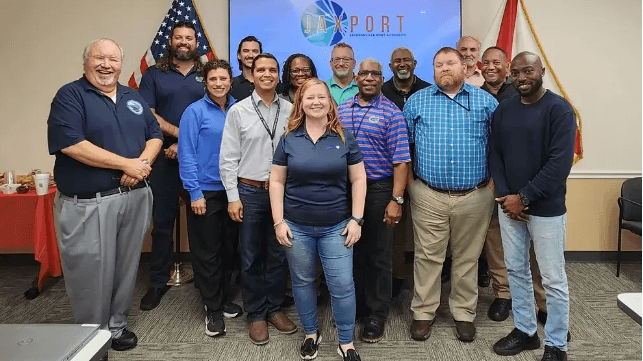 [By: IAMPE]
The International Association of Maritime and Port Executives (IAMPE) is pleased to announce its latest class of Maritime Port Executives (MPE), who completed certifications hosted at The Jacksonville Port Authority (JAXPORT) in Jacksonville, Florida. The course was held November 6-9 and taught by faculty member Capt. Jeffrey Monroe, MM, AMPE, CME, at JAXPORT's Security Operations Center. Graduates of the program also received graduate-level academic and continuing education credits by the IAMPE's Academic partners which includes Maine Maritime Academy, Massachusetts Maritime Academy, State University of New York Maritime College, Texas Southern University, The University of Memphis, and the Australian Maritime College. In addition, the IAMPE presented JAXPORT with an Education Partner Certificate, receiving the certificate was James Conoly, Risk Manager, for JAXPORT.
Earning the Maritime Port Manager (MPM) certificates was Jeff Price, MPM - Director of Marketing, JAXPORT. The Maritime Port Executive (MPE) certification was awarded to James Conoly, MPE – Risk Manager, JAXPORT; Brandon Norman, MPE – Senior Accountant, JAXPORT; Omar Lee, MPE – Environmental Health & Safety Field Officer, JAXPORT; Charles "Dylan" Carter, MPE – Environmental Health and Safety Field Officer, JAXPORT; Jose Vazquez, MPE – Director, Project Management, JAXPORT; Michael Johnson, MPE – Director, Engineering & Construction, JAXPORT; Kelsey Cox, MPE – Senior Director, Engineering & Construction; JoAnna Gamble, MPE – Manager, Public Safety & Security, JAXPORT; Derrick Lewis, MPE – Director, Public Safety & Security, JAXPORT; Joshua Revord, MPE – Director of Port, Inlet & Beaches, St. Lucie County; Joel Heller, MPE – State Director of Bond Finance, State of Delaware/ Diamond State Port Corp. ; and Amanda Tyner, MPE – Freight and Seaport Coordinator, FL Department of Transportation. Earning the Accredited Maritime Port Executive (AMPE) was Chris May, AMPE – Managing Director, Port Nuevo Terminal.
The IAMPE is proud to have 29 Education partners including the Connecticut Port Authority; Port Authority of New York and New Jersey; Georgia Ports Authority; Port of Alaska; Bruce Oakley, Inc.; Maine Port Authority; Little Rock Port Authority ; Port Milwaukee; Port of South Louisiana; Port of Morgan City (LA); America's Central Port; the United States Coast Guard; the US Environmental Protection Agency; Port Tampa Bay; Jacksonville Port Authority; South Carolina Ports Authority; Maher Terminals; The Port of Virginia; The Mississippi State Port Authority; New Hampshire Port Authority; the World Trade Center New Orleans; Ports Association of Louisiana (PAL); Kean Miller; The All Hazards Training Center at The University of Findlay; Parker Towing, Port of Decatur; A. Ayala Colón Sucrs Inc.; the Ponce Port Authority; Halifax Port Authority; and the British Virgin Islands Port Authority.
The products and services herein described in this press release are not endorsed by The Maritime Executive.