Houston Pilots Train on Post-Panamax Vessel Simulators at MSRC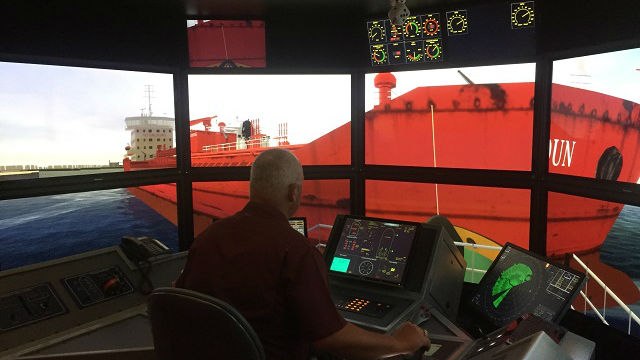 Members of the Houston Pilots recently participated in two custom-built simulation courses vital to their Pilotage duties in the Houston Ship Channel and the Port of Houston, the largest landlocked Port in America. Each course was two days long, and was provided by the Maritime Simulation Resource Centre (MSRC), at their Quebec City, Canada-based facility.
The Houston Pilots face a multitude of factors when piloting ships in their waterways, including weather and wind, particularly with large ships, a very small turning basin, as well as intricate 24/7 traffic management. Currently, Houston Pilots are working aboard vessel that are 1096' x 143' in size (334 m x 43.6 m), and up to 45' of draft. They are preparing for 1160' x 150' (354 m x 46 m) vessels that will soon begin arriving, once the planned Barber's Cut dredging is completed in mid-2018.
"We have challenges ahead of us," commented Capt. Shearon, Presiding Officer of the Houston Pilots. "Simulation allows us to practice maneuvers that we're going to do in our own channel which is extremely beneficial. Practicing these maneuvers to get an idea of what we'll be faced with makes our jobs safer and easier."
The Post Panamax Vessels: New Challenges for Pilots two-day course curriculum includes how to analyze the challenges of Post-Panamax vessels on pilotage: transit in confined waterways, ship handling, traffic management, including the effects of wind and speed, turning basins, tug requirements, infrastructures and seaways limitations. In addition, theoretical explanations are provided via PowerPoint presentations, followed by exercises on the Navigation Simulator.
The two-day Escort Tug Operations for Pilots course gives pilots an overview of escort tug operations principles in narrow channels. The program includes comparing a variety of today's escort and ship assist tugs with regard to their capabilities and limitations, along with practicing escort tug manoeuvres and commands in a narrow channel. Different types of large vessels are simulated at various escort speeds within the operational environmental limits which are encountered in specific Pilotage waters. During simulation exercises at the recent training, each Houston Pilot took turns piloting a ship, as well as experienced the challenges of driving a tug.
"Understanding the capabilities and abilities of the tugs were a key take-away from that course," said Capt. Shearon. "When I step on the next-generation container ship for the first time, I'm going to know I had some really good training here at MSRC."
In 2016, MSRC gave the same training to four other groups from Houston Pilots. During 2017, additional groups will take the same training. Other groups will visit MSRC for different trainings such as Bridge Resource Management for Marine Pilots (BRM-P) and Emergency Ship Handling Procedures for Pilots. All Pilot simulation courses can be customized for different Pilotage groups, upon request.
The products and services herein described in this press release are not endorsed by The Maritime Executive.